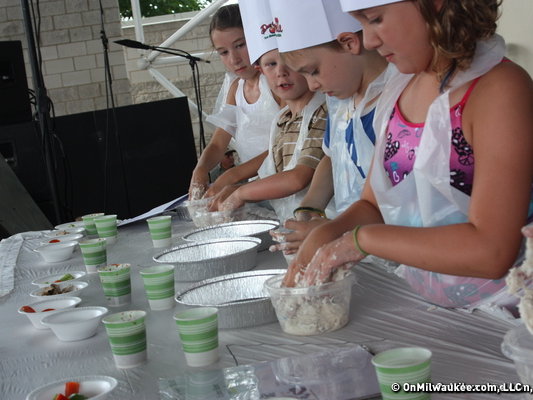 Our city's plethora of summer festivals is one of the best things about living in Milwaukee. They give us live music, mouth-watering ethnic food and a reason to celebrate the season.
Lucky for us, there is an exciting festival nearly every week of the summer. You can rest assured that you will enjoy the festival, but how will you know if it will offer something for your little ones? And how can you keep track of all the admission deals so you can save some money?
This family's guide to Milwaukee's festivals will tell you what each festival in June and July has for children and families – and when you can get in cheapest.
Bookmark this page for future reference! Be sure to check out our entire Festival Guide here.
Polish Fest (June 14-16 at the Henry W. Maier Festival Grounds)
Kick off your festival season with Polish Fest and enjoy the upbeat music and dance, colorful folk costumes, Polish sausage, and, of course, lots of polka!
This year, the Children's Stage will feature Polish dance and music geared especially towards kids, as well as ventriloquists to entrance your little ones.
Take advantage of .50 cent admission on Friday, June 14th from noon to 5 p.m. Dads enjoy free admission on Father's Day (Sunday, June 16th) with a child of any age.
Find out more at polishfest.org.
Summer Soulstice Music Festival (Saturday, June 22 from noon to midnight on North and Murray Avenues)
This up and coming, eclectic local music festival on the East Side is not just for adults. For the little ones (and artists of all ages), Murray Ave. will become "Arts Ave." and will feature Creation Stations by Murray Hill Pottery, Discovery World Design It Lab, Fotomatic Photo Booth by Pablove Foundation and more. How cool is that?
And as an added bonus, this festival is completely free to attend.
Find out more here.
Summerfest (June 26-30 and July 2-7 at Henry W. Maier Festival Grounds)
Oh, Summerfest. Your memories of it may not be family-friendly, but the Children's Theater and PlayZone certainly are, and so is the Kohl's Captivation Station. The Children's Theater & PlayZone is open daily from noon to 8 p.m. and features magicians, dance groups, jugglers, puppets, a UB the Band Rock Star game and robotics fun!
The Kohl's Captivation Station is open daily from noon to 7 p.m. and features kid-friendly bands, interactive and hands on art projects, exciting experiments and more.
And, of course, don't miss the Splash Pad when you need to cool off!
Enjoy free admission on Sentry Kids Day, Tues., July 2, noon to 3 p.m. See your favorite mascots like the Brewers Racing Sausages and Bango. Explore the Map of Fun and make interesting stops throughout the fairgrounds, get free food samples, and win prizes!
You can also receive free admission with three non-perishable food items on Kohl's Family Day, which is Sunday, June 30.
Find out more about family-friendly activities at Summerfest here.
Bastille Days (July 11-14 in Cathedral Square)
The arrival of the mini Eiffel Tower in Cathedral Square means lively music, a diverse international marketplace, chef and wine demonstrations and tasty French and Cajun cuisine for Milwaukeeans to enjoy.
Little Francophiles will love this festival, too! You'll find families there all weekend long, but Kids' Day activities officially kick off on Saturday at 10 a.m. Little ones can feast on a French-themed breakfast, take ballet lessons and brush up on their soccer skills with organized drills. There will be more activities announced soon, so check out the website here.
Festa Italiana (July 19-21 at the Henry W. Maier Festival Grounds)
The festival grounds come alive for Festa Italiana thanks to delectable Italian food, live music and performances, the popular Cucina Showcase and wine tastings to top it all off.
Families will have a blast together on the gondola rides, playing bocce ball, watching the nightly Bartolotta fireworks and enjoying the Pinocchio Parade on Saturday at 5:30 p.m.
Kids can also check out the daily entertainment at the Children's Stage, explore a free Kidzone with inflatables, compete in a kids' pizza making contest at the Cucina Showcase and sing their heart out with Italian Idol.
Children under 12 are admitted free with an adult throughout the entire festival. Find out more here.
GermanFest (July 25-28 at the Henry W. Maier Festival Grounds)
Come to "Milwaukee's original Haus Party" for authentic German cuisine, beer brewing contests, local artists on folk instruments and organs, colorful clothing called "tracht" and a vintage car display featuring German automobiles.
Families will find no shortage of activities at GermanFest. You can start at the Tinkerers Workshop run by Kohls Design It Lab all three days. There will be a Danceworks youth performance Thursday at 7 p.m. as well. Be sure to check out the parade on Saturday at 4 p.m. and the Children's Parade on Sunday at 3 p.m. You won't want to miss the Dachsund Derby Race on Sunday from 1 to 5 p.m.
Kids under 12 are free during the entire festival. Enjoy free admission for all patrons 11:30 a.m.-noon Sunday. Free admission will continue on Sunday from 1 3 p.m. at North Gate with one non-perishable food item.
Find out more at germanfest.com.
Facebook comments
Disclaimer: Please note that Facebook comments are posted through Facebook and cannot be approved, edited or declined by OnMilwaukee.com. The opinions expressed in Facebook comments do not necessarily reflect those of OnMilwaukee.com or its staff.
Recent Articles & Blogs by Calie Joy Herbst