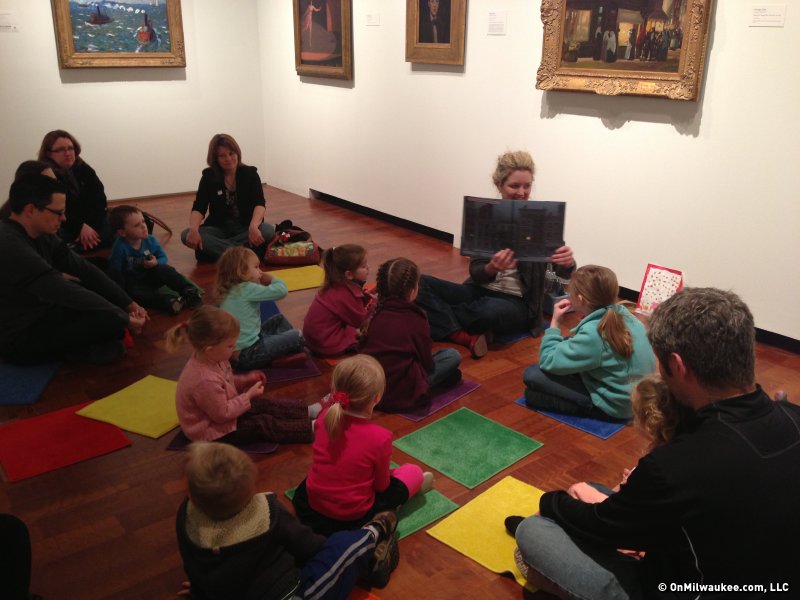 It may seem counter-intuitive to bring a two-year-old to the Art Museum, but that's exactly what I did last Saturday. I feared we may be shushed out of the place or accidentally break something important. But surprisingly, it turned out to be a mostly stress-free morning full of discovery and hands-on fun. There was so much to do for children that we could hardly fit it all in before naptime.
We entered through the Lincoln Memorial Drive entrance and my son was immediately enamored with the spotless glass windows looking out over the lake. The surprising curvatures and cavernous halls of Calatrava's brilliant atrium are enough to keep a young child exploring the space, but we soon toddled down the long hallway toward the exhibits.
Along the short walk to the Kohl's Education Center, the museum featured many pieces that appeal to a kid. An Egyptian mummy, a giant shovel (or "spoon" if you have a limited vocabulary), and the enormous portrait of a caveman are a few of the pieces that caught our attention.
Just beyond the life-like janitor, you'll find a desk where you can pick up a free Artpack or sketchpad. The Artpacks are backpacks filled with different materials to recreate specific paintings and sculptures throughout the museum.
Depending on what piece you are recreating, you may find yarn, felt, canvas, blocks to build a sculpture, or even a king's costume to mimic a royal painting.
The sketchpads contain paper of all shapes and colors and freshly sharpened colored pencils. You can carry them with you throughout the museum and draw as you become inspired.
Past the Artpack station, we wandered into Kohl's Art Generation Studio, an open studio that anyone can drop into on the weekends. We were immediately greeted by two friendly artists who showed us around the large funky space. My son found a stool in front of a paint-covered easel and began to scribble with bright color sticks.
While he doodled, the art educators explained that they offer a different project each week inspired by the current exhibits. They usually feature one project that involves drawing or painting and one that is three dimensional or claybased.
We had to cut our art project short in order to arrive on time for Storytime in the Gallery which is offered every Saturday at 10:30. We met up with six or seven other families in the atrium and were led by a kind, soft-spoken educator to Gallery Four. Once in the spacious gallery, the children sat on brightly colored carpet squares beneath a painting of a night scene on a city street.
Out storyteller explained that the book we were reading connected to the painting we were observing. After reading the story, she pulled out buckets of crafts supplies and the kids created a drawing to take home with them as a souvenir.
Before we left, we stopped by the Museum Inside Out exhibit and the "Animation: Art Goes to the Movies." (Read about the animation exhibit here). The Museum Inside Out exhibit gives visitors an inside peek at what it takes to run a museum. Kids can design their own exhibits, choose era-appropriate frames for paintings, and watch entertaining videos about real curators.
An added bonus was that the morning turned out to be very inexpensive. We parked on Mason Street's two hour parking for free, and I took advantage of a generous grant offering all teachers free admission to the museum with an I.D. Students also receive a discount, and kids under 12 are completely free.
The museum offers excellent tips for making your family visit to the Art Museum a positive, whine-free experience.
Read about them here.
Facebook comments
Disclaimer: Please note that Facebook comments are posted through Facebook and cannot be approved, edited or declined by OnMilwaukee.com. The opinions expressed in Facebook comments do not necessarily reflect those of OnMilwaukee.com or its staff.
Recent Articles & Blogs by Calie Joy Herbst