I attended last night's opening night of the Milwaukee Film Festival at the Oriental Theater, and as always, it was a spectacular night. The opening night party was held nearby at UWM's Kenilworth Square, so filmgoers didn't have to figure out the best place to grab a drink after, or where to sneak in a snack beforehand. 
The rest of the festival is full of amazing films that Milwaukee Film has curated just for you. Maybe this list of ideas will be helpful before and after visiting one of the theaters. Happy festing!
Oriental Theatre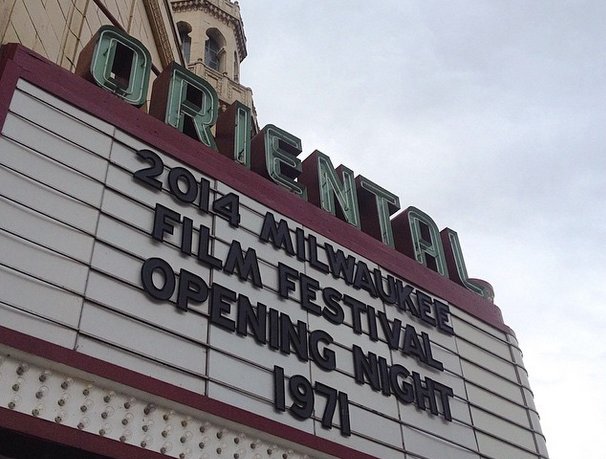 1. Von Trier, 2235 N. Farwell Ave.
Located directly across the street from the Oriental Theater, Von Trier is an easy stop pre or post film for a cocktail. The weather is supposed to be spectacular all weekend long -- so grab a pint or two on the patio before heading into the theater. Enjoy the popcorn they supply you with and save a few bucks on buying it in the theater. 
2. Hotel Foster, 2028 E. North Ave. 
Not only is Hotel Foster also very close to the Oriental, they are also part of "Soundtrack at The Hotel Foster" which has live music nightly during the festival. You can see some of my Milwaukee favorites such as Soul Low or Myles Coyne -- AND -- it is free to you with your same-day ticket stub. OnMilwaukee.com is a proud sponsor of this series along with WMSE 91.7FM and Radio Milwaukee. 
3. Allium, 2102 N. Prospect Ave. 
Allium offers up a warm and cozy space within a few blocks of the Oriental. This taste of Europe is the perfect option to grab a cheese plate, prosciutto wrapped dates or a pizza before your movie. The beer, wine and cocktail list is impressive for a place of this size and you may even have a hard time choosing what you'd like to imbibe in. Make sure you allow yourself enough time -- you don't want to rush an experience at Allium. 
Downer Theatre
1. Pizza Man 
Whether you have time for an actual delicious pizza or not, Pizza Man is my top pick for a showing at the Downer. The bar is expansive and …
Read more...