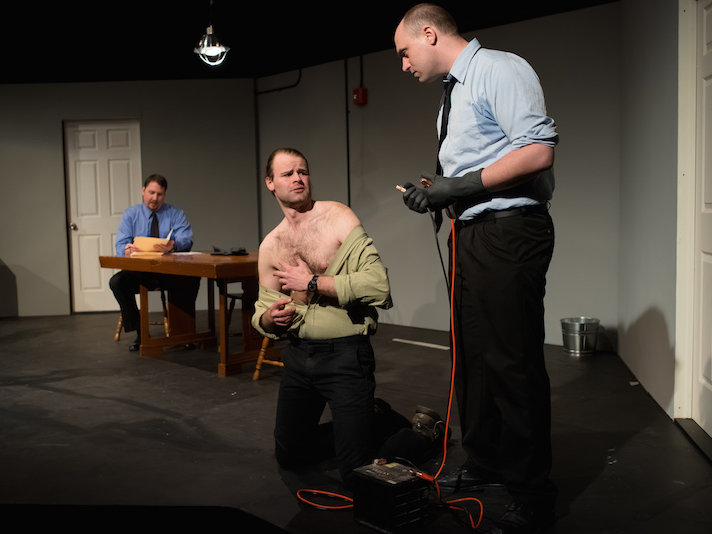 You start out by driving past an accident on the road and you slow down to see the ambulance and the cop cars and the flashing lights and  maybe, just maybe, a victim.
The next step is when you watch a program on public television about the Nazi Holocaust and you can't take your eyes off the horror of the images you see.
The final step is when you hear about another Isis beheading and you search online until you find it, and then you watch it.
That kind of horror-filled escalation is part of the fascination  of "The Pillowman," the dark drama written by Martin McDonagh and running at Soulstice Theatre in St. Francis.
To call this play "dark" is an understatement.

It is about Katurian (Tim Palecek), a story writer who is arrested after a series of murders of children resemble murders in his stories. The totalitarian state police are Tupolski (Dylan Bolin as the good cop) and Ariel (Emmitt Morgans as the bad cop).
The interrogation of Katurian is brutal, almost from the very beginning. The first of three acts sees the writer trying his best to preserve his sense of himself and preserve his stories, because he believes they are important to the world.
The parade of gruesome is, well, gruesome. We have children killed in the following manners: one small boy has his five toes cut off with a cleaver; a girl is made to swallow apple slices with razor blades inside; another girl is abused by her foster parents because she thinks she is Jesus and she is eventually killed by being crucified and then buried alive; there are deaths by smothering (by the pillowman) and electrocutions.
At some point in this play you almost want to shout "enough, already." The trap here is to think that McDonagh has written a play that glorifies the kind of sick violence that we all around us.
But, in truth, the play is really about the fantasies we all create, the lies we tell and the way we all hope that our stories will live forever.
Everyone in this play has a story, especially…
Read more...