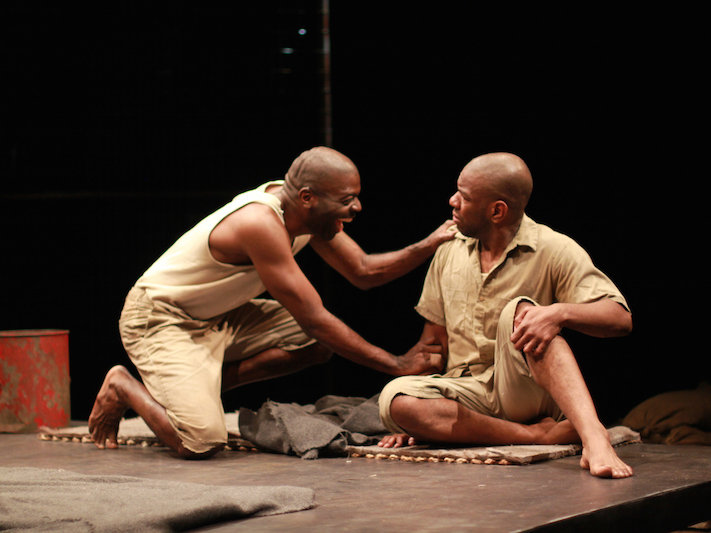 Rarely has there been a more dramatic or poignant presidential moment than Friday when Barack Obama spoke at the funeral of Rev. Clementa Pinckney, the black preacher killed a week ago in the massacre at at Charleston, S.C., church.
Obama was strong and unequivocal when he talked about race. Toward the end of the eulogy he paused.
And with a plaintive and halting voice, he began to sing "Amazing Grace." All alone. Just a president and song and his belief. And before too long, the congregation joined in and the organist found the key the president was singing in and added that sound to the song.
At the end, he read the name of each victim followed by the phrase "found that grace."
He might well have added the names of John and Winston, the two characters in the Athol Fugard, John Kani and Winston Ntshona play "The Island" that opened last week at American Players Theatre in Spring Green.
The play takes place on an island, clearly Robben Island, the South African prison where Nelson Mandela was held along with many other black leaders who had fallen under the brutal thumb of apartheid.
For three years John and Winston have been cellmates. And like brave men everywhere, they have created a mix of fun and games to help them retain their sanity that is threatened every moment by the  callous and inhumane treatment by the guards.
They make up telephone calls to their homes. They toy with each other. And they plan on performing "Antigone" at the prison talent show. Chike Johnson plays Winston and La Shawn Banks plays John and we are greeted to them even before the play starts.
Johnson and Banks give powerful performances of almost incredible physicality combined with nuanced intellect.
 The two prisoners, under the watchful and threatening eyes of guards, each has a wheelbarrow and five heavy bags of sand. They load the sand and then simultaneously walk around to the other side of the circle and unload it. Over and over and over. It is mind numbing work as wel…
Read more...