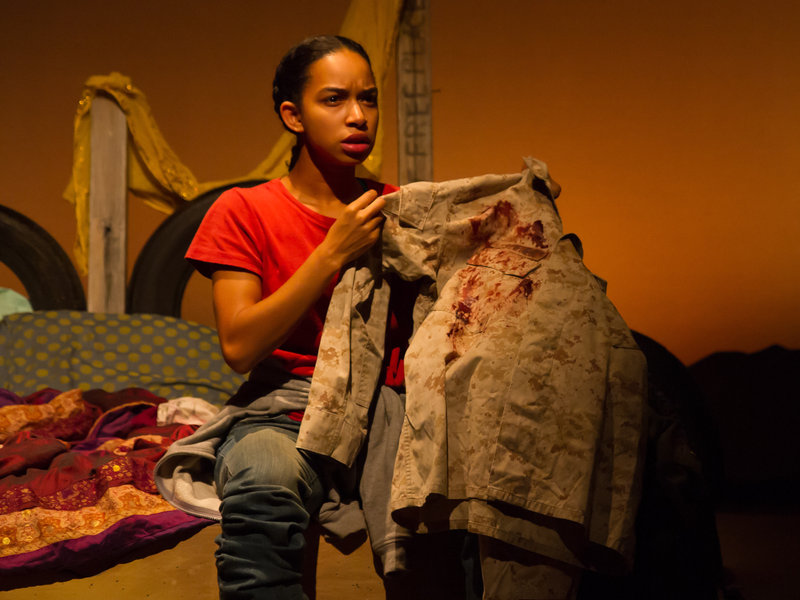 When Marine Jenny Sutter was in Iraq, she worked at a checkpoint, looking for explosive devices.
But she missed one.
It was hidden in the diaper of a baby, and Jenny watched helplessly as the baby's head was blown off, 15 people died, and Jenny herself ended losing the bottom of her right leg.
19 months after she left her two children in the care of her mother, Jenny is finally back on home turf. Like so many veterans, her return is filled with something other than a parade.
"Welcome Home, Jenny Sutter."
That's the name of the play by Julie Marie Myatt that opened over the weekend at Next Act Theatre and runs through Sunday, Oct. 12. It's a play that should be seen, worried over and savored by everyone who ever thinks about what it means to be an American.
Jenny, complete with prosthetic right calf and foot, is filled with enough demons that she can't quite bring herself to crawl back into the bosom of her family. Instead, she dawdles at a bus station and is finally emotionally and intellectually seduced by addiction addled Louise, who persuades Jenny to follow her to Slab City, a camp on a former military base populated by a rag-tag band of the needy. There, she meets others who have dropped out of life and dropped into a place where answers are much more important than questions.
Jenny, played by Chelsea D. Harrison, is gradually and hesitatingly nursed back to something resembling a healthy emotional state. But her journey in Slab City is anything but smooth as her insecurities and pains both ruffle feathers and create challenges.
John Kishline and Deborah Clifton play a Slab City self-styled preacher and a Slab City self-styled psychiatrist, respectively. Ryan Schabach plays a disinterested truck driver, and Nate Press is the slovenly custodian of the bus stop.
But the towering achievement of the evening belongs to veteran Milwaukee actor Tami Workentin. Her task in this production is simple: play the United States of America.
As Louise, Worke…
Read more...