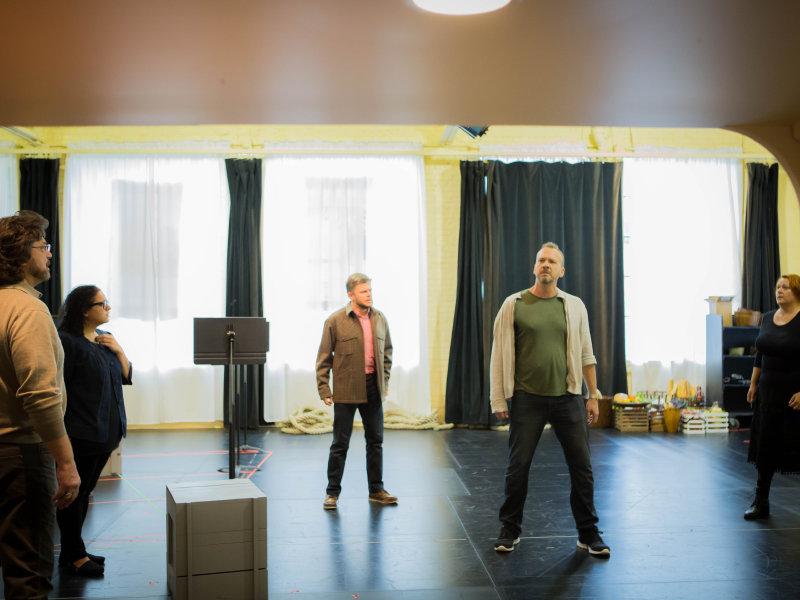 It was just a rehearsal – no costumes, no set, no orchestra, no chorus, no plush seats, no lights on stage. As a matter of fact, there was no stage at all, just a piano. And the whole thing was in German.
In spite of all of those things that weren't there, the thing that was there was a fascinating story and some amazing voices that told the story with such romance and strength that I followed the whole thing from my folding chair. I knew that there was a captain of a ship and that he sold his daughter's hand for a treasure of silver to a mysterious stranger. I knew that the daughter and the stranger met, separated by distance before moving together, step by halting step toward their first tender and hesitant kiss.
This was Milwaukee's gem, The Florentine Opera, and a staging rehearsal for "The Flying Dutchman," the Wagner opera that runs for two nights – Saturday, Oct. 25 and Monday Oct. 27 – at the Marcus Center for the Performing Arts.
Milwaukee's own Paula Suozzi is directing, another step in her seemingly unstoppable climb into the ranks of major opera directors in this country. She directs at the famed Metropolitan Opera next month.
She watched rehearsal closely as the singers and Maestro Joseph Rescigno went through was was obviously a difficult piece to perform. Rescigno is clearly the master of all he surveys, and the passion he has for the music is stunningly obvious.
I've always thought that there are any number of hidden cultural gems in Milwaukee that deserve to have a light shone on them. I think the Milwaukee Ballet is one. I now add the Florentine to that list.
The company is 81 years old, one of the oldest continuously operating regional opera companies in the country. There is history here, much of it memorable.
One of the best stories comes from the year 1965, when "Samson and Delilah" was being staged. At the last moment, famous tenor Richard Cassilly withdrew to go to Europe where he built an enviable career. Artistic dir…
Read more...