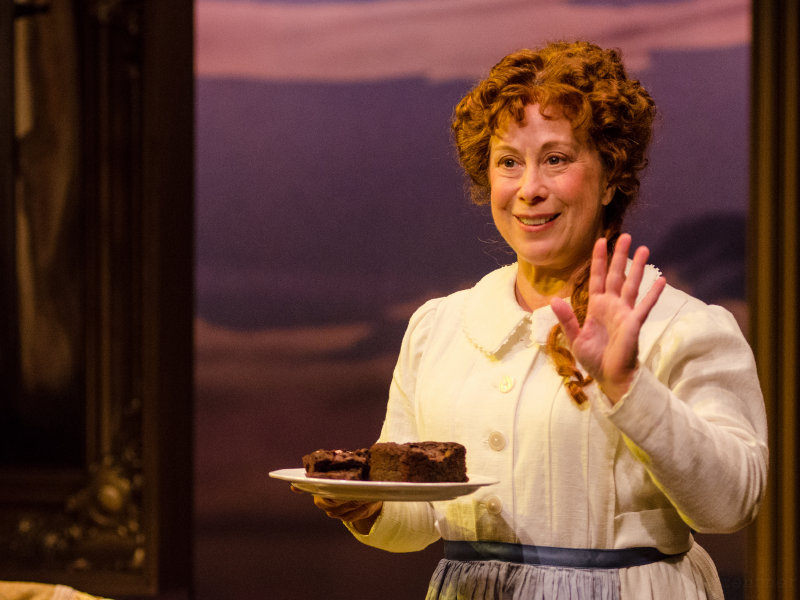 Let's get a couple of things real straight before we get to the meat of this.
I am a guy's guy. I like the idea of sitting around the campfire, chewing on tobaccy, swearing, spitting and talking about the girls we knew or want to know.
Put a book of poetry in front of me, and I'm liable to reach for a glass of Wild Turkey, Sports Illustrated's swimsuit issue and a cigarette (even though I no longer smoke).
I have a lot of respect for Shakespeare. I kind of like Robert Frost, and Maya Angelou has written a few things I like.
But Emily Dickinson? Forget it. No way. Birds, harps and flowers. Not for me.
That is why I am so surprised how very much I liked 'The Belle of Amherst," William Luce's one person play about Emily Dickinson. The production opened at Renaissance Theaterworks Friday night.
The one person in the play is Emily Dickinson. Jenny Wanasek, a veteran Milwaukee actor, does the honors.
Emily Dickinson has long been the darling of the egghead world. Teachers and academics the world over absolutely love her.
In this production, you find out how absolutely special and interesting she is, and how serious and meaningful her poetry is.
Any one person play depends on large part on the person in the spotlight, both the character and the actor. Last year, the Milwaukee Chamber Theatre got it right with James Ridge in "Under the Lintel."
And this year, Renaissance got it so very right.
Rather than some flighty fragile creature occasionally spreading magic dust on a page and ending up with some frothy poem, this Dickinson is a woman of dignity, charm and good humor.
She has a grace about her as she takes life, in all its glory and gore, and creates poetry to either explain it or pay tribute to it.
The subjects that Wanasek's Emily deals with are endless. She talks and writes of love, childhood, parenthood, grief, sorrow, loneliness, joy, death, religion, nature, heartbreak and intellectual curiosity.
It is a journey that Wanasek travels with absolute brilliance. It would be so easy to play this Emily as a lighthearted weakling, but none of that for Wanasek. She gives this woman passions and courage, and takes the audience along on her journey. She's funny and sad, and shows again why she is an actor at the absolute top of her game.
Dickinson is absorbed in the world around her, but especially intrigued and honoring of words. She describes the words "circumference" and "phosphorous" as "words to lift your hat to."
The same can well be said of Emily Dickinson, Renaissance and Jenny Wanasek. They are a trio to lift your hat to.
"The Belle of Amherst" runs from Oct. 18 through Nov. 10 at Renaissance Theaterworks. For more information about times and tickets, visit their website.
Facebook comments
Disclaimer: Please note that Facebook comments are posted through Facebook and cannot be approved, edited or declined by OnMilwaukee.com. The opinions expressed in Facebook comments do not necessarily reflect those of OnMilwaukee.com or its staff.
Recent Articles & Blogs by Dave Begel