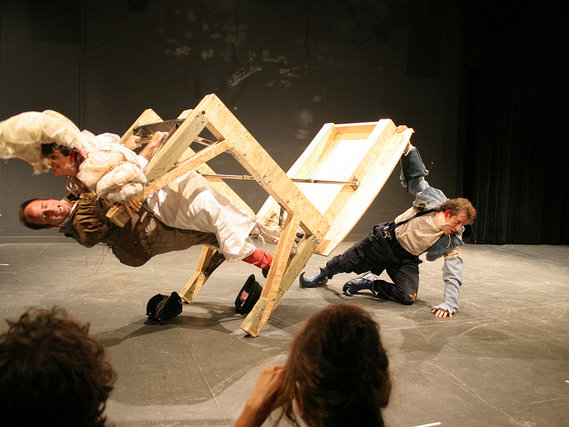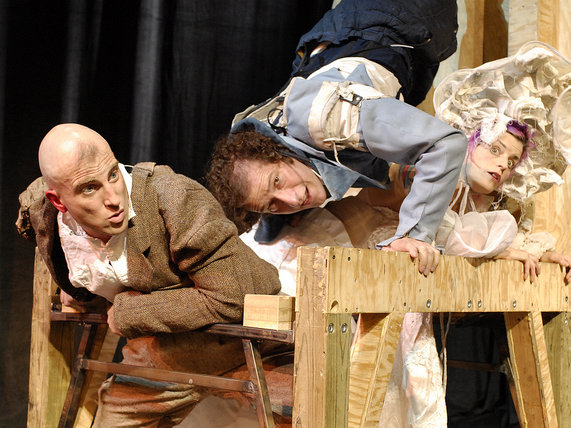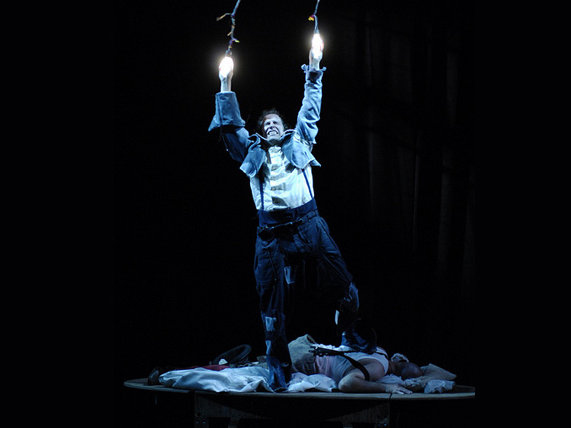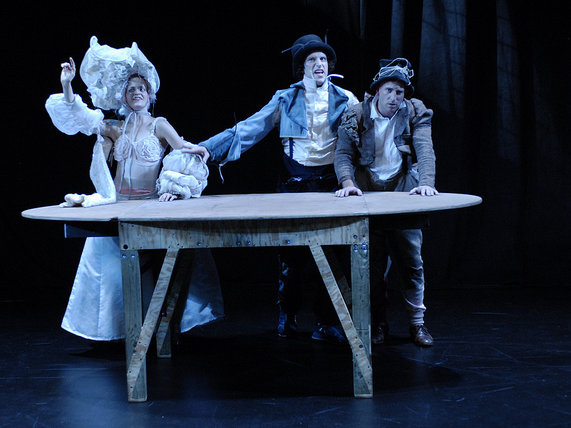 "So I just got word that 500 Clown Frankenstein is coming to South Milwaukee," blinked my instant messenger. It was my brother, who lives in Chicago and is active in their theater scene.
Did I read that right? 500 Clown Frankenstein? "What is that?" I asked, confused.
My brother attempted to clarify, "500 Clown is a performance company in Chicago. They're doing "Frankenstein" this time around. They super-deconstruct stories and re-tell them with clowning. Good clown, not bad clown. I've seen their Frankenstein. It's really good."
Good clown? "I am skeptical," I said.
Skeptical, but admittedly curious. Clowns? Frankenstein? What can this possibly mean? My curiosity quickly overwhelmed my skepticism and I sought out a trailer. What I saw could not have possibly sold me any quicker on the idea.
Instead of your typical white faced, red lipsticked, balloon-covered clowns I saw plain-faced characters dressed in Edwardian costumes moving around in over-exaggerated, slapstick ways. It opens with a drum roll as a hat is tossed onto (who I can only assume is) Victor Frankenstein's head who then calls out, "Ha! Science!" What follows is the tipping of over-sized tables and chairs, exaggerated electrical shocks, hands shoved deep inside mouths,  and plenty of blood curdling screams all set to a cover of "Chick Habit" by the brash, gypsy brass band Mucca Pazza.
"Should the audience every be worried about the actors on the stage? asks cast member Molly Brennan in another promo. "500 Clown is about pushing that edge."
500 Clown's "Frankenstein" features three performers who are charged with the task of making a monster. Bound in elaborate Edwardian costumes, the trio embarks on a journey to construct Dr. Frankenstein's laboratory while they struggle and battle through acrobatic feats.  The Chicago Sun-Times describes the performance as "A work of psychic combat and power games that will have you laughing and holding your breath all at the same time."
The whole production takes this grim idea of re-animating a dead corpse and pulls it into a comedic, vaudevillian light, but then it exaggerates it to such a degree that it becomes perversely horrifying again.
And even if you have been lucky enough to catch a performance, you might consider another showing. 500 Clown develops its shows over roughly a 2-year time frame, alternating between rehearsing and performing. But even once a show has officially opened, it continues to evolve through performance and more rehearsal time. The company likens its process of developing shows to Vaudeville, where acts were continually honed in response to audiences.
"I thought it was courageous and different. It was emotionally risky. It was physically risky. And it had a courageously serious ending," said one audience member in yet another promo.
"They stuck with the plot...the main points and the character themes all while still expressing a very unique style of dance and motion," said another audience member.
"I thought the show was wonderful and disturbing and messy in the best way," said yet another.
What better way to enjoy the Halloween spirit?
500 Clown Frankenstein stumbles into South Milwaukee for one night only, on Saturday, Oct. 26. The show starts at 7:30 and you can get tickets from the South Milwaukee Performing Arts Center website or by calling the box office at (414) 766-5049.
*****
500 Clown strives to create a charged environment that celebrates the unpredictable power of the moment. The group uses action-based performance, improvisation, and circus arts to tell long-form dramatic stories that catapult the performers into physical and emotional risk.
The South Milwaukee Performing Arts Center (SMPAC) provides the greater Milwaukee and southeastern Wisconsin communities with creative, innovative and diverse performing arts.  Located on the South Milwaukee 6-12 campus, it serves the students of South Milwaukee and provides professional services for more than 500 shows, performances, rehearsals and other events annually.
Facebook comments
Disclaimer: Please note that Facebook comments are posted through Facebook and cannot be approved, edited or declined by OnMilwaukee.com. The opinions expressed in Facebook comments do not necessarily reflect those of OnMilwaukee.com or its staff.
Recent Articles & Blogs by Jason McDowell