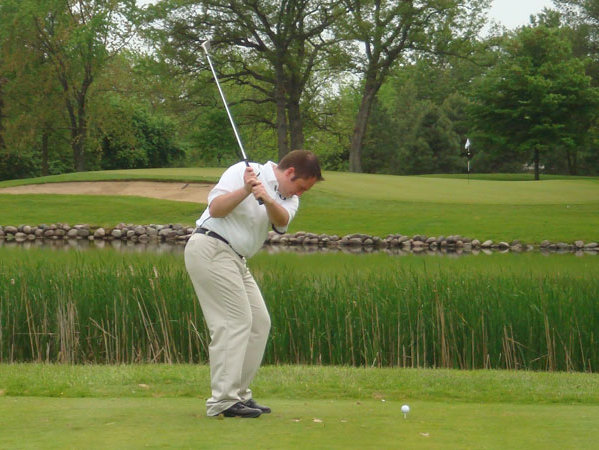 My name is Jason, and I suck at golf.
There, I feel better already.

I am convinced that there are two kinds of people when it comes to this frustrating-but-addictive game: People who think they're "pretty good," and people who think they "suck."
Because it's such a humbling game, with a colossal mistake and lost Titleist awaiting you on your next shot if you open up your club face prematurely, even the really good players are measured in their self-assessments.

I came up with this theory while playing in a pair of charity golf tournaments last week: Monday's MACC Fund Open at Tuckaway Country Club, part of MACC's ongoing fight against childhood cancer and related blood disorders and Friday's Trfecta Foundation outing at The Bull in Sheboygan Falls, to benefit Green Bay Packers' right tackle Mark Tauscher's foundation, which focuses on enhancing the education and literacy of children in Wisconsin.
In the former, I was our group's designated "celebrity," which a) reminded me I need to work harder on behalf of executive director John Cary to get some real celebrities involved so no one has to be stuck with me as their big-name player, and b) meant that my group and zero chance of winning the tournament.

In the latter, I was part of a foursome with FOX 6's Tim Van Vooren, 540 ESPN's Craig Karmazin and Robb Vogel, the sports director of the NBC affiliate (WMTV) in Madison. Our scheduled celebrity was Packers cornerback Al Harris, who arrived four holes into play, sans clubs and balls. He basically had his cart and his cell phone. He borrowed five clubs -- two woods, two irons and a putter -- from a clubhouse kid and was kind enough to lose four of my balls in the five holes he played with us, helping me finish the day with a tidy two dozen that were never to be found again.

(We then picked up wide receiver Ruvell Martin for the final three holes after his initial foursome had completed its round while we still had holes to play. He impre…
Read more...