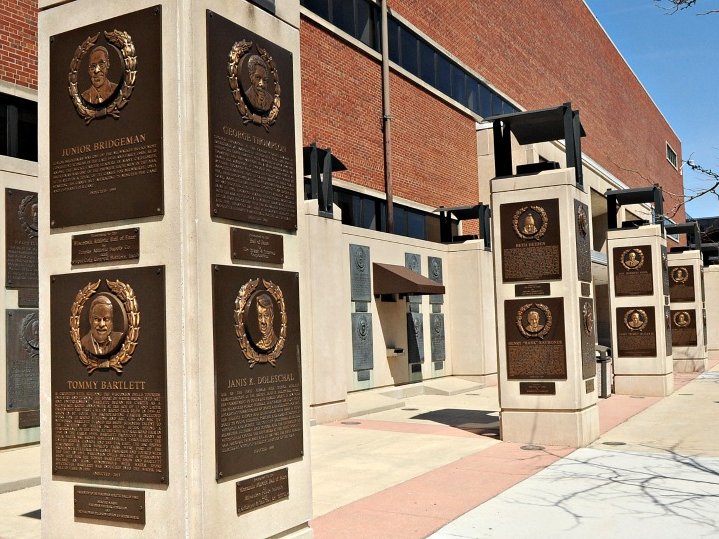 Lammi Sports Management announced it has acquired all of the assets for the 63-year-old Wisconsin Athletic Hall of Fame, located alongside the UWM Panther Arena on 4th Street.
The assets of the Hall of Fame, which was established in 1951, will now be managed the newly created Wisconsin Hall of Fame, LLC. The company will create a board of advisors comprising notable sports executives and media members from around the state, community leaders and athletes. 
This is welcome news to many in the city, who have felt the Hall of Fame has been marginalized – and largely forgotten – by many sports fans. 
As someone who moved to Milwaukee, the wall on 4th Street was a great way to learn about Wisconsin's rich sporting history. But, you rarely see passerby on non-gamedays on that block, and even then people just sort of wander past it. 
When there are so many halls of fame out there, from the league's to the individual teams and schools, it's hard to maintain relevancy. 
I'd still like to see the Wisconsin Athletic Hall of Fame rolled into a new Milwaukee Bucks arena project, but until then this new management has said it will host year-round events including holding its induction ceremony at the Wisconsin Center, host a nomination luncheon,  conduct "Speaker Series Breakfasts" and, potentially, a Wisconsin Athletic Hall of Fame touring exhibit.
This is all slated to begin no later than 2016 to commemorate the 65th anniversary of the Hall.
"Lammi Sports is honored and humbled to preserve and restore this historic Wisconsin sports property," Brian Lammi, founder and CEO of Lammi Sports Management said in a statement released by the firm.
"We want to thank the Wisconsin Center District and the Wisconsin Sports Development Corporation for their faith in Lammi Sports Management to oversee this iconic trust that salutes athletic excellence in Wisconsin. We also want to commend the Wisconsin Sports Legacy Group for their grass roots efforts to revitalize the Hall.…
Read more...