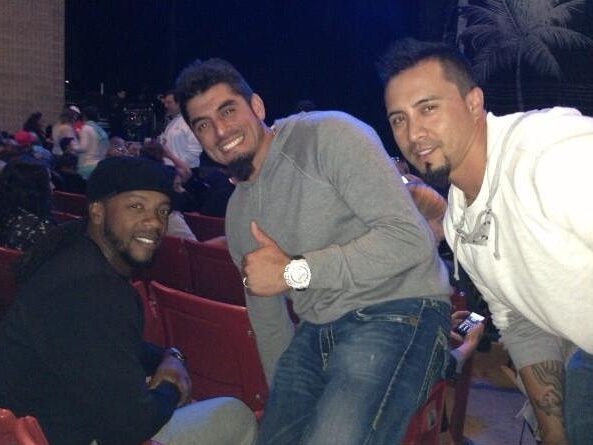 Some members of the Milwaukee Brewers took advantage of the fact that their schedule aligned with the Summerfest over the last week with some day games, including ace Kyle Lohse.
Lohse pitched in the National League Central for about six years (Cincinnati and St. Louis) before coming to Milwaukee last year, but never had an occasion to swing by the Big Gig as a visitor.
Wednesday provided his first opportunity, as he, Matt Garza and Rickie Weeks took in Aloe Blacc and Bruno Mars at the Marcus Amphitheatre on the opening night of Summerfest.
"It was pretty cool," Lohse said. "I haven't really been to too many concerts in my life so it was pretty cool to go there and see the reaction and kind of get a little better feel for Milwaukee."
Reliever Will Smith is headed to the lakefront tonight, too, to take in country singer Luke Bryan. As a fan, Smith saw the schedules align and made sure to get tickets.
"The first game we were here (on the home stand) we heard Summerfest was here so with the day game (today) I called my agent to see if they could get me tickets," he said.
With three teammates having gone on Wednesday – and members of the Brewers staff and broadcast contingents having gone before – word has spread to the new members of the team.
"I heard it's a lot of fun," Smith said. "Everybody says the weather's a little bit better. But it should be a good time. I'm excited to see what it's all about."
"I heard it was like the coolest thing to do and every year it's legit and the thing to do in Milwaukee, or Wisconsin," Brewers infielder Scooter Gennett added. "I haven't heard too much about other than you can just get in and can just walk and listen to whoever you want. I'm sure it gets crazy."
Gennett and reliever Rob Wooten not be able to get to Summerfest this weekend (and Smith probably isn't going Sunday), so I ran the headliners by them to see if they could go, who would they go see?
Wooten: Luke Bryan for sure – I'm a country guy. Styx are classic, I guess, (but) Luke Bryan, there's no doubt. I've never seen him. I'm not a huge concert guy. I've been to a couple. If I were going to one, that's where I'd go and I'd probably enjoy it.
Outkast. I used to love Outkast. Outkast is kind of my generation I guess a little bit. That actually would be really cool to go to. You'd see me at Luke Bryan and Outkast.
Smith: This is going to sound weird, but David Nail and Outkast would be fun. A little mixture of both. Growing up south of Atlanta you hear the newest country and the newest rap that comes out all the time.
Gennett: I like (Luke Bryan's) music – it's not too bad. I like country. I like all kinds of music to tell you the truth. I listen to the radio and like pretty much everything. I don't really know any of the other bands (on Saturday). I would go see Outkast. That'd be fun. They were pretty good. They had some really good songs. The only concert I've ever been to was a Blake Shelton – and a couple other guys – that's the only concert I've ever been to. I liked it. I like the country vibe. Not really not tall jumping around, crazy. I like it kind of chill. I would say I'd go say Luke Bryan for sure."
But Lohse probably summed it up best, at least from the perspective of first-timers or visitors.
"I still don't even grasp how many things are going on at once over there," he said. "It's a lot of stuff, a lot of people, a lot of people having a good time. It would be nice if it was more summer-like but other than that it was pretty cool."
Facebook comments
Disclaimer: Please note that Facebook comments are posted through Facebook and cannot be approved, edited or declined by OnMilwaukee.com. The opinions expressed in Facebook comments do not necessarily reflect those of OnMilwaukee.com or its staff.
Recent Articles & Blogs by Jim Owczarski