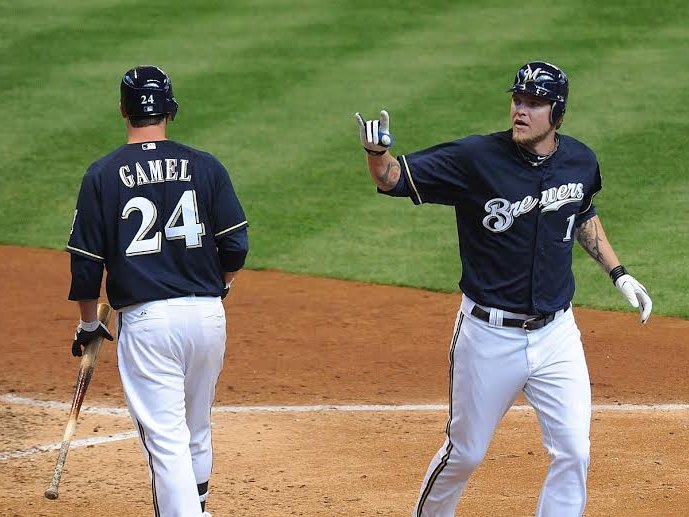 Corey Hart is officially gone, off to Seattle to play with Robinson Cano and Felix Hernandez in the Pacific Northwest.
But, really, it seems as if he's been gone for a while. There hasn't been much consternation about his departure on talk radio, or social media.
Perhaps it's out of sight, out of mind. He missed all of 2013 recovering from surgeries on both knees and last played for the Milwaukee Brewers on Oct. 1, 2012, going 0-for-3. He finished that season – a disappointment, team-wise – with a .270 batting average, .334 on base percentage and .841 OPS with 30 home runs and 83 RBI in 149 games played.
While Hart isn't truly the last piece that remains of the most successful stretch of Brewers baseball since the early 1980s (Rickie Weeks will be next, and Ryan Braun remains for the foreseeable future) his departure does feel like it marks the end of one era of homegrown talent that from 2005 through 2013 went 739-719 with one division championship, two playoff appearances and one trip to the National League Championship.
Think about it, those 2005 Brewers that finished 81-81 – the first non-losing season in 12 years – featured J.J. Hardy (22), Weeks (22) and the first appearances of Hart (23) and Prince Fielder (21).
It was a heck of a run for the Brewers, as they drafted a future All-Star every year from 2000 through 2005, and then used picks from 2006 through 2008 to land Cy Young winners CC Sabathia and Zack Greinke via trade.
Hart was the oldest of that core, drafted in 2000. Though he never played 162 games (his career high was 157 in 2008) he did make two All-Star teams and topped 30 home runs twice and drove in more than 100 once.
Hart ended his tenure in Milwaukee after nine years with 154 home runs, 508 RBI, a .276 average and 16.0 WAR. He hit .241 with 2 homers and 5 RBI in 60 postseason plate appearances well.
A "new era" began with the Brewers in 2013, with Weeks, Gallardo and Braun remaining in the transition.
Catcher and potential All-Star Jonathan Lucroy was drafted in 2007, followed by Scooter Gennett and Khris Davis in 2009. Jimmy Nelson and Tyler Thornburg (class of 2010) are now in the mix, too. All-Star and Gold Glove winner Carlos Gomez is locked up through 2016, and All-Star shortstop Jean Segura is under team control through 2018.
I'm not sure what kind of legacy Hart leaves on the Brewers and Milwaukee as an individual, but he definitely had an impact on the organization as part of a remarkable group of players.
Talkbacks
TosaJim | Dec. 13, 2013 at 7:50 a.m. (report)
What a tool....sits on his ass for all of 2013...collects 10 million dollars...says he'll take less to stay in Milwaukee because he didn't play in 2013....takes more money "because I have to do what's best for me and my family".....I wish he would have taken Weeks and Braun with him. (Thanks Jim, I feel better now) :)
Facebook comments
Disclaimer: Please note that Facebook comments are posted through Facebook and cannot be approved, edited or declined by OnMilwaukee.com. The opinions expressed in Facebook comments do not necessarily reflect those of OnMilwaukee.com or its staff.
Recent Articles & Blogs by Jim Owczarski