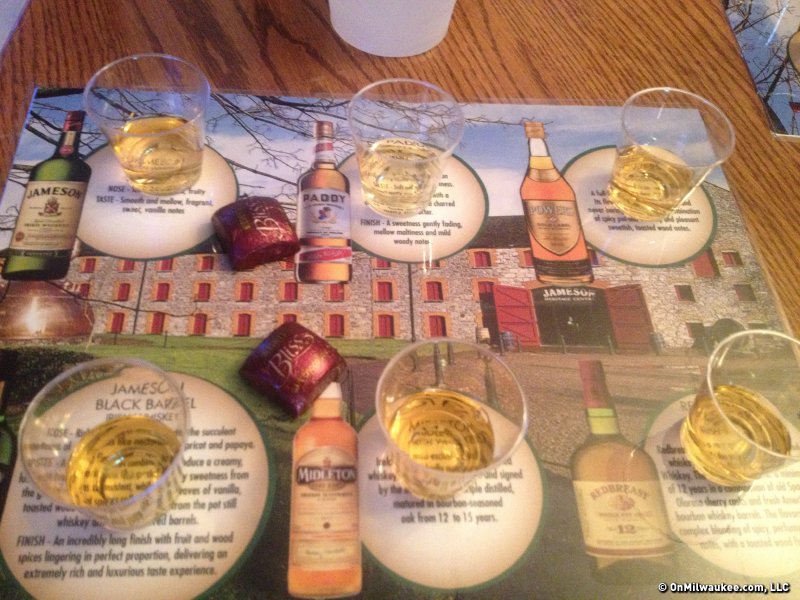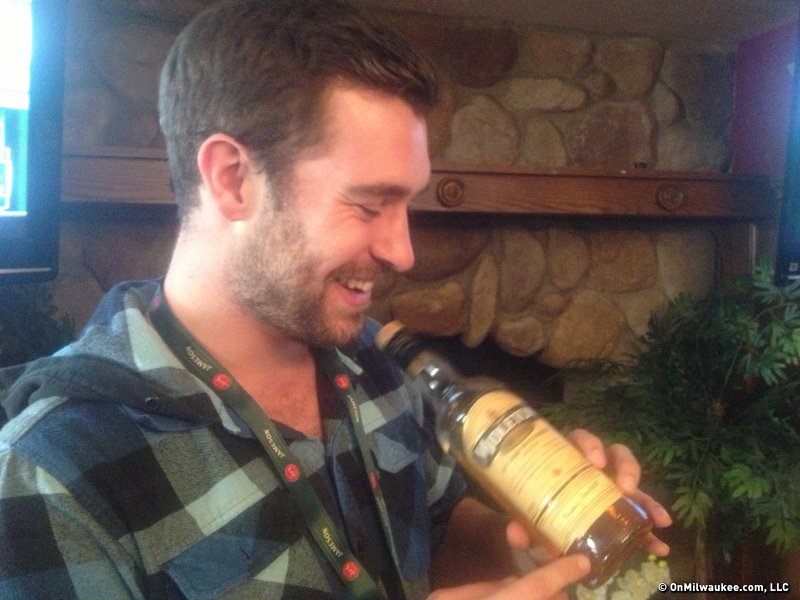 Today, along with two coworkers, I went to John Hawks Pub at noon and sat down to a placemat topped with six shots of whiskey.
After making our jokes about liquid lunching like it's 1959, we spent the next hour with Jameson representative Eoin Derham who told us about the history of Jameson and other fun factoids like that the founder, John Jameson, had 16 kids which is believed to have started the "whiskey makes you frisky" adage.
Derham, who lives in Dublin but is in the United States for a year to expand the Jameson market, told us that Wisconsin is a large consumer of whiskey. (Not surprisingly, in this Land O'Lushes.)
Derham is in Brew City to promote the product both around town and at Irish Fest this weekend.
There are two Jameson lounges at Irish Fest where whiskey lovers can sample different whiskeys or enjoy a variety of Jameson cocktails including the Bloody Molly (a Bloody Mary made with whiskey instead of vodka.)
During our lunch tasting, we sampled six different kinds of Jameson (not entire shots, mind you, or else I would not be able to type this right now) including classic Jameson, Paddy, Powers, Black Barrel, Midletown and Redbreast.
I loved 'em all. I really did. But I'm an Irish whiskey drinker in general.
If forced to pick, I'd go with the Jameson Black Barrel, which has hints of fruit and vanilla and a slightly "woody" aftertaste. At under $40 a bottle, it's also somewhat realistically in my booze budget. I also really appreciated the smoothness of the Midleton and Redbreast but, never having developed a discerning enough palate, probably wouldn't spend $120 on a bottle.
Here's what the other OnMilwaukee.com whiskey samplers had to say.
Hannah Becker
OnMilwaukee.com intern
Being a 22-year-old college student, my knowledge of good whiskey started and ended with Jameson. So needless to say, I had a blast learning how whiskey is made and what makes each type unique.
Starting out with Jameson was perfect since I already know how that tastes and was able to compare how different the other five were from it. Midleton, Redbreast and Jameson Black Barrel easily stole the show. Midleton and Redbreast left a long lasting aftertaste that I didn't want to go away. Both were incredibly smooth and my taste buds could easily detect all the different flavors. For me, Jameson Black Barrel had a flavor that I remembered the most because it still had that spiciness that I tend to think of with whiskey yet I could easily taste the fruitiness of it. It was incredibly smooth, as well, and the aftertaste was packed with spices.
Hearing the prices of some of these bottles made me realize I am not ready for my "good whiskey phase," but I am happy to say my taste and knowledge of whiskey has expanded after today.
Colleen Jurkiewicz
Reporter
It's not easy to choose between these whiskeys. They were all fantastic and I would gladly drink a glass (or two?) of each (not on the same night, but you get my drift).
My hands-down favorite, however, was the Midleton Irish Whiskey. I love alcohol that doesn't taste like alcohol – for me, the overly boozy taste is the biggest giveaway that you've spent too little money on your drink, and while Midleton has an undeniable "whiskey" flavor, it's as smooth as can be.
Midleton is triple-distilled and matured in bourbon-season oak for 12 to 15 years. You just can't fake craftsmanship like that, people. Plus, the bottles are individually numbered and signed by the Master Distiller, who was actually born on the grounds of the Midleton distillery in Cork. This stuff may be a little pricey, but you're paying for an experience, not for a beverage. And it's one hell of an experience.
Facebook comments
Disclaimer: Please note that Facebook comments are posted through Facebook and cannot be approved, edited or declined by OnMilwaukee.com. The opinions expressed in Facebook comments do not necessarily reflect those of OnMilwaukee.com or its staff.
Recent Articles & Blogs by Molly Snyder