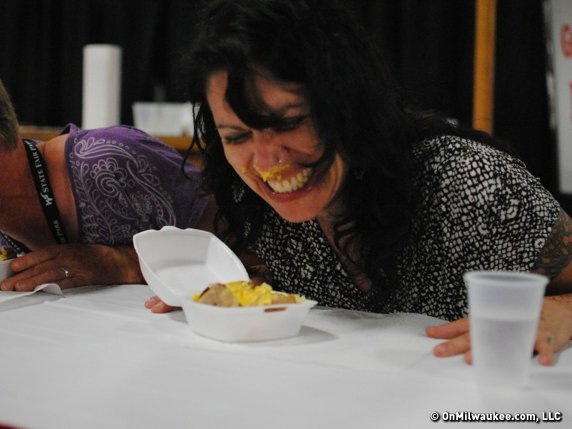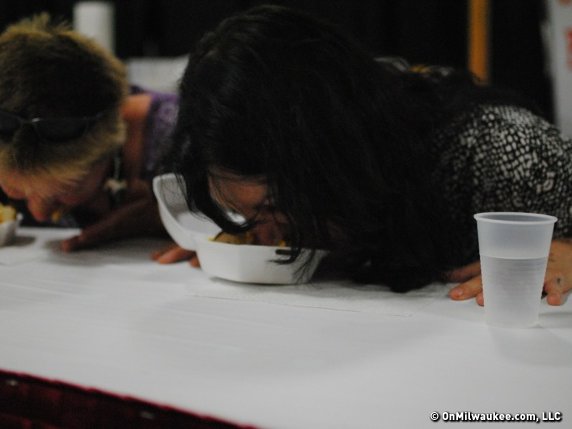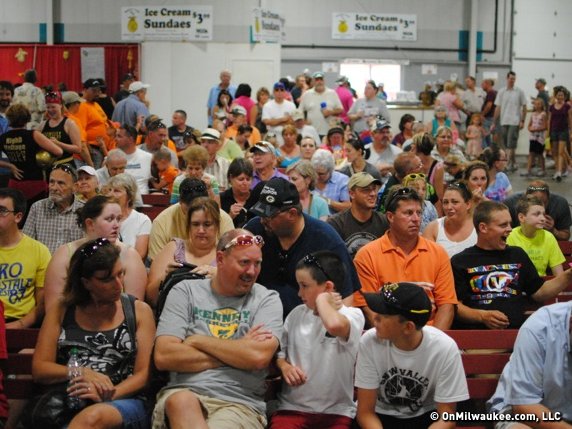 Last night, I had the absurd pleasure of participating in a baked potato eating contest at the Wisconsin State Fair. I have been in competitive eating contests before – the fact I am consistently asked to do this is perhaps the strangest aspect of my job and one I never imaged part of the professional writer's life – but this was the first time I competitively ate a baked potato.
And the first time I competitively ate and was not allowed to use my hands.
Seven of us competed and we were quite the motley crew: a radio personality, a morning show host, a beauty queen, a Brew City bruiser, a couple of State Fair employees and I. In short: I lost; the Bruiser won.
I had a difficult time scarfing down the potato – which thankfully wasn't too hot but was smothered in runny, "nacho-style" cheese, much of which ended up in my nostrils.
At one point I couldn't stop laughing at how disgusting the experience was. If I so much as side glanced at the wet, orange faces of my competitors I would lose focus. Plus, the sounds – the mouth-smacking, over-swallowing sounds that came from our cheesy mouths – were even grosser and further distracted me from scarfing.
When I posted on Facebook that I was planning to participate in the potato-eating contest, a friend wrote that he found such contests to be morally unethical. He did not understand how it's OK to offer up gluttony for entertainment when there are so many people starving in the world. I get this, I really do, and I thought about it last night before the competition, when so many folks flocked to watch a spud-eating contest.
But there is something about the ridiculous in all of is glorious forms that I appreciate. Day-to-day existence gets so heavy sometimes, that you gotta embrace those moments when you find yourself face-planted in a cheesy potato with hundreds of people cheering you on. Life is too short not to.
Facebook comments
Disclaimer: Please note that Facebook comments are posted through Facebook and cannot be approved, edited or declined by OnMilwaukee.com. The opinions expressed in Facebook comments do not necessarily reflect those of OnMilwaukee.com or its staff.
Recent Articles & Blogs by Molly Snyder