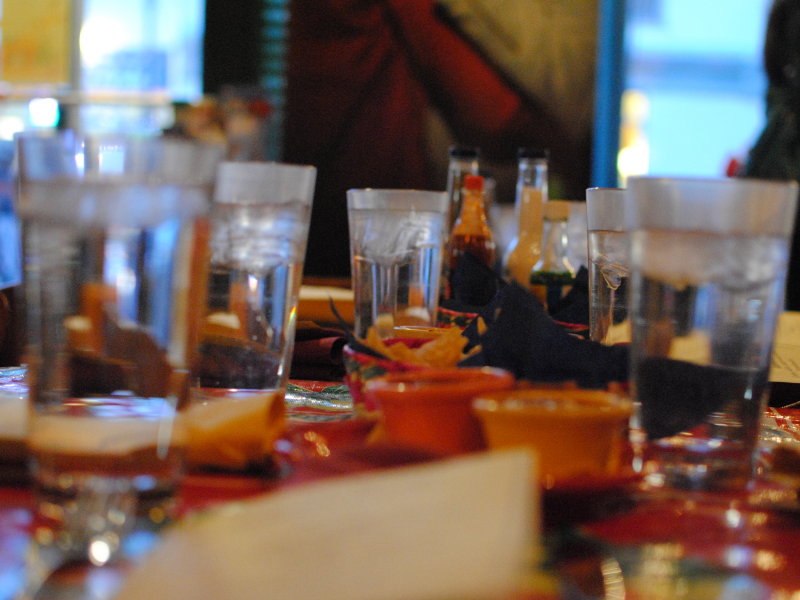 I was a little hesitant about attending a tequila dinner. I admit, tequila and I have a sordid past. It's not that I don't like the taste of it, I just don't like the feeling of bathroom tiling pressed against my cheek. True story; perhaps you've been there.
However, nothing about my experience last night made me the least bit ill. (Hooray. And ole!) The Sauza Tequila Dinner was held at the delicious and adorable Cempazuchi, one of my favorite Mexican restaurants in the city.
Armando Zapata, a "Tequila Ambassador" for Beam Global --  yes, that's the lucky chap's title --  hosted the event. He did a fab job giving us an overview of tequila's history and production, fielded questions from the group and then provided multiple shots of tequila for us to pair with our meal. (I think that was my favorite part.)
The menu consisted of multiple appetizers, like tortilla chips with two dipping sauces and amazing guacamole, followed by empanadas and a small spicy salad. Next up was a larger Jicama salad, made with a tangerine tequila dressing.
The entrees were tequila shrimp -- absolutely perfectly sauteed -- and pollo en salsa borracha (chicken in "drunk" salsa) which was extremely tender and flavorful. The lighter and medium tequilas brought out the flavors of both the chicken and shrimp. The meal ended with a Mexican chocolate bread pudding that was made with semi-sweet chocolate and paired nicely with darker tequila.
Under normal circumstances, I probably wouldn't drink four or five shots of tequila with my dinner, but hey, apparently that's how you roll at a tequila dinner. And the staff were so quick with the water refills, I actually drank enough water for once and had only a faint trace of a hangover this morning.
Plus, I met some cool people last night, like Brian P. West from Alcoholmanac (who I immediately offended by asking if his publication was still a printed publication -- doh, whoops -- but I think we were OK by the end of the convo o…
Read more...