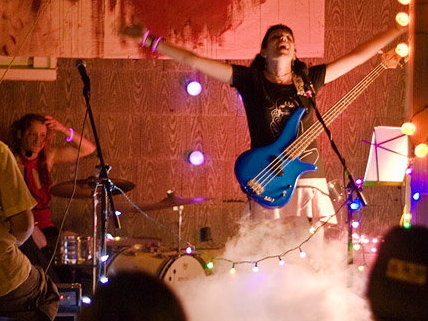 The formation of my punk band is the only thing in my life that is happening ahead of schedule.
My friend and I had a long running joke that we were going to fulfill a mutual lifelong dream and start a band when we were 50. However, over time we decided to jump start our rock star status and started messing around with sound more than a decade earlier than originally planned.
There are a thousand reasons why I shouldn't be in a band. For starters, I have only been playing bass for six months. I practice almost every day, but still, I register pretty high on the Sucktometer. Also, with two kids and a job and so many other responsibilities, the proverbial full plate is more like a teeming trough.
In fact, there are so many other things I could or "should" be doing with my time instead of making bad sounds in my friend's basement, and yet my two bandmates and I meet religiously every Thursday night.
It all started one frigid evening in mid-January.
There we were, freezing in Renee's basement, wearing hats and gloves with the fingers cut off so we could stay warm and still play. But despite the missed notes and flat singing, that night, my band was born in a Riverwest basement, joining the ranks of every other Milwaukee band -- spectacular or craptacular -- that has ever existed.
The first few practices were rough. We practiced for four or five hours at a shot, trying to come up with something that sounded remotely like The Cure's "Boys Don't Cry." We were officially a Totally Crappy Basement Band.
However, every week we video recorded ourselves playing a song, and by March, when we watched the clips in succession, we realized we were actually getting better. We elevated our band status from Totally Crappy to Sorta Shatty, and we kept going.
Last night we played our first gig at a friend's birthday party. It was our maiden voyage from the basement, and the only time we played for anyone or anything other than the was…
Read more...