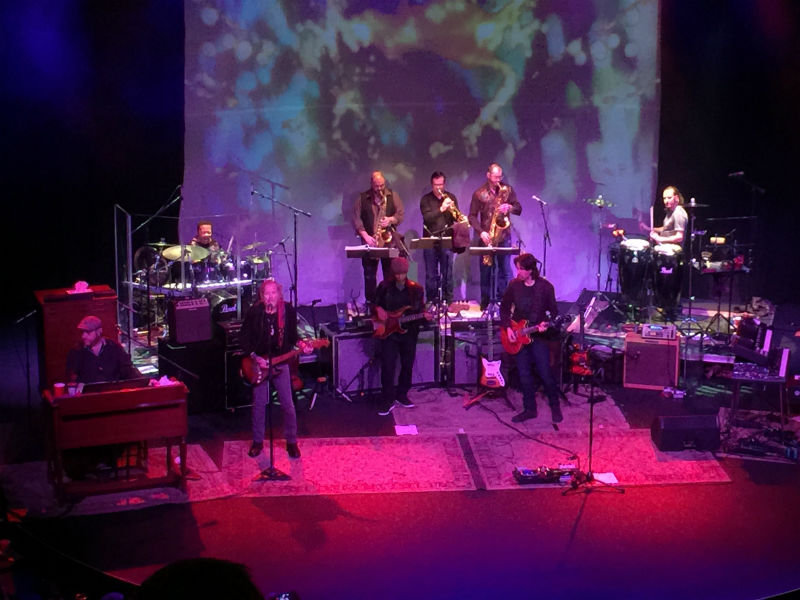 Gregg Allman may still be playing cards with old man Fate, and he opened Wednesday night's concert by inviting those whom may have lost money in the casino to come in and drown their sorrows in some blues.
But God knows Allman has drawn many poor cards in his life, and it's nearly a miracle he survived this long, with an almost savior-like gift for rebirth and renewal – especially in a life that's been often gritty, unsavory and tragic, marked by the unforgettable deaths of his superlative guitarist brother Duane and Allman Brothers bassist Berry Oakley in a hauntingly similar motorcycle accident a year later. This Allman has borne the weight of drug addiction that very nearly killed him and several trying marriages, including a disastrous one to pop diva Cher. 
So the man who played the Northern Lights Theater still has the long blonde hair, beard and tattoos of a spiritual renegade, and many in the enthusiastic crowd perhaps felt like fellow travelers as the 67-year-old singer/songwriter, organist and guitarist transformed some of his trademark songs and put an indelible stamp on a number of blues high-water marks.
His unassumingly magnificent 2011 album "Low Country Blues" reasserted Allman's profound commitment to the Southern blues idiom, deeply infused with gospel and strains of rock 'n' roll and jazz. The band's consistently imaginative light show began with an extended tribute to classic bluesmen from Muddy Waters to Blind Lemon Jefferson to Robert Johnson.
So it was no surprise that Allman and his band really opened the floodgates of soulful passion with a stone classic T-Bone Walker song "Stormy Monday Blues," which he recorded on the Allman Brothers' great "Live at the Fillmore East" album from 1971. Allman has massaged and expanded the tune for all its worth and made it the occasion to introduce his surprise guest performer Harvey Mandel, one the most singular and compelling blues-rock guitar stylists of his generation.
Though he …
Read more...