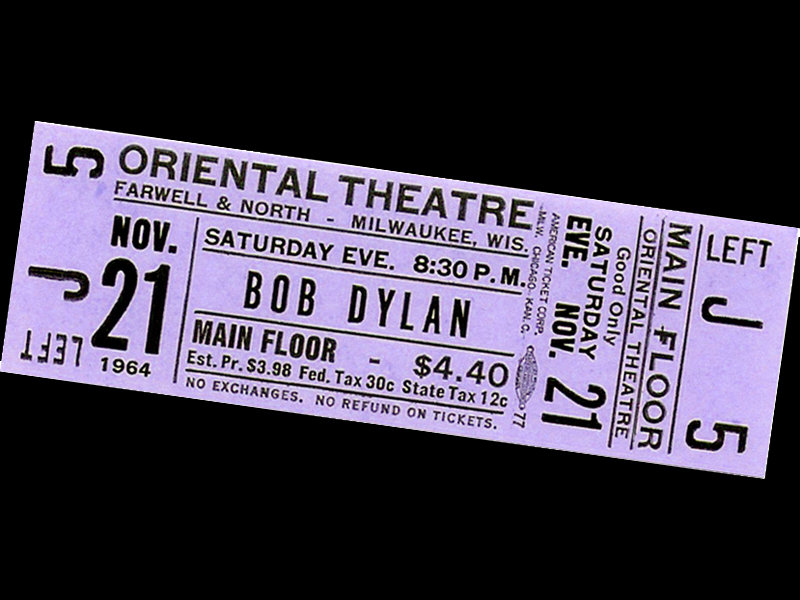 This Saturday, Nov. 21, marks the 51st anniversary of the ill-fated Bob Dylan performance at the Oriental Theater on Milwaukee's East Side. The concert (using the term loosely) has become legendary in the city's history – paraphrasing Dylan himself – not for what it was, but for what it wasn't.
By way of background, Dylan's appearance was arranged by a promoter named Nick Topping, himself no small legend in the annals of Milwaukee musicdom. Born Nick Topetzes, he was the son of Greek immigrants who ran a grocery store near 4th & National. Topping and his extended family members became mainstays of the Greek community here, and Nick was a well-known crusader for social justice, having participated with Father James Groppi in the raucous open-housing marches of the early 1960s.
After returning from service in World War II, Topping operated a small produce import shop that was stocked with music and Middle Eastern food from all over the world. He also changed his name, having tired of prejudice shown him for his Greek heritage.
Starting in the late 1950s, Topping also became an impresario of sorts, bringing small-venue concerts by folk musicians – such as Josh White, Pete Seeger and Peter, Paul & Mary – to Milwaukee. He also became the local contact for the Chicago-based promotion company, Triangle Productions.
Early in 1964, Topping got a call from a Triangle contact in New York who asked him if he wanted to book a new British band called The Beatles. This was really outside of Topping's usual profile, but since he was really the only concert promoter in town at the time, he accepted, leading to the band's one and only appearance in Milwaukee in September of that year.
Given Topping's love of folk music, it should be no surprise that a young folk singer from Minnesota named Bob Dylan came up on his radar screen about the same time. He learned of Dylan's upcoming fall tour and booked him for the Oriental on Saturday, Nov. 21.  
Ticket…
Read more...