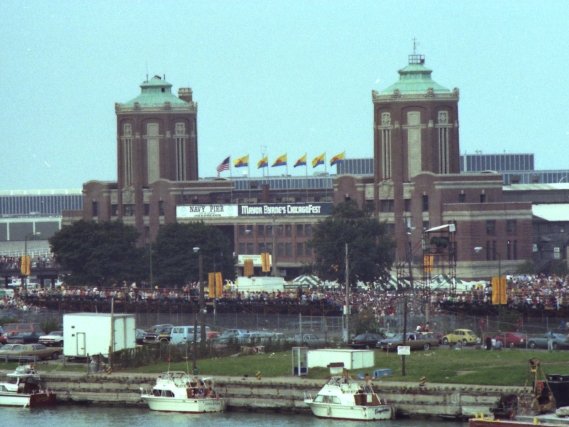 If you're in Summerfest withdrawl, perhaps this little stroll down memory lane will help ...
By the late '70s, Summerfest had established itself as a hit and was making our neighbors to the south more than a little jealous.
Looking to create a similar event, Chicago mayor Michael Bilandic launched ChicagoFest in 1978. To get the event off the ground, Bilandic looked to Milwaukee, raiding the Summerfest staff and bringing five people -- food managers Tom and Bill Drilias, entertainment directors Joel Gast and Lou Volpano and public relations director Joseph Pecor -- to Chicago to create his masterpiece.
Much like Milwaukee's event, ChicagoFest featured a main stage act and 16 free stages with a long list of national acts. The Scorpions performed one of their first live concerts in the United States at ChicagoFest. Other major acts included Joan Jett, Cheap Trick, Alice Cooper and even George Burns and Willie Nelson.
The festival was an early success, regularly drawing well over a million visitors but politics quickly plagued the event. Bilandic's successor, Jane Byrne, tried to cancel the event after its first year but public outcry caused her to change her position; she later added her name to the festival.
Things came to an end after the 1982 event. Racial tensions in Chicago led to a boycott of ChicagoFest by prominent members of the African-American community. Stevie Wonder and other performers canceled their scheduled performances.
Byrne's successor, Harold Washington, moved ChicagoFest to Solider Field in 1983 and after poor attendance that year, Washington canceled the event.
The Taste of Chicago, launched in 1980, was moved to Grant Park and quickly grew into a much larger and more popular event.
The festival is long gone but lives on in memory thanks to Victor Modlinski's ChicagoFest Web site which has a lot of great pictures.
Talkbacks
MKE.Mike | July 9, 2010 at 12:53 p.m. (report)
I was a Chicago born, UWM student when I went to ChicagoFest. You have to remember, this event was held at the "old" Navy Pier, not the new renovated one so it was horrible in comparison to Summerfest. Hardly any bathrooms or drinking fountains, narrow, overcrowded hallways, etc.... I thinkyou get the idea. We really have a gem in Summerfest!
Facebook comments
Disclaimer: Please note that Facebook comments are posted through Facebook and cannot be approved, edited or declined by OnMilwaukee.com. The opinions expressed in Facebook comments do not necessarily reflect those of OnMilwaukee.com or its staff.
Recent Articles & Blogs by OnMilwaukee.com Staff Writers