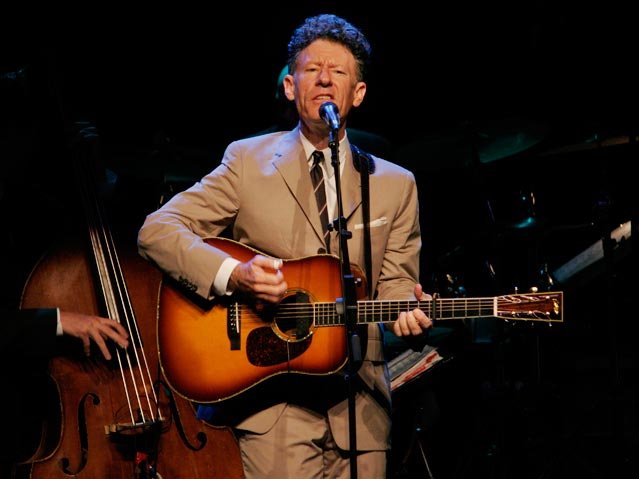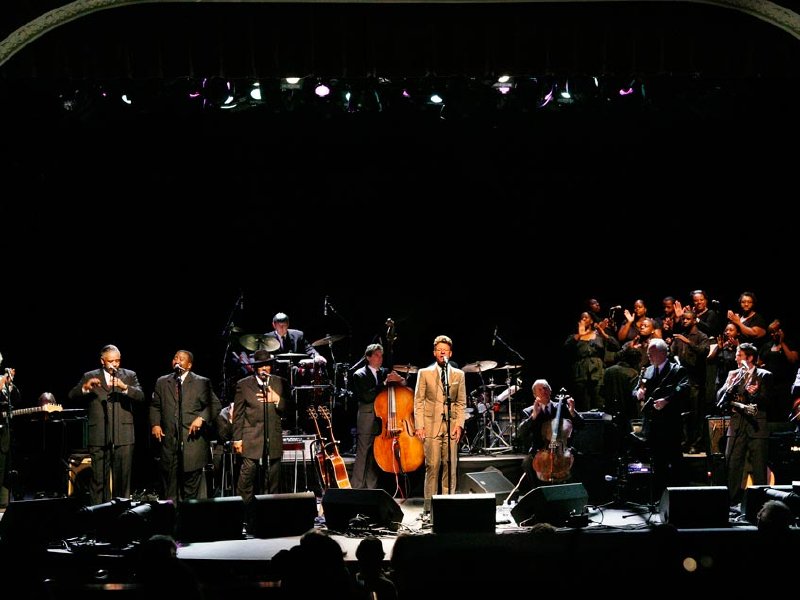 When Lyle Lovett took the stage at Potwatomi's Northern Lights Theater Wednesday night he was joined by 24 musicians and vocalists. It is with good reason Lovett calls his group His Large Band.
Moving effortlessly from Western Swing to Bluegrass to Country, Lovett and his group blurred musical genres shamelessly. But it was a handful of seismic Gospel numbers that pushed the evening into the realm of the spectacular. It takes a performer mighty confident in his talent to surround himself with such an equally talented crew.

Abetted by a vocal trio of Sweet Pea Atkinson and Harry Bowens (Was, Not Was) and Willie Green (Ry Cooder) and local 11-piece gospel group Anthony McGahee & The Voices, Lovett was like the snowball that turned into an avalanche of song on "I Will Rise Up/Ain't No More Cane on the Brazos." At times he was happy just to turn around and simply enjoy The Voices at work.

Maybe because this was the second of two nights at Potawatomi Lovett and his band really seemed relaxed -- comfortable even -- and simply dug into the music. "Don't Cry A Tear" from the most recent album "It's Not Big It's Large" began with only cellist John Hagen and Lovett's acoustic guitar, their notes hanging in the air before Lovett's vocals came in. Throughout the evening, piano and pedal steel guitar traded eights as often as the mandolin and violin weaved solos.

Lovett's between song anecdotes ranged from how much he enjoys visiting the Third Ward to his deadpan humor which often as not segued into the next tune, as it did on the acoustic Bluegrass quartet ode to fidelity "Keep It In Your Pantry" which featured upright bassist Viktor Krauss.
"If I Were the Man That You Wanted" recalled mentors like fellow Texas songwriters Guy Clark and Townes Van Zandt while "South Texas Girl" showed Lovett's skill as a writer equal to the legends.

Among his best-know tunes Lovett offered up "If I Had a Boat" and a stomping "My Baby Don't Tolerate", as well as a cover of Madison native Tracy Nelson's "(I Could Have Been Your) Best Friend" that appeared on Krauss' solo album "II."
Facebook comments
Disclaimer: Please note that Facebook comments are posted through Facebook and cannot be approved, edited or declined by OnMilwaukee.com. The opinions expressed in Facebook comments do not necessarily reflect those of OnMilwaukee.com or its staff.
Recent Articles & Blogs by OnMilwaukee.com Staff Writers