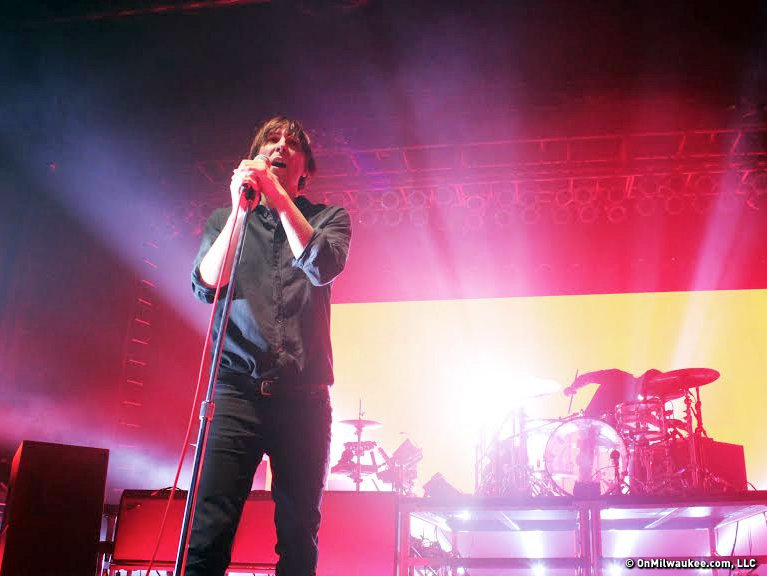 Question: What do you get when you cross a band of native Frenchmen with American pop music?
Answer: Alt-rock group Phoenix.
The group proved its worth Thursday night at the sold-out opening of the two-night The Big Snow Show 8.
Phoenix was joined by Alt-J, Grouplove and Bastille – all with current recognizable radio hits. The crowd was made up of mainly 20-somethings who were ready to rock. After eight years of The Big Snow Show, FM 102.1 has it pretty well figured out.
It was clear that Phoenix – which hasn't performed in Milwaukee since 2006 – was the main draw to the show, but the supporting acts definitely helped fill The Rave. The band was certainly the main draw for me.
However, I was completely blown away by the opening acts – especially Grouplove, which ran out on stage to A$AP Rocky's "Wild for the Night," and that set the tone for the performance.
Grouplove drove the crowd wild with hits like "Schoolboy," "Tongue Tied" and my personal favorite, "Ways to Go." Not sure how it kept the songs sounding so great considering the copious hair-whipping, but it did.
Alt-J was also a hit with the crowd – definitely more recognized than Bastille or Grouplove, but with less energy (read: no hair-whipping). I was impressed by its obviously strong fan base. The beautiful acoustic rhythms were quite a contrast to Grouplove's upbeat melodies.
The show sold out early and tickets were scarce by opening night, some going for as much as $100 on StubHub and Craigslist. A larger venue may have been more accommodating, but fans appreciated the intimate setting of The Rave.
The acoustics of The Rave are not perfect, but Phoenix sounded just as clear as it does on its latest album and kept the crowd engaged throughout its set.
The band played songs from most of its five albums, including hits like "1901" and "Lisztomania" from 2009's "Wolfgang Amadeus Phoenix" and "Entertainment" off this year's "Bankrupt!"
I'd hoped for some great banter with a French accent, but the interaction was minimal, consisting of "we're from France – how loud can you get!?"
No matter, there was quite a bit of physical interaction in the form of crowd surfing by Thomas Mars.
Toward the end of the show, Mars deemed us one of the best audiences the band had ever played to. Merci beaucoup.
Phoenix's set list:
Entertainment
Lasso
Lisztomania
Too Young/Girlfriend
S.O.S. in Bel Air
Run, Run, Run
Trying to be Cool/Drakkar Noir/Chloroform
Love Like a Sunset Part 1
Love Like a Sunset Part 2
Consolation Prizes
If I Ever Feel Better/Funky Square Dance
Encore:
Armistice
1901
Entertainment (reprise)
Facebook comments
Disclaimer: Please note that Facebook comments are posted through Facebook and cannot be approved, edited or declined by OnMilwaukee.com. The opinions expressed in Facebook comments do not necessarily reflect those of OnMilwaukee.com or its staff.
Recent Articles & Blogs by OnMilwaukee.com Staff Writers