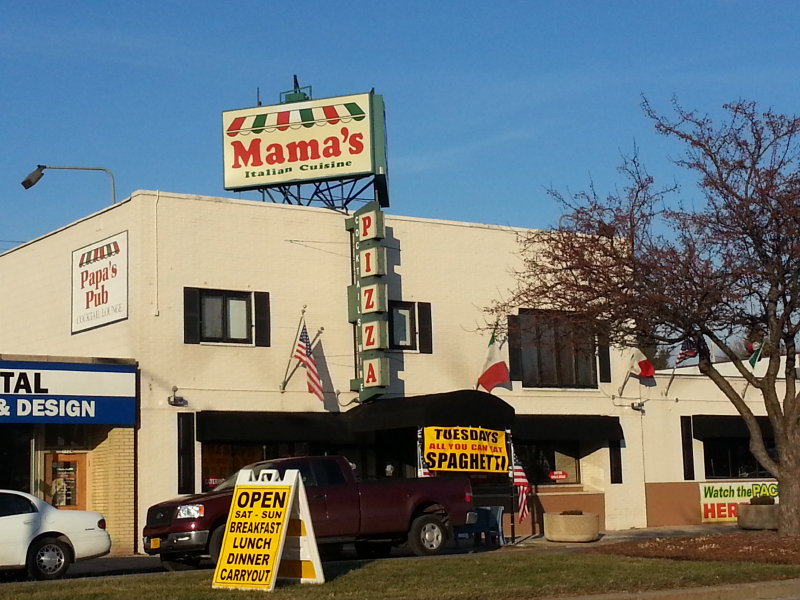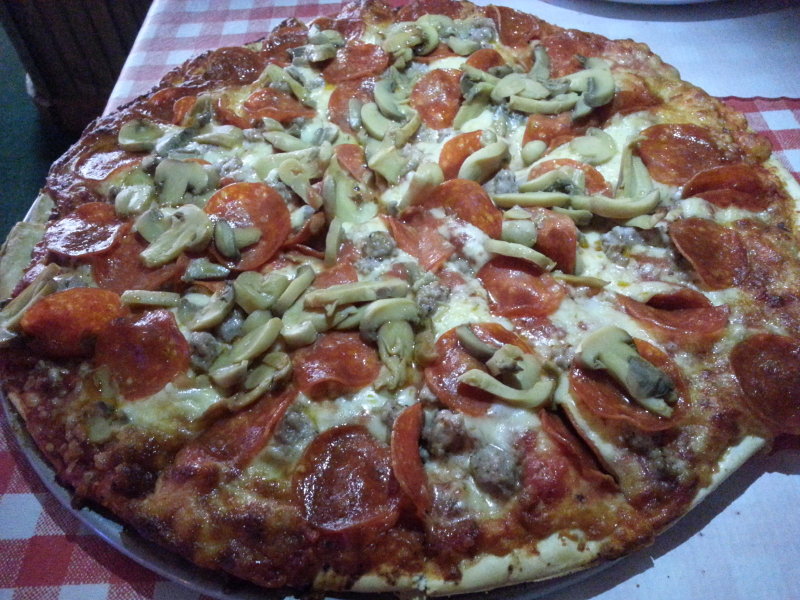 In my last job, I spent some time on Milwaukee's Northwest Side and drove past a few businesses that looked to have some history. One of them was Mama's Pizza and Italian Cuisine.
Opened in 1958 as Mama Mia's, the restaurant has survived and prospered despite changes in ownership and presumably changes in the neighborhood. Current owner Tony Pipito acquired the restaurant in 1977 and shortened the name to Mama's Pizza.
Pipito kept a few popular recipes, such as a familiar garlic bread found at Mama Mia's and Barbiere's, but later brought Chef Giovanni Crivello from Pipito's former Oconomowoc restaurant Porticello to expand and redesign the menu. Crivello still runs the kitchen and seems to have the spirit to run it for another 30 years.
Since 1977, Pipito has acquired the adjacent building suites to expand, adding Papa's Pub with a dining room and converting the original space into a banquet hall.
Recently, a breakfast menu was added and is served every Saturday and Sunday from 9 a.m. to 2 p.m. under a separate entity called Mia's Café, which shares the same space.
Mama's menu is generous with options, featuring pastas, sandwiches, Italian specialties, soups, salads, pizza, broasted chicken, fish, shrimp, ribs and appetizers, such as the combination basket filled with fried eggplant strips, ground beef filled fried ravioli, mozzarella sticks and fried mushrooms.
Pipito explained that he tries to focus on family dining. In fact, Mama's makes lasagnas and freezes them for families to purchase for college students to take to school and still get a taste of "home cooking."
Each day, Mama's offers a different lunch and dinner special. Specials include pastas, while dinner specials range from all-you-can-eat spaghetti on Tuesdays to a Saturday night BBQ ribs dinner.
The pizzas are made on thin crust and come in an 11-inch small, a 14-inch large, and an 18-inch Big Mama pizza. Cheese pizzas range from $14 to $21.95 with combination pizzas ranging from $15.95 to $24.75.
My friend and I dined on a Sunday and took advantage of the Family Night Special, which was a large pizza with three toppings, two orders of garlic bread and a pitcher of soda for $26.99.
As I mentioned earlier, the garlic bread was very similar to the style found at Mama Mia's and Barbiere's. However, I thought this garlic bread was a little denser than the others. Pipito told me that Mama's bakes its bread fresh daily.
The pizza crust was perfectly crisp and reminded me of the crust at Barbiere's with light and flaky layers. The pizza was cut with pie slices, and each slice was strong enough to hold the generous amount of toppings without flopping over.
Mama's makes its own Italian sausage in-house. It had a nice heat that complemented the spicy pepperoni, which is made locally by Pipito's cousin Jeff Scardina.
The pizza sauce was among the thickest I've had on a pizza. Mama's starts with a canned paste and adds its own seasoning blend to it, which is very common. The large, plump mushrooms also come from a can.
We sat in the dining room from Papa's Pub. There were a few other tables with diners, which I was impressed to see so early on a Sunday with no Packers game. Some were ordering lunch, while a few others sat at the bar and watched their omelets being made fresh for them. 
I'm always looking for more options for breakfast and brunch, and I think I'll add Mia's Café to my list to visit.
Chef Crivello specializes in omelets and offers 10 options, including the Sicilian, filled with eggplant, zucchini, artichoke and mozzarella cheese with a side of house-made marinara, and the Godfather, filled with sausage, ham, pepperoni, peppers, garlic, green olives, black olives, mozzarella and provolone cheese.
You could hear the passion in the voices of Pipito and Crivello when they talked about their food and growth of the business. So if you find yourself on the northwest part of Milwaukee, stop in for a bite and say hello.
Also, just a reminder that going forward, new pizza blogs will post on the first Wednesday of the month. Don't forget to check back!
Facebook comments
Disclaimer: Please note that Facebook comments are posted through Facebook and cannot be approved, edited or declined by OnMilwaukee.com. The opinions expressed in Facebook comments do not necessarily reflect those of OnMilwaukee.com or its staff.
Recent Articles & Blogs by Rick Rodriguez