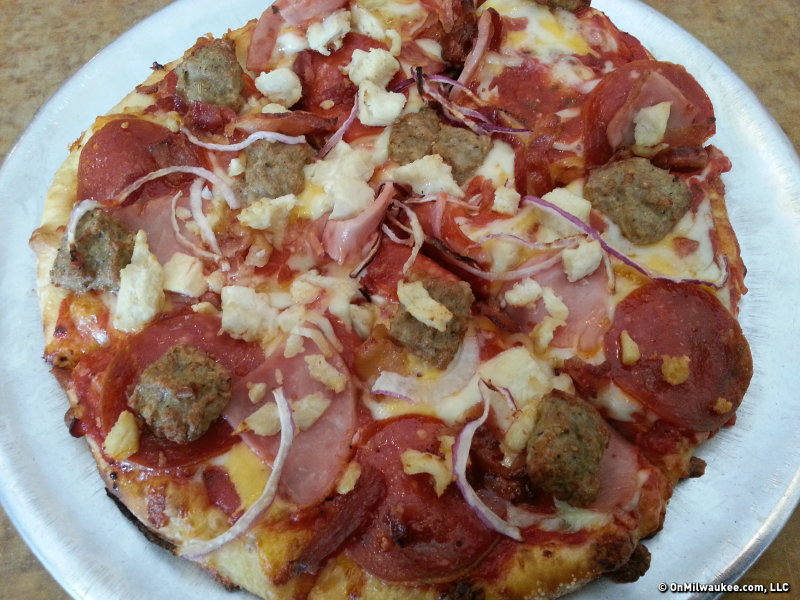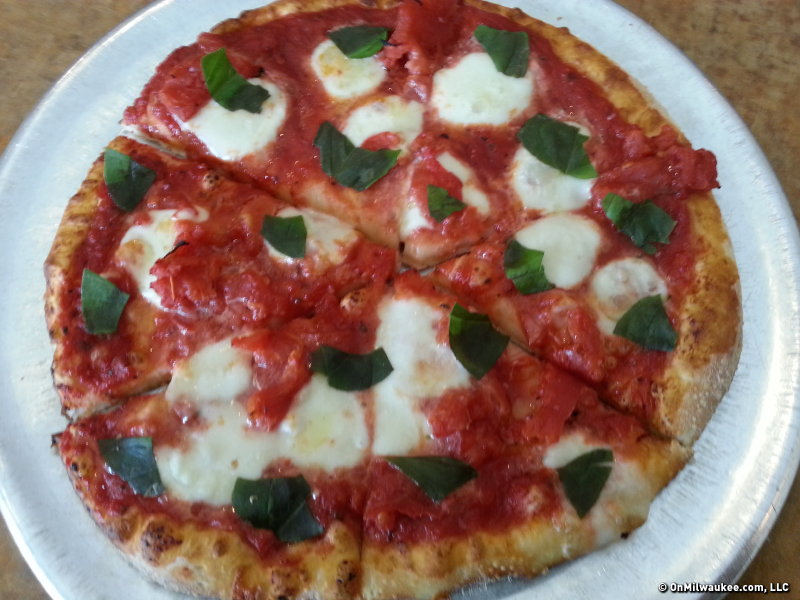 Have you ever visited downtown Delafield? I didn't even know it existed until a few years ago. I'd exit I-94 at Highway 83 where the shopping centers and restaurants are located, thinking that was the heart of Delafield.
One day I learned of an event taking place in Delafield and when my GPS took me to the event, I realized I was wrong about what I thought the town was all about.
Picture "Main Street in Small Town, USA" like you see in some of the movies. Now modernize it with newer buildings, more cars and an Art Walk event like the one taking place on the afternoon of my visit.
County Highway C, aka Genesee Road, actually runs through the center of town, but there is a Main Street that intersects Highway C, and that's where you'll find Bennolli's Hand-Made Pizza, 615 Main St. in Delafield.
Tom Halverson opened the small restaurant seven years ago. He is rarely, if ever, at the restaurant, but he has a very capable manager running the operation.
Bennolli's is very small with three tables of four inside and three or four patio tables outside. There are three additional seats inside for carry-out customers. The restaurant is very new and clean-looking with light cream colored wall paper and floor tiles. 
A gelato station featuring chocolate, vanilla, raspberry, panna cotta, Nutella and peanut butter cup flavors sits next to the ordering counter.
The manager was hustling! He was the only one working, taking orders from the counter and by phone, making pizzas, baking pizzas, delivering the food inside and outside. I was impressed.
Bennolli's strives to offer quality food by using fresh ingredients. The pizza dough is made fresh daily, formed into dough balls, spread out, run through a dough rolling machine, manually rolled with a rolling pin and finally tossed in the air before rolling a spike wheel through it to allow air to escape and prevent the crust from bubbling.
I'm told Halverson went to a school in Missouri to learn to make pizza dough and experimented with recipes to create his own sauces. That sounds like a committed pizzeria owner to me.
After the dough is prepped, the sauce, cheese and toppings are applied to create the perfect pie before it goes into the oven.
Customers have the option of building their own pizzas or ordering one of the many signature pizzas. Choose from the classic hand-tossed crust, a honey whole wheat crust, a gluten-free crust, and an MGD (Miller Genuine Draft) crust for those looking for something a little different. Half of the water is replaced with MGD when making the dough for that recipe.
Their house-made sauces include a standard red pizza sauce, a spicy garlic tomato sauce, extra virgin olive oil, fresh pesto, white garlic and barbecue.
Cheese options include fresh mozzarella, feta, parmesan or the Bennolli's blend of Wisconsin mozzarella, provolone and cheddar. Pizza crust sizes include an eight-inch personal, 12-inch medium, 14-inch large and a 16-inch family size. The gluten free crust comes in 10-inch only and is the same price as the medium pizza.
Build-your-own pies range from $4.99 to $12.99 for cheese. Additional toppings range from $.50 to $1.75 each. Signature pies range from $6.99 to $19.99.
I found some of the signature pies to be really intriguing but I certainly couldn't order all of them.
The Wisconsin is made with the MGD crust. You were wondering about that one, weren't you? The crust is topped with the traditional red sauce with a hint of mustard added, Johnsonville bratwurst, onions and green peppers. The Chicken Pestolicious starts with the traditional red sauce and tops it with mozzarella cheese, sun-dried tomatoes, "rings" of fresh basil garlic pesto sauce, chicken, mushrooms and onions.
Other signature pies include the Buffalo Chicken, BBQ Chicken, Margherita, Meat Eaters, All American with sausage, pepperoni, mushrooms, onions and black olives, and It's All Greek to Me topped with white garlic sauce, spinach, garlic, artichoke hearts, sun-dried tomatoes, banana peppers, feta and mozzarella cheese.
I decided to start with the Margherita. I noticed that many of the Margherita pizzas I've seen on menus add one or two toppings that are not part of a traditional Margherita. This one is simply topped with the traditional red sauce, balls of fresh mozzarella cheese and a few crushed tomatoes. Then it's drizzled with extra virgin olive oil, a little sea salt and freshly torn basil leaves.
The crust was crisp and chewy with the slight char that I like. The sauce had a slightly sweet and slightly salty, fresh flavor to it. The toppings were fresh and delicious. A simply prepared pizza the way it was meant to be – delicious!
The Meat Eaters pizza is topped with the spicy garlic tomato sauce. Bennolli's adds cayenne pepper and hot sauce to give the sauce just the right amount of heat. You can feel the heat, but it's not too much that you can't enjoy the flavors.
The pizza is topped with Italian sausage, pepperoni, bacon, diced roast chicken breast, Canadian bacon and onions with Bennolli's cheese blend.
The sausage was slightly tangy but had a nice flavor. The pepperoni was spicier than average. The bacon was real bacon pieces pulled from strips and the onions were julienned so thin they didn't over power the other toppings. Overall, this pie had a great combination of flavors.
Other than pizza and gelato, the menu includes a Greek, Mixed and Caesar salad, Parmesan Garlic Sticks, Chicken Wings and an Italian Beef sandwich with slow-roasted Italian beef in an Italian gravy on a fresh hoagie bun with optional mozzarella cheese, roasted red peppers and hot giardiniera relish.
It was clear that many of the customers were regulars. If I lived closer, I would probably be a regular, too. However, I think it was worth the drive. I certainly plan to go back to try a couple of signature pies, especially The Wisconsin.
Facebook comments
Disclaimer: Please note that Facebook comments are posted through Facebook and cannot be approved, edited or declined by OnMilwaukee.com. The opinions expressed in Facebook comments do not necessarily reflect those of OnMilwaukee.com or its staff.
Recent Articles & Blogs by Rick Rodriguez