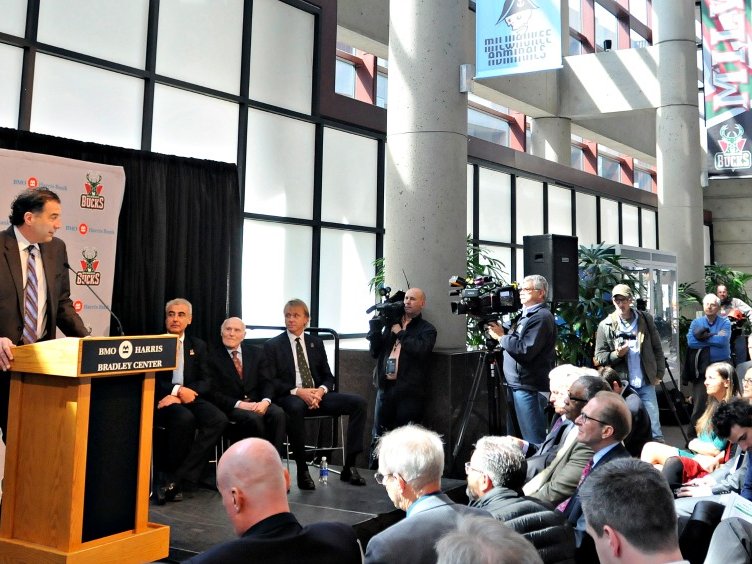 There was a whole lot of celebrating going on during the press conference at the BMO Harris Bradley Center, where Milwaukee Bucks owner Herb Kohl announced today he plans to sell the team to an investment group led by private equity investors Marc Lasry and Wes Edens for $550 million.
The new owners committed to contributing another $100 million toward construction of a new arena. Kohl also committed to giving a "gift" of $100 million toward the new arena cause. The announcements left civic leaders beaming.
However, that leaves at least another $200 million to be raised for a new arena. And that is where a series of unanswered questions lies:
How much public tax support will be needed to build a new arena?
Will that public support come from the city? From the county? From the region? From the state? (Hint: I don't think there's a snowball's chance for regional or state tax support for a downtown Milwaukee arena.)
Who will own the new arena? Although the new Bucks owners and Kohl are contributing a combined $200 million, will they cede ownership to a public entity, as the Bradley Center is owned?
Will the public funding for the new arena be linked to funding for other cultural assets, such as the Milwaukee Public Museum, the Milwaukee County Zoo and the Wisconsin Center?
Will the powers that be seek to sell the naming rights for a new arena? If so, what would be the asking price, and who might be willing to pay it?
Where would the new arena be built?
Will there be a public advisory referendum on public support for a new arena or community cultural asset investment?
Will the new owners keep the Bucks' current management team intact?
In the public relations and political campaigns that will need to be waged to gain public support, what will be the counter to the kinds of statements we're already seeing in the Twittersphere: "Why should my tax dollars be paid to help billionaires hire millionaires to play basketball?"
Will the Bucks win the NBA lot…
Read more...