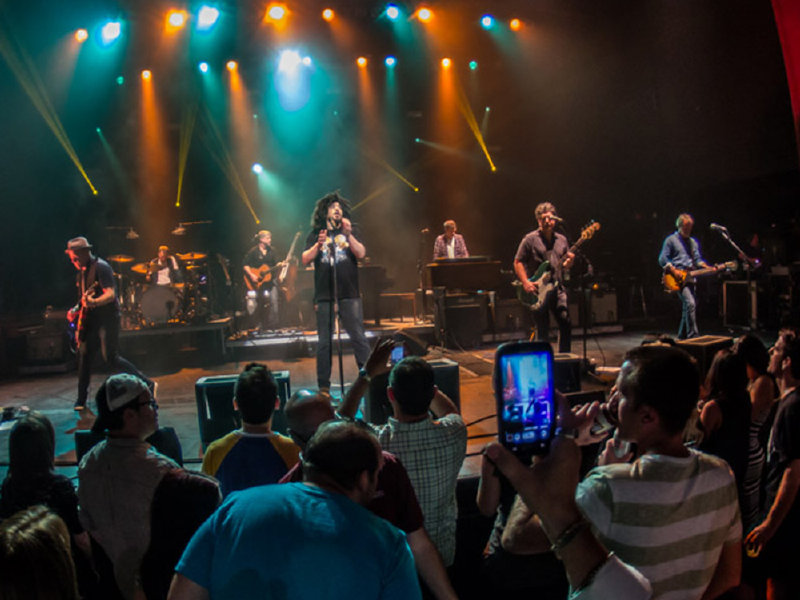 Adam Duritz and his hair ruled the stage.
The Counting Crows lead singer led the close-to-sellout crowd in a nearly 2-hour-set Wednesday night at the Riverside Theater in Downtown Milwaukee.
From "Round Here" on the album "August and Everything After" to "Long December" on "Recovering the Satellites," the band's hits were sung along to with an audience that appreciates the folksy/blues sound of  musical storytellers sharing experiences of life and love.
The lighting display got to be a little too much for the room, but the affects worked well to keep the stage looking engaged and active. Members of the band played multiple instruments that ranged from accordions to organs and ukuleles.
Duritz commands on the stage, as the main storyteller, the band's leader and orchestra director of the audience itself. His hair was so impressive, it deserved its own place on the bill.
Counting Crows has been releasing a new song every couple weeks before the release of the new album, "Somewhere Under Wonderland." The band played a couple of those new songs, notably "Scarecrow" and "Palisades Park."
If you were a fan expecting to hear everything that made the 1990s cool, this wasn't the show for you. If you wanted to be entertained by a finely-tuned band performing an interactive show, that's what you got out of the concert on the historic stage.
Walking on the stage to "Lean on Me" performed by Bill Withers, the band was cast in blue, hitting it hard and early with "Round Here" and a great renditions of "Untitled  (Love Song)," that had the crowd yelling "arms wrapped around my neck" and mumbling the rest of the words as a taxed brain was on the hook to come up with the rest of the lyrics.
Sure, we all knew the chorus to "Omaha," but the rest of the concert had me wishing I'd take the time to be familiar with some of the deeper cuts on the older albums. Maybe that was the point. Remembering Duritz with his arms soaring on into the main space of the theater, more tha…
Read more...