Results tagged with '21 jump street'
Articles: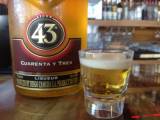 Published Aug. 25, 2012
"Mini beer," free CDs and more - get the goods in this week's OnMilwaukee.com Recommends.
Published March 9, 2012
Fans of the original "21 Jump Street" TV series shouldn't get too excited about this big-screen re-imagining if they have their hearts set on a nostalgic return to the Johnny Depp-led '80s drama. Actually, it might be better suited to the hater crowd - the new "Jump Street" spends as much time making fun of itself as it does reveling in all the splendor of high school humor.