Results tagged with 'Orange'
Articles:
Published May 4, 2012
You'd have to be colorblind not to catch that orange is all the rage right now.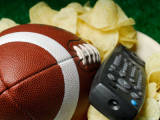 Published Jan. 1, 2009
Although the Bowl Championship Series has conspired to push back several bowl games, there is a full slate of pigskin on parade today. Here is a look at the games. Remember to pace yourself -- the NFL playofs start on Saturday.