Results tagged with 'ap bar & kitchen'
Articles:
Published June 9, 2014
Another week of dining deals has been announced in the Walker's Point area.
Published Oct. 30, 2013
What happens when you pit six top Milwaukee chefs against one another in a competition for a cause? Things get pretty ugly.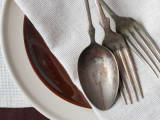 Published Aug. 5, 2013
AP Bar & Kitchen has announced that it will open to the public on Wednesday, Aug. 7, at 814 S. 2nd St.
Reader blogs:
There are no reader blogs tagged with ap bar & kitchen
Write a blog now!