Results tagged with 'gurnee mills'
Articles: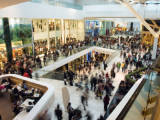 Published Nov. 25, 2014
Wondering when all the craziness starts for Black Friday? Here's your guide.
Published Sept. 9, 2010
At a place like KeyLime Cove Water Park Resort and Hotel in Gurnee, Ill., a down economy can actually spell good news. But the property works hard, especially via partnerships with nearby attractions, to draw Milwaukee and Chicago staycationers.
Published Aug. 2, 2009
If you need a staycation with the family, but have only a day or two to spare, a quick jaunt down I-94 to the Wisco / Illini border might be your golden ticket. Although summertime opens up more options, this trip is a winner regardless of the season.