Results tagged with 'guster'
Articles: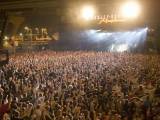 Published April 15, 2010
Summerfest has named several ground stage headliners for the 2010 festival.
Published July 2, 2007
Plain White T's, Guster and Papa Roach will sign autographs for fans on the grounds at Summerfest. Other bands may also appear.
Published May 2, 2005
The appearance was the band's first in Wisconsin since opening for Dave Matthews Band last year and their first Milwaukee appearance since last year's Summerfest, and this time they came armed with new music.