Results tagged with 'north division'
Articles:
Published Feb. 14, 2013
The 10th annual Daddy/Daughter Dance helps fathers build a loving relationship with their daughters.
Published Jan. 28, 2013
It's time for the annual Daddy/Daughter Dance again at North Division. And, once again, the idea makes me go, "awwww."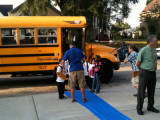 Published Sept. 1, 2011
Enrollment and attendance is up in MPS, suspensions are down. And superintendent Gregory Thornton says he isn't going home, at least not for now.