Results tagged with 'stone creek coffee roasters'
Articles:
Published Feb. 25, 2013
This week in the Nibble: chef departures, tasting events, and new spirits, magazines, and food tours.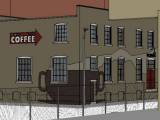 Published Jan. 18, 2012
Stone Creek Coffee Roasters announced some plans for the future today. The company will totally remodel The Stone Creek Factory, 422 N. 5th St., which is home to its roasting operations and corporate offices.
Reader blogs:
There are no reader blogs tagged with stone creek coffee roasters
Write a blog now!