Results tagged with 'third eye blind'
Articles:
Published April 24, 2015
This morning, Summerfest announced headliners and showtimes for the Briggs & Stratton Big Backyard stage.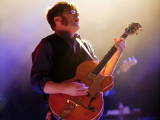 Published May 26, 2009
If you notice that the guy on your volleyball team or the girl in the next cubicle is smiling a lot this week or has a spring in his/her step, you may want to ask the following question: Are you going to see The Decemberists? The pride of Portland visits town for a sold-out show Friday night at the Riverside Theater and the anticipation is growing for fans -- particularly those who witnessed the band's previous visits at The Pabst.
Published May 22, 2009
OnMilwaukee.com has an exclusive offer to meet Third Eye Blind next Saturday, May 30 in a special, backstage session at the Riverside Theater.
Reader blogs:
Yesterday's Rock the Green music festival may have just been the last day of summer in Milwaukee: gorgeous, blue skies and sunshine paved their way throughout the whole day. Stephan Jenkins, the lead singer of Third Eye Blind, even remarked, "This is it. Summer's over. So let's make the most...
Write a blog now!