Results tagged with 'treat bake shop'
Articles:
Published Feb. 25, 2013
This week in the Nibble: chef departures, tasting events, and new spirits, magazines, and food tours.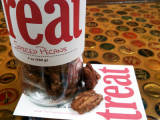 Published Feb. 20, 2012
Sarah Marx Feldner says the Treat Bake Shop she opened in November 2011 will someday have a home, but she's not letting that stop her jumping into the sweets (savories) game. Treat has already unveiled its delectable, and insanely addictive, spiced pecans, which are currently available at Larry's Brown Deer Market, Sendik's on Oakland, West Allis Cheese and Sausage and on the Treat Bake Shop web site.
Reader blogs:
There are no reader blogs tagged with treat bake shop
Write a blog now!