Results tagged with 'wild flour bakery'
Articles:
Published Feb. 25, 2013
This week in the Nibble: chef departures, tasting events, and new spirits, magazines, and food tours.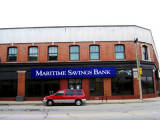 Published April 9, 2010
Alterra Coffee's plan to use city-backed bonds to open a bakery in a former bank in Bay View wasn't exactly received with aplomb by a Common Council committee, but moved forward nonetheless.
Reader blogs:
There are no reader blogs tagged with wild flour bakery
Write a blog now!