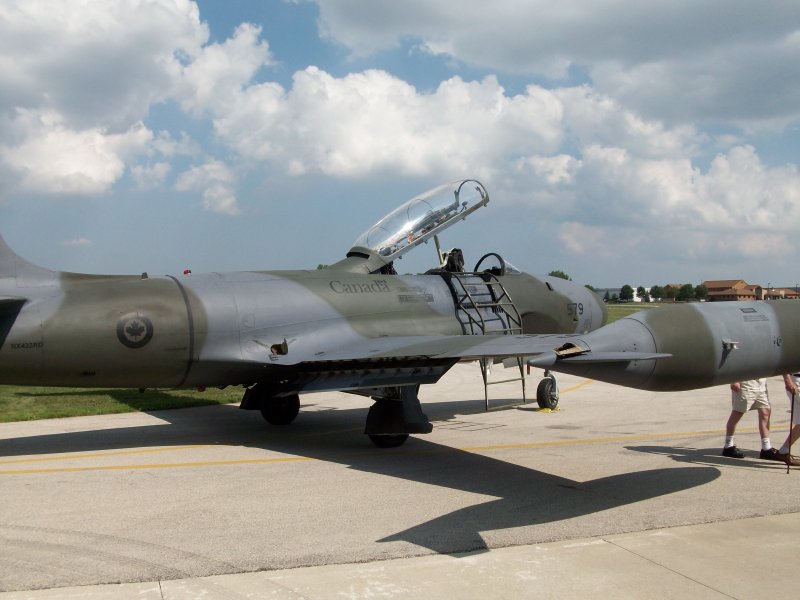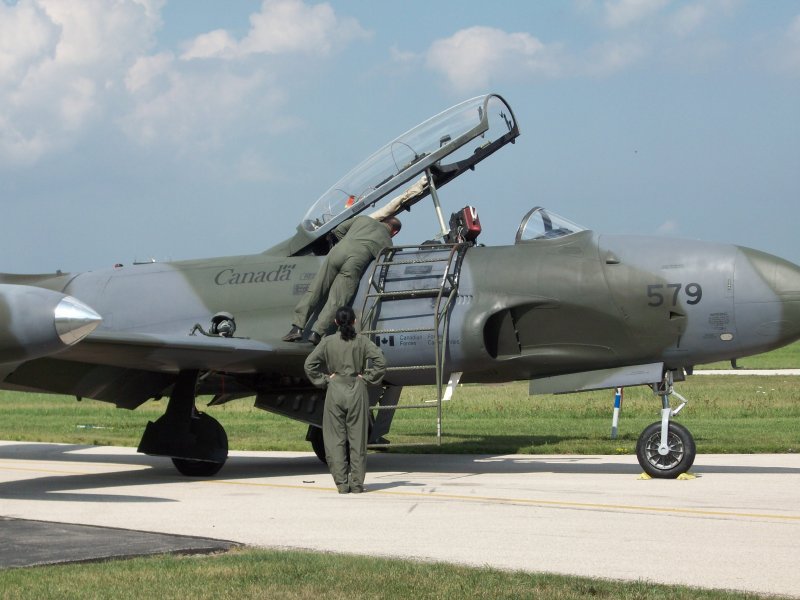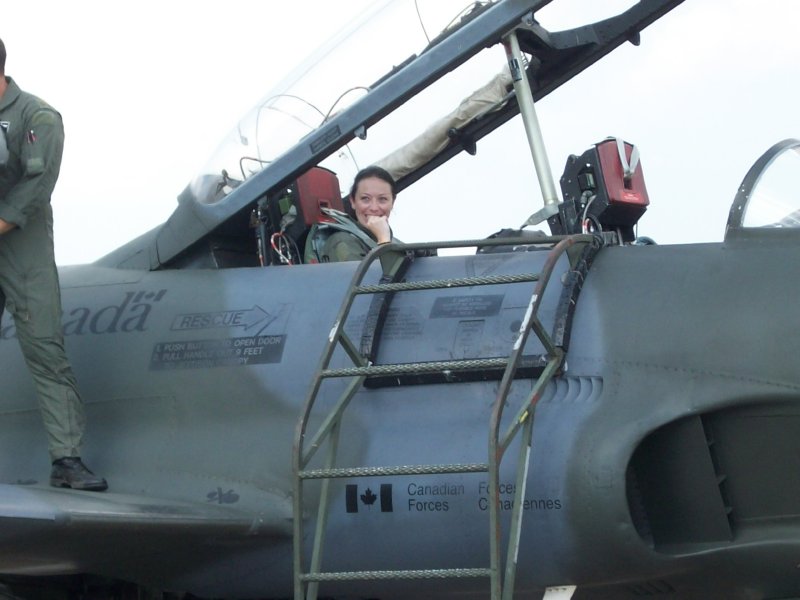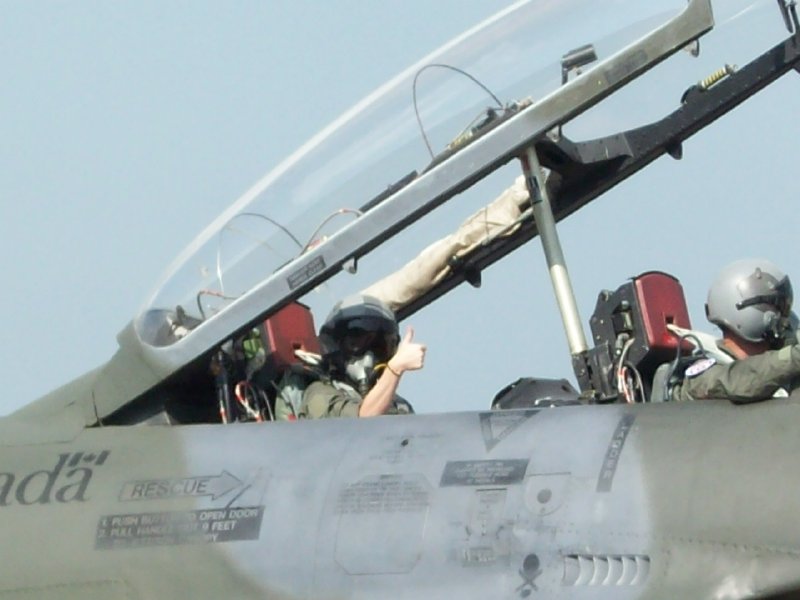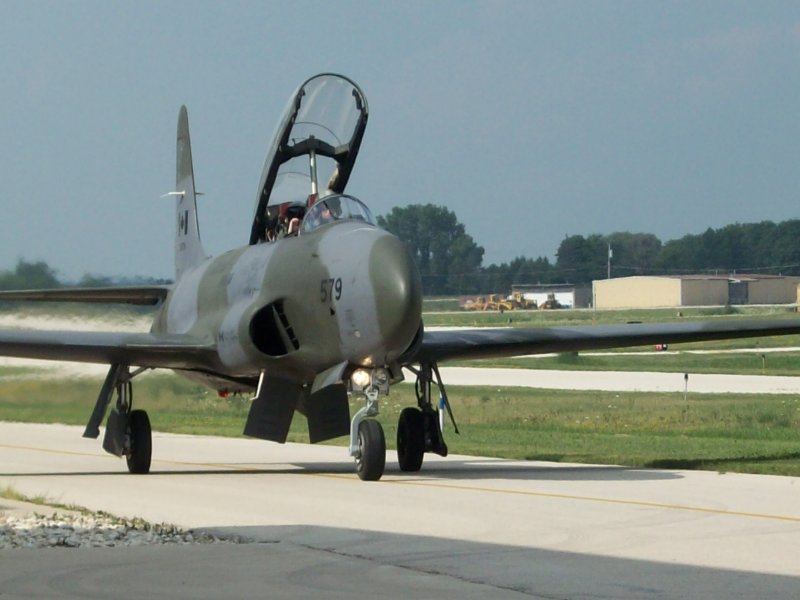 The ride of a lifetime
Gallery:
Aboard a '57 Lockheed T-33
Growing up, there were things I knew that never in a billion years I'd get to check off my "life's to-dos" list. You know, things like ... marrying David Beckham, working for Depeche Mode or flying in a vintage military aircraft pulling 5.5 Gs and living to tell about it.
Oh wait.
So, I'm not married to David and I haven't gotten the thumbs-up from Dave Gahan about going on tour with DM, but I sure as hell rocked that ride in the training fighter jet. Yep, rode those maneuvers like a true boss.
Enter pilot extraordinaire Paul Keppeler and the Wings Over Waukesha Air Show. My assignment: ride shotgun in his 1957 Lockheed T-33 Canadian Army jet and take it for a little spin around the skies. Giddy. Up.
Rolling up to his hangar at Waukesha County Airport / Crites Field, a few thoughts were scrolling through my mind: It's hotter than sin out here and I think I forgot to put on deodorant. I've got to be one of the luckiest (and also most whacked-out) chicks alive right now. Am I Maverick, Goose or Iceman from "Top Gun?" I wonder if the Red Bull and chocolate chip cookie I just noshed on would come back to haunt me ... I mean I was told to eat a banana for lunch because "it will look the same coming up as it did going down"... but I don't like bananas.
Entering the hangar I was greeted by Keppeler, his father and a few of his father's buddies. As I was getting to know these fine gentlemen, I was told stories of their time in service – in the Air Force, the Navy and the Army. The camaraderie was evident, and the pride runs deep. These men are truly the pillars of our military today, still with a smile on their face and the twinkle of military aircraft in their eyes. To say that Keppeler was inspired by his father is an understatement. The number 439 painted on the aircraft speaks louder than words.
Just as our chitchat finished, I was tapped on the shoulder and handed my helmet and mask to be fitted, then given a jumpsuit. The experience immediately became real.
Walking to the aircraft, I did a pulse-check. See, I wasn't scared I was going to die – quite the contrary. I was scared that I was either going to A) pull a Vince Vitrano, B) puke everywhere, or C) cry like a little girl and grab for my blankie (I don't have a blankie, I'm just sayin'). I hopped up the stairs and plopped down into my seat. Time for the pre-flight safety check and getting strapped in.
Four notable things (among others) were pointed out as I was getting locked into my seat:
My new best friend for the flight, or more commonly referred to as "the switch to turn on the flow of 100 percent oxygen into my mask if I was ever feeling lightheaded or like I was going to hurl"
The handle attached to my harnesses that if pulled, would deploy my parachute, which was chilling out behind me
The barf bags – of which there were two, along with the mention that in the nine years that Paul has been giving rides, only two people yacked. I was hell-bent (and encouraged, I might add) not to become the hat trick
The switch for my mic – which enabled me to speak with Paul during the flight
As soon as I let out a deep exhale, the engines fired up and we were on the move toward the runway.
Couldn't turn back now, even if I had wanted to.
Lift-off was pretty tame, and we very quickly made our way to our cruising altitude of 18,000 feet as we headed over the western suburbs of Waukesha County ...
... and that's where sh*t got wild.
Out of what seemed like nowhere (which I admit I appreciated) we pulled an "aileron roll" which then led into a split "S" maneuver. A small little pause followed that allowed for me to spew some of my favorite four-letter words over the mic and verbally proclaim how bad-ass this ride was so far.
After a "hell yeah" and a laugh from Paul we launched into a nifty barrel roll ... then smack-dab into a deliberate offensive and defensive air combat dogfight session with a couple of "straggler North Korean Mig fighters." Holy balls almighty.
Yes, I remember every single ounce of this. Achievements unlocked: not passing out, puking all over myself or crying. Success.
Throughout the duration of the ride, we pulled a mind-numbing 5.5 Gs out of a possible 7.3. I remember thinking in midst of the G-force that I'm going to be even shorter than I am now after this ride, but hell, it's totally worth it. I still haven't stepped up next to a measuring stick to confirm.
Alas, all amazing experiences must come to an end, and I can honestly say that this ride ended way too quickly for me. Flying back to the airport I relished in what exactly just happened, and how it will be a struggle for me to put this experience into words. As we pulled up to the hangar, Paul's dad and buddies greeted me, all flashing the thumbs up sign for a job well done. That gave me immediate shivers no matter how wonky my stomach was feeling at that moment.
Now the extra dose of fun – you too can see the jet I flew in up close and personal and a whole lot of other cool aircraft, plus wicked awesome aerobatics acts, Aug. 27-28 at the Wings Over Waukesha event at Waukesha County Airport. Admission is super cheap – only $5 for adults, and kids under 12 are free! I plan to be out there, will you?
Facebook Comments
Disclaimer: Please note that Facebook comments are posted through Facebook and cannot be approved, edited or declined by OnMilwaukee.com. The opinions expressed in Facebook comments do not necessarily reflect those of OnMilwaukee.com or its staff.