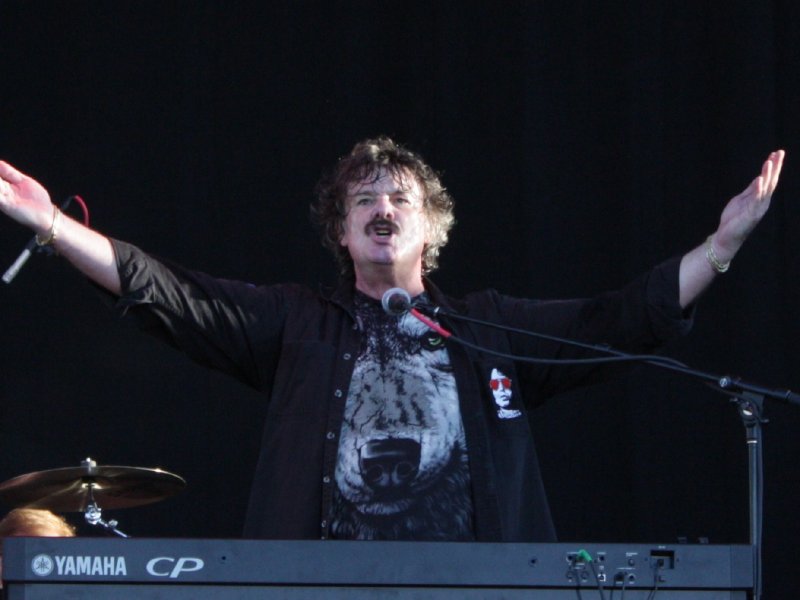 Summerfest picks: Andy Tarnoff
Some years, Summerfest seems to take my summer concert requests and deliver them to Milwaukee, and some years it doesn't. This year it doesn't. But that's OK. I know that Summerfest wasn't scheduled exactly for me, and over 11 days, there are plenty of picks I can wholeheartedly recommend. Here they are.
Wednesday, June 27 – This year's Big Gig opens quietly. I'm a fan of classic rock, so I'll be reviewing The Steve Miller Band show at the new BMO Harris Pavilion at 10 p.m. I wrote about this show at the Marcus Amphitheater a few years ago, and it was more fun than I expected. It seems like Kool & The Gang are here every year, and 2012 is no exception. They play at the Miller Lite Oasis at 10 p.m. The obvious critical choice is Lupe Fiasco, at the Harley Roadhouse at 10. And, if I'm there in the afternoon, I would recommend Milwaukee's own Liam Ford Band at Potawatomi at 2:30 p.m.
Thursday, June 28 – Thursday's big name is the Foo Fighters, and I saw them open for the Red Hot Chili Peppers at the Amp a decade ago. Awesome, just awesome. Go to the show. Don't go to another show on June 28.
Friday, June 29 – I'll probably take Friday off and mow the lawn, but if I had to pick, it would be Jimmy Cliff at the Briggs Backyard at 10 p.m. I really enjoy live reggae, and you can't do much better than seeing the only living musician to hold Jamaica's Order of Merit.
Saturday, June 30 – Saturday night could be pretty fun with ZZ Top at the Harley Roadhouse at 10 p.m. While "Sharp Dressed Man" takes me back to, oh, fourth grade, ever since I heard "Que Lastima," my opinion on these guys changed. Count me in. At the Miller Oasis, you might consider checking out Fresh Cut Collective at 8 and The Roots at 10 p.m. Thievery Corporation at 10 p.m. on the U.S. Cellular Stage could be fun, too.
Sunday, July 1 – I have a hard time endorsing the Beach Boys at the Amp on July 1, not because I don't like them, because I do. But last year, they headlined State Fair, and now Summerfest? I know this is the 50th anniversary tour, and it includes Brian Wilson, and perhaps that changes everything. Maybe.
Tuesday, July 3 – Bob Mould performing Sugar's "Copper Blue" is pretty damned cool, and I'd recommend that on July 3 at 10 p.m. at the U.S. Cellular Stage. I'm not sure if I can endorse a Joe Walsh solo show (though he's my favorite Eagle), but he's playing at 10 p.m. at the Miller Lite Oasis. And some band called The Jimmys is playing at the Harley Roadhouse at 2:30 p.m. Whoever they are, they sound fun.
Wednesday, July 4 – You've got a couple of interesting options on the Fourth of July. I'm not an Iron Maiden guy, but his opening act is the legendary Alice Cooper. That matters to me because the bass player is Chuck Garric, the husband of OnMilwaukee.com blogger Lindsay Garric (and an all-around great guy). Speaking of friends, Sigmund Snopek plays the BMO Harris Pavilion at 3 p.m. And maybe 311 could be fun at the Harley Roadhouse at 10 p.m., too.
Thursday, July 5 – I think this is the strongest night of Summerfest, but the three shows I want to see are all at the same time. I'll be seeing Burton Cummings at 10 p.m. at the Potawatomi Stage. Go ahead and laugh, but The Guess Who is one of my favorite bands, and even though Cummings is far from the apex of his career, I want a chance to see him live. Pretty much everyone else in Milwaukee will be at The Avett Brothers at 9:45 p.m. at the BMO Harris Pavilion. I know how passionate my friends are about these guys, but I just don't get into them. To me (and I'm probably wrong), they embraced folk music like Darius Rucker got into country ... to sell records. You may continue to laugh at me now. But one thing we can all agree on is that Death Cab For Cutie is a great band, and this is an excellent side stage show at 10 p.m. at the Harley Roadhouse. If I thought Burton Cummings would be back anytime soon, this is where I'd spend my Thursday night.
Friday, July 6 – You might want to take Friday off, but if not, check out my friend, former Violent Femmes drummer Victor DeLorenzo in Lorenzo Menzer Schmidt at 2:30 p.m. at Briggs. Vic played me some of this stuff the other day, and it's really, really good.
Saturday, July 7 – The act of Saturday night is definitely Cake at 10 p.m. at the Miller Oasis. I really do love Cake, but after seeing them several years ago at The Pabst Theater, I vowed never to see them again. The band looked like it was angry at the audience, almost mocking us. Technically, they sound amazing live, but the vibe really turned me off. Should I give them another chance?
Sunday, July 8 – The final night of the Big Gig presents a few interesting choices. The best is Squeeze at 9:30 p.m. at Briggs. I practically wore my Squeeze CD out in high school, so it'll be cool to see them live. Of course, another high school favorite was The B-52s, and I've seen them so many times. But I don't know if I can endorse this over-the-hill band anymore, much as I love them. They play at 9:45 at the BMO Harris Pavilion. Sublime would be an amazing show ... if Bradley Nowell was still alive. Amazing is probably an understatement, but swapping out Nowell with Rome, I don't know. I imagine it will be like the time I saw INXS at Summerfest sans Michael Hutchence. To me, it was just the world's greatest INXS cover band.
Facebook Comments
Disclaimer: Please note that Facebook comments are posted through Facebook and cannot be approved, edited or declined by OnMilwaukee.com. The opinions expressed in Facebook comments do not necessarily reflect those of OnMilwaukee.com or its staff.