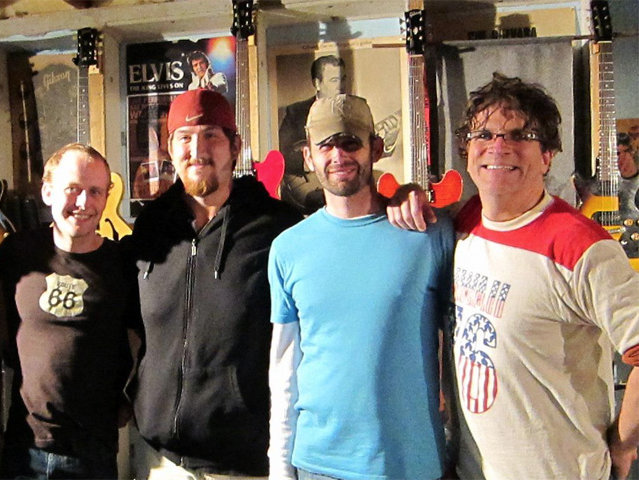 Winning a Big Gig is a major prize for local bands
Break into the Big Gig, a battle of the bands that took place at the Up and Under Pub on Brady Street in March, April and May, has wrapped up and four lucky winners have now earned Summerfest slots.
All Hands In lands a choice slot at the new BMO Harris Pavilion at noon on Tuesday, July 3 and A Common Engine plays at the same time, on the same day at the Briggs & Stratton Big Backyard.
Meanwhile, Eagle Trace plays Friday, July 6 on the Cascio Interstate Music Groove Stage at 3 p.m., and Favorite Shape Triangle won a noon-2:30 slot on the Harley Stage on Saturday, July 7.
The performances mean a lot to the bands. For a young band like Eagle Trace, formed last year by four Borgardt brothers – Jackson, Cass, Max and Mitchell – along with Breoderick Coning, the Summerfest gig is a godsend.
"It means a lot to us, we have all been going to Summerfest since we were barely in high school," says Jackson Borgardt. "Since we have only been a band for just one year last week, and it is the first band any of us have been in, it's a really big deal how far we have come in such a short time."
The band releases its debut disc, "Changing Faces," on June 24, so the timing is perfect.
"The Summerfest show couldn't have happened at a better time for us. We are hoping for a big turnout at the show, and also it gets our foot in the door, which is huge. The biggest benefit is booking other gigs, when we say we are a Summerfest band it is an impressive thing. We are grateful for the opportunity and are all intending to make the best of it."
Jay Matthes, singer for A Common Engine, echoes Borgardt. Though his, too, is a young band – having played its first gig in July 2011 – it's come out of the gate strong, too, finishing second in German Fest's battle of the bands last year and reaching the finals of the 2012 Gorilla Music battle, too.
"We are thankful that our music is being received as well as it is, and hope everyone continues to come out and support local, original music the way they did during the competition," he says.
"I think we look at Summerfest the same way we do every gig, and that is to just be ourselves and hope that the audience connects with what we are doing. Our goal is to bring something different and exciting to the Milwaukee music scene, and we do our best to reflect that with each show."
Even for more established veteran musicians, like those in Favorite Shape Triangle, a Summerfest gig really is a prize worth battling for.
"This will be FST's first Summerfest experience," says singer Aaron Ruffcorn, who says that, coincidentally, the group's second experience comes the very next day when it plays the Cascio Groove Stage at 4:30 p.m. on Sunday, July 8.
"It's beyond words really, the excitement the band is feeling," says Ruffcorn. "We hope to keep in mind that what's most important is that we have fun, and that we play our very best, so that Summerfest's patrons have fun, too. Sure, it'll be nice to get the exposure, but at the end of the day, I just hope that we can all relax and rock out, enjoy ourselves and bring some smiles. Appreciate the moment and maximize positive energy."
All Hands In's Guillermo Jesus Gutierrez agrees.

"We've been going for years now," he says. "So, to know that we are playing on the stages that some of our favorite bands have played on is really an honor. We're a very young band. All Hands In started less than a year ago. So to be presented with this opportunity, to play on the stages that music legends have set foot on, it's an awesome feeling."
Facebook Comments
Disclaimer: Please note that Facebook comments are posted through Facebook and cannot be approved, edited or declined by OnMilwaukee.com. The opinions expressed in Facebook comments do not necessarily reflect those of OnMilwaukee.com or its staff.