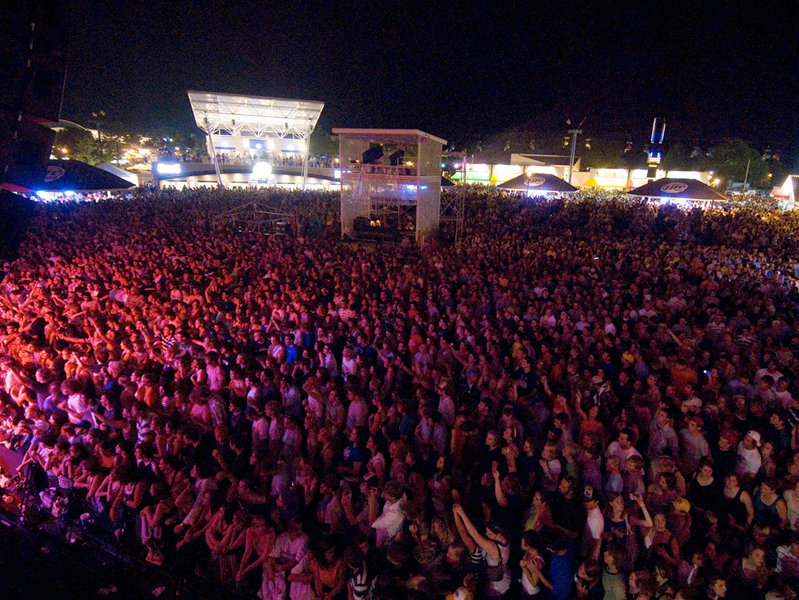 The road to the Big Gig begins now
The sixth annual Break into the Big Gig 2011 battle of the bands is currently accepting press kits from eager local musicians. Four winners advance to Summerfest gigs and nab other prizes.
Organizer Roy Henning says he continues to tinker the event to make it better and better for the bands involved.
"I've made a couple changes again this year to hopefully make this a better experience for the fans and the bands," says Henning, who is married to an OnMilwaukee.com employee.
"First, I met with Summerfest last week. This year I am still receiving four slots to give away, but all the winning spots will be on weekends in the later afternoon."
Henning says the road to Summerfest is also shorter this year than before.
"In the years past, bands had to play three shows over a seven- or eight-week period to win. Now each contest will be four weeks long."
There will be three preliminary rounds at just two venues (instead of four) and one final round. This means that bands won't have to dedicate as much time to the contest and, says Henning, it should be easier for the bands to rally supporters to come out and vote.
The first rounds at the Up and Under Pub on Brady Street are slated for four Fridays, March 25, April 1, April 8 and the finals on April 15.
The first BBC rounds on Farwell and North are on Saturdays, March 26, April 2, April 9 and the April 16 finals.
The deadline for entering these is March 11.
A second set of rounds takes place at the same venues on April 22 and 29 and May 6 and 13 (The Up and Under) and April 23 and 30, May 7 and 14 (BBC). The deadline for entry is April 8.
The winner of each of the four finals gets a gig at Summerfest.
The Up and Under events will be open only to bands playing original music, though some tribute bands will be allowed into the BBC competition.
"No straight cover bands at all," says Henning, who adds that, "all styles are encouraged to apply but no country, rap or hip-hop."
Henning says that taking part in the event has been good for many bands, including ones that haven't won.
"A couple years back, I had people start introducing themselves to me at events as promoters and bar owners who come every year to scout new talent," he says.
"I thought that was pretty cool. I routinely have random people e-mail me to ask if I know Band X and if they were good to deal with, etc."
E-mail your press kits or questions to Roy Henning at Roy@mofoco.com.
Talkbacks
rnzh102 | Feb. 14, 2011 at 8:54 a.m. (report)
To contact the Up and Under direct, please e-mail booking@theupandunderpub.com To contact The BBC direct, please e-mail bbcbooking@aol.com
Facebook Comments
Disclaimer: Please note that Facebook comments are posted through Facebook and cannot be approved, edited or declined by OnMilwaukee.com. The opinions expressed in Facebook comments do not necessarily reflect those of OnMilwaukee.com or its staff.