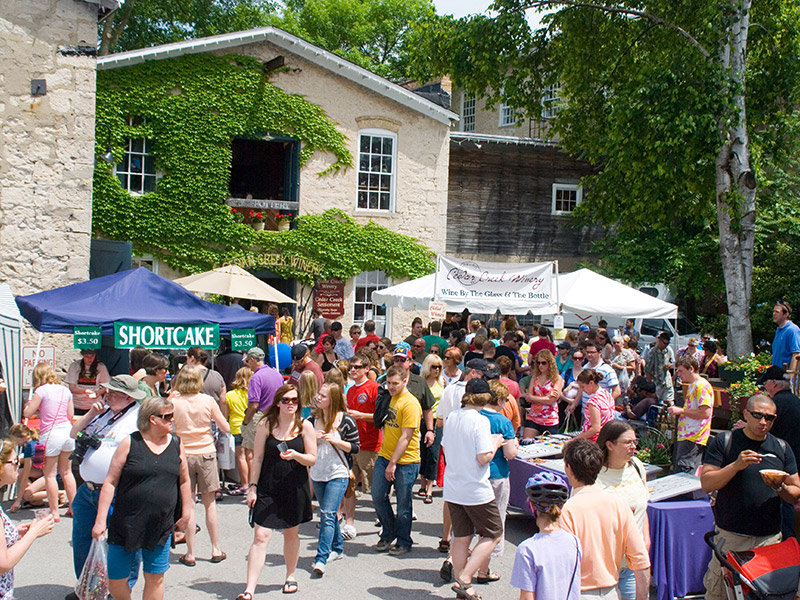 Cedarburg Strawberry Festival: June 22-23
Nothing says summer like the juicy red wholesomeness of a ripe strawberry. And you'd be surprised the incarnations the plucky little fruit can take on. From wine to ice cream to sauce, shortcake, bubblegum and brats, it seems you can make almost anything out of a strawberry – including a really great festival.
Cedarburg's signature summer celebration draws over 100,000 visitors each year from all over the state. They come for the strawberries, sure (picked fresh and delivered from nearby Schmit's Berry Farm) - but they stay for the live music, the artisan street vendors, the pancake breakfast, the art exhibits, and the Tractor Hayride Shuttle of Historic Cedarburg.
Let's just say if you miss it, you'll be berry disappointed. (That's the last strawberry pun. We promise.)
Where: Downtown Cedarburg
When: 10 a.m.-6 p.m. Saturday; 10 a.m.-5 p.m. Sunday
Admission: Free
How to get in free: Just show up – it's free! Street parking fills up fast, so be ready to walk a few blocks. Some lots are available (some residents even open up their lawns to the public for the day to earn a little extra cash parking cars) and prices vary.
Highlights: On Sunday, Cedar Creek Settlement merchants host a Strawberry Pancake Breakfast from 8 to 11 a.m.
In addition to live music and tasty food, the Arts on the Avenue takes place along Washington Avenue, including the Cedarburg Cultural Center's Fine Art Fair, Cedar Creek Settlement's Arts Fair and the Ozaukee Art Center's Fine Art Fair. There's also the 13th annual Plein Air Painting Competition, which attracts hundreds of regional artists competing in adult and youth divisions.
More information: cedarburgfestivals.org, (262) 377-5856
Facebook Comments
Disclaimer: Please note that Facebook comments are posted through Facebook and cannot be approved, edited or declined by OnMilwaukee.com. The opinions expressed in Facebook comments do not necessarily reflect those of OnMilwaukee.com or its staff.