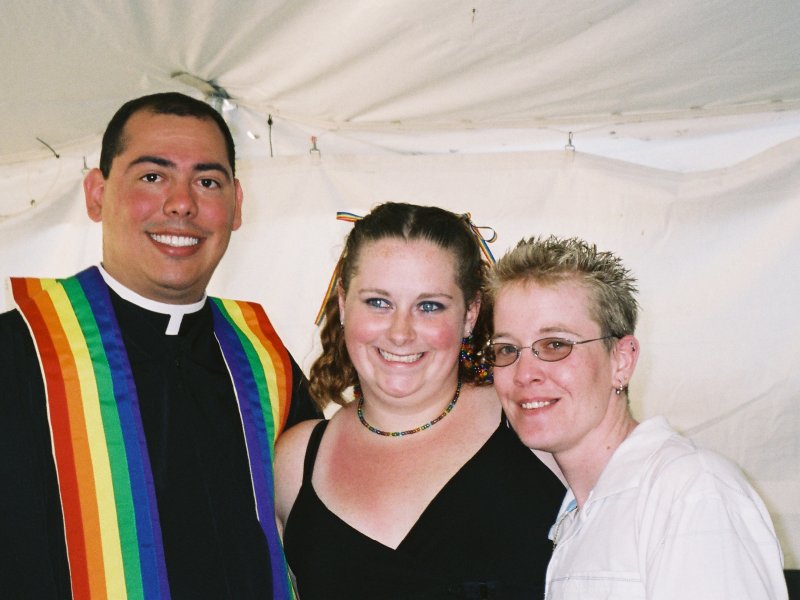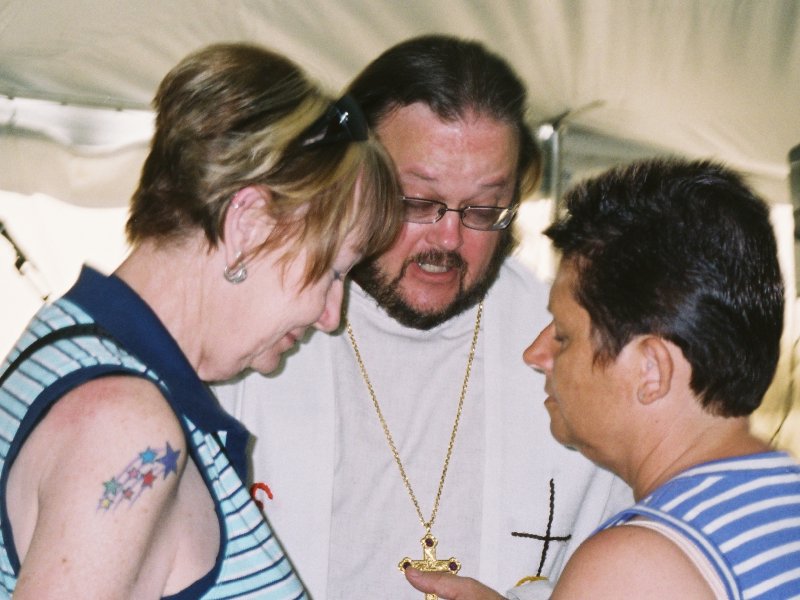 Pride Fest offers spiritual commitment ceremonies
Again this year, same-sex couples are invited to have a commitment ceremony at Pride Fest. Four members of the Universal Anglican Church, a local "contemporary, universalist, post-denominational and radically inclusive" congregation, will be at the LGBT festival which runs June 10-12 on the Summerfest grounds.
There are two ceremonies available. A group ceremony, which costs $35, takes place on Sunday, June 11 at 5:30 p.m. on the Stonewall Stage. Couples stand together during the ceremony and, at the end, receive a certificate and wedding cake donated by Simma's. Individual ceremonies cost $40 and are available between noon and 6 p.m. on Saturday and Sunday. Couples receive a certificate and flower. All of the proceeds from the commitment ceremonies go to Pride Fest.
Father Jeffrey Montoya is an out, Anglican priest, and he is one of the clergy people officiating the commitment ceremonies. Montoya, a former Catholic youth minister, holds degrees from St. Norbert's College, Cardinal Stritch University and the Anglican Divinity School.
Couples can sign up online or show up at the booth in the Healing & Wellness area that's directly east of Pride Fest's main gate.
"These are celebrations of relationships," says Montoya, acknowledging that same-sex marriage is not legal in Wisconsin.
Individual couples who sign up for a ceremony receive a packet of passages and are asked to highlight the statements that speak to them. Then, the priest or minister crafts the service based on the highlighted text and officiates a 10-15 minute ceremony in a quiet space on the festival grounds.
Montoya officiates about 50 marriages a year and says about 90 percent of them are for heterosexual couples. He says the words he speaks at Pride Fest ceremonies are similar to what he says at a hetero wedding. However, Montoya recognizes that it's not only long-term couples who decide to have commitment ceremonies.
"Some couples want a ceremony to celebrate their new relationship. Or they might not be meant to be life partners and they don't need to pledge their lifelong love to one another. This, of course, is a different kind of ceremony, but one that we also do," he says.
Montoya says last year he married about 25 couples at Pride Fest and the majority of them were women. Jennifer Carrigan and Amy Lundeen were among them.
"I had asked Amy to marry me numerous times during the five years we had been together, but she kept saying no," says Carrigan.
Finally, during the 2009 Pride Parade in Chicago, Carrigan caught a candy ring that someone tossed from a float. In the midst of the crowd, she dropped to one knee, extended the ring to Lundeen and asked her, again, to marry her.
"She said yes," says Carrigan.
The couple, who live in Illinois, took some time to decide where to have their ceremony. Carrigan says they had always wanted to check out Milwaukee's Pride Fest, so when she saw on the website that commitment ceremonies were available, she suggested it to Lundeen. They both agreed they would "elope" to Milwaukee, and the couple took part in the 2010 group ceremony.
"It was very emotional," says Carrigan. "I'm the 'butch' in the relationship – the 'man' – and I'm the one that cried," she says.
Carrigan says because friends and family were disappointed they were unable to attend the ceremony and because Illinois now recognizes civil unions, they will have another ceremony in the future. However, the Pride Fest event will always be special to the couple because it was their first, and also because it was affiliated with a church.
"We were happy to say 'I love you' in the eyes of God. Just because we have a different sexual preference doesn't mean we don't believe in God," she says.
Talkbacks
sandstorm | June 9, 2011 at 11:13 a.m. (report)
little tiny fish will you commit to me?
Facebook Comments
Disclaimer: Please note that Facebook comments are posted through Facebook and cannot be approved, edited or declined by OnMilwaukee.com. The opinions expressed in Facebook comments do not necessarily reflect those of OnMilwaukee.com or its staff.