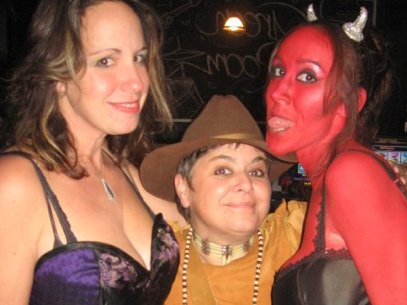 Dress for the fest: costumes are key for local festgoers
For most people, dressing up is something that, maybe, happens on Halloween. Others, however, enjoy temporary personal transformation during other events throughout the year, like festivals.
Michael Burnbach traveled to Ireland in 1999 and purchased a wool kilt with a blue tartan (plaid) pattern. He has worn the kilt to Irish Fest and the Scottish Highland Games in Milwaukee every year since.
Burnbach says he never imagined himself wearing a kilt, but he had such a great experience in Ireland that he likes keeping a piece of Irish culture alive.
"I'm kind of a guy's guy, and before I went to Ireland, I probably would have thought it was a 'skirt' and never thought twice about wearing one. But it's fun. It's a part of this male bonding / drinking thing," says Burnbach.
Burnbach says he gets the same question from women when he wears it to the summer festivals. "A lot of girls ask, 'You have anything on under that kilt?' and I always say, 'I do, but my buddy over here doesn't,'" he says.
This year, Scott Godshaw's employer had a booth at The Port Washington Pirate Festival that took place June 3-5 and, consequently, Godshaw dressed up for the occasion. Godshaw wore a dreadlock wig, big buccaneer hat, earrings, eye make-up and an eye patch. He also sported two props: a rubber sword and a parrot.
"It was fun. It was different. It was very interesting seeing the men and women dress in full pirate garb," says Godshaw. "But it was extremely humid in that tent on Saturday with no air circulating. I had to take my wig off at that point."
No matter how hot and humid of a day, many Renaissance Faire goers wear full costumes. Multiple vendors even rent costumes for people who show up and suddenly feel the urge to dress like it's 1599.
Pat Reese, however, has a closet filled with 16th century garb that she has collected for three decades.
"I bought most of it in the last 10 years on the Internet, but I used to travel all over the country going to Ren Faires and so I have a lot of souvenirs from the various fairs," she says.
"My husband thinks I'm a dork, but I have loved watching period films and dressing in period costumes since I was a little girl. I think it started with my appreciation for 'Little House On the Prairie' and then I just kept traveling back in time."
Her favorite costume? A skirt and halter top made entirely from chain maille (chain link) that is handmade by a vendor at the Texas Renaissance Festival in Plantersville, Texas.
"It's a little too sexy for me these days, but I still love it," says Reese, who is 56. "Twenty years ago, I could really pull it off, though."
Renaissance Faire goers, however, do not only dress like a lady in waiting or a peasant wench. People wear other costumes, from fairy get-ups to Star Trek clothing to World War II fatigues. Karen Howland is a hybrid of magical and historical creatures.
"I don't go to a festival unless I can dress up, so the Ren Faire is a must every year," says Howland. "I wench it with a dragon corset or soften it with blue elven ears which I continue to wear around town if the whim suits me."
Howland says dressing up means something more than fashion to her.
"I feel alive, shapeshifting, reinventing, contradicting who I think I am," she says. "I also like the surprise of it, breaking out of routine, startling someone out of their lethargy by wearing my blue elven ears grocery shopping, making the tired checkout woman smile for a second."
Facebook Comments
Disclaimer: Please note that Facebook comments are posted through Facebook and cannot be approved, edited or declined by OnMilwaukee.com. The opinions expressed in Facebook comments do not necessarily reflect those of OnMilwaukee.com or its staff.