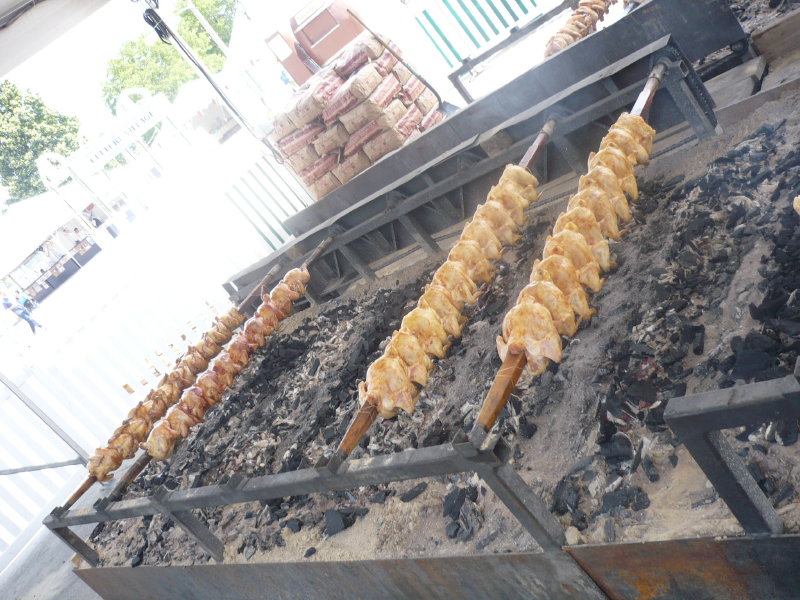 Great food, hard work make German Fest possible
For three decades, German Fest has tried to set itself apart from the rest of Milwaukee's ethnic festivals by tapping into to the old-world know how of the local German community.
Roughly 3,000 volunteers make the fest an annual success and nowhere is their collective effort more evident than in the 30 different food booths.
Almost all of the food served during the four-day festival is prepared right on the grounds.
"It's traditional German food," says fest president Klaus Fromme. "It's all prepared fresh."
The backbone of the volunteer corps comes from the more than 50 Southeast Wisconsin German cultural organizations that worked together to found German Fest in 1981. Dance groups, singing groups, soccer clubs and language clubs all have their own niche, whether it's working a food booth, operating a cultural exhibit or just putting on a good show.
They volunteers span a wide range of ages, from 16 to well beyond 60. Without them, Fromme says, German Fest wouldn't be possible.
Admission
The 31st German Fest opens at 6 p.m. Thursday with free admission all evening. On Friday, admission is just $3, in conjunction with Downtown Employee Appreciation Week.
"It's a great way for Downtown workers to come down to the festival and unwind after a long week," Fromme says.
Active military personel get free admission all weekend long and those attending a 10 a.m. Mass Sunday with Archbishop Jerome Listecki get in for free after the service.
What's new in 2011
Battle of the Bands: Several local groups will compete for the chance to be named the next "Big Deal Band" and have the chance to open for the 10,000 Maniacs Sunday night at the Rock Stage Amerika. Bands perform Thursday-Saturday with the top three getting slots Sunday night. In addition, the top vote-getter receives a $1,000 cash prize.
German Beer-brewing competition: German Fest teams up with the Milwaukee Beer Barons to pick the best locally-made German-style home brew. Organizers were expecting between 40-50 entries but so far have received over 200.
Eat-a-thon: This four-day marathon covers the "four basic food groups" of German Fest. Contestants will try to eat as many Usinger's brats, Van Holten pickles, potato pancakes and pieces of Bienenstich ("Bee Sting Cake") – a honey-almond torte. Prizes will be awarded daily and a grand prize winner will be named after all four events are completed.
Entertainment
More than a dozen different bands, choirs and dance groups perform throughout the weekend on eight stages, including two bands direct from Europe. The Obenheimer Express comes to Milwaukee from France and is making its first appearance at German Fest. The Schwarzwald Vagabunden returns to the fest in 2011 after a five-year absence. The Vagabunden hails from the Black Forest region of Germany but accordionist Thomas Dietrich-Kolupar now calls Milwaukee home.
Don't miss:
The Glockenspiel, located at the South End. Performances throughout the day but the 8 p.m. might be the best – and funniest.
The Parade, Saturday at 2 p.m.
The "Trachtenschau," showcasing the traditional ethnic attire from different regions of Germany.
The German Mardi Gras Show, Saturday at 6:30 p.m. on the Cultural Heritage stage.
More information: germanfest.com.
Talkbacks
BaronessVonMilwaukee | July 27, 2011 at 1:19 p.m. (report)
Come visit the Dachshund Derby on Sunday at 1 PM. 100 dachshunds will be hanging low at Dachshund Park racing for a grand prize. A costume contest will also make you smile! There's even a Blessing of the Dachshund in German and in English. Only those doxies that are pre-registered are allowed inside the Mid-Gate.
wiscoleeds | July 27, 2011 at 10:11 a.m. (report)
To quote John Cleese..."whatever you do, don't mention ze war"
Facebook Comments
Disclaimer: Please note that Facebook comments are posted through Facebook and cannot be approved, edited or declined by OnMilwaukee.com. The opinions expressed in Facebook comments do not necessarily reflect those of OnMilwaukee.com or its staff.