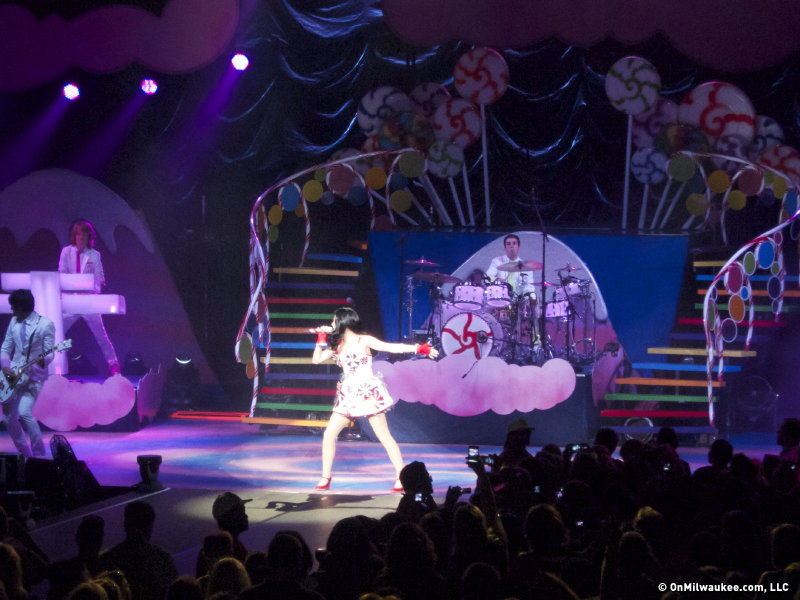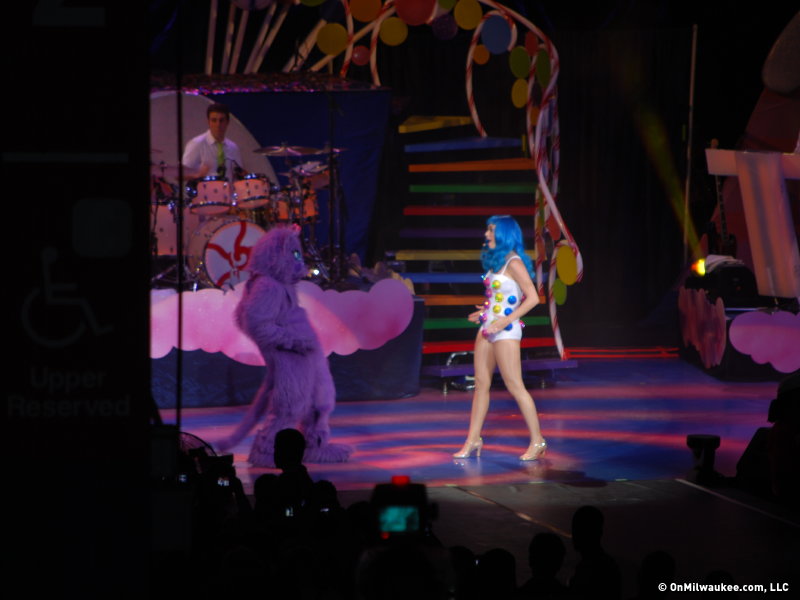 Sugary sweet set distracts from, doesn't overshadow Katy Perry's charm
I'm not ashamed to admit that I sort of like Katy Perry. As I wrote in my preview of tonight's show at the Marcus Amphitheater, the 26-year-old singer/songwriter/pop culture icon doesn't take herself seriously, and she doesn't expect us to, either.
I came to that conclusion after reading a 2009 interview with her in Esquire, in which she said, "People who want to tag along for the ride, they'll understand and they'll get the joke, and they'll realize that I wrote the f*cking joke."
In other words, the best way to enjoy a Katy Perry concert is to sit back and enjoy the ride.
And what a ride it was. The preacher's daughter, who was only allowed to listen to gospel music growing up, jumped, pranced and vamped her way through a more than 20-song set list, including everything you'd expect. It's all part of her "California Dreams" tour, a 122-show spin around the world to support her third studio album, "Teenage Dream," and the tour is right around its mid-point.
Opening with "Teenage Dream," "Hummingbird Heartbeat" and "Waking Up In Vegas" (a song I legitimately like), it's clear that a lot of her songs sound pretty much the same. But who cares, when we're treated to costumes involving spinning peppermints, an Elvis impersonator, magic brownies and video interludes about "Kitty Purry" and an evil butcher?
Songs like, "UR So Gay" and the raunchy "Peacock" have a slightly different sound, and "I Kissed A Girl" is undoubtedly catchy, but the draw of this show is the theatrics. The stage set for Perry's "California Dreams Tour" makes up the fact that more than several of her songs are far less than stellar.
Brightly colored with tons of pastels and sweet candy scenery, the extravagant set toed the line between innocent and playfully sexual – just like Perry's music. Costume changes, pyrotechnics and whipped cream cannons were clearly meant to distract from the shortcomings of playing overly produced synthpop in a live setting.
But did anyone really expect anything different? Though there were mostly of tweens (and a few leering dads) in the audience, I don't think even Perry, herself, would deny that her music is meant for adults.
Still, even Perry would admit that this packed Marcus crowd was mostly young girls, and while she dropped just one f-bomb, her biggest draw, oddly, remains a very young audience.
To that extent, she delivered exactly what this frenzied group wanted. Charming, but recovering from food poisoning (she said more than once), she brought up a shirtless local boy on stage and talked about cheese curds and looking for a Milwaukee boyfriend (I could've done without the cheesehead jokes).
Musically, Perry sounded perfect, though I can't be sure if that can be attributed to lip syncing, auto tuning or a pitch perfect voice. I'm guessing it was a little of each.
Halfway through the set, Perry went acoustic (yes, she can sing and play guitar) with four covers, Jay-Z's "Big Pimpin' being perhaps the most interesting. Covering "Whip My Hair," by the 10-year-old Willow Smith, was just bizarre, but the crowd didn't seem to mind.
Perry wrapped up the show with a few more hits, including "Hot N Cold" (another song that'll get in your head and stay there forever) and a cover of Whitney Houston's "I Wanna Dance With Somebody (Who Loves Me). Sure, why not?
After wrapping with "Firework," which would've worked perfectly three days ago, Perry returned to do "California Gurls" as her encore, complete with the entertainer sporting a silver bra shaped like Hershey's Kisses and dancing with a line of gingerbread men.
Don't be misled: Katheryn Elizabeth Hudson isn't saving the world with her music, and while she's more than just a pretty face, many of her songs wouldn't hold up without the accompanying distractions.
Which is OK. Perry enjoys life and during a two-hour set, she made sure her young fans did, too. Who knows where, if anywhere, she'll be in 10 years, but her best songs are undeniably fun, and this venue's great acoustics were a good fit.
Summerfest was a cool venue for Perry's first visit to Milwaukee, and Welsh singer-songwriter Marina and the Diamonds was a nice change as an opening act.
Would I see this show again? No way, but I'm not exactly the target demo here. Even if Perry had a touch of food poisoning and lumbered around stage just a little, this packed house left perfectly satisfied. For a performer who sings to little girls about big girl themes, she gets away with it maybe too well. That, in and of itself, is more than impressive enough.
Thursday's set list:
Teenage Dream
Hummingbird Heartbeat
Waking Up in Vegas
Ur So Gay
Peacock
I Kissed a Girl
Circle the Drain
E.T.
Who Am I Living For?
Pearl
Not Like the Movies
Acoustic:
Only Girl (In the World)
Big Pimpin'
Friday
Whip My Hair
Thinking of You
Hot N Cold
Last Friday Night (T.G.I.F.)
I Wanna Dance with Somebody (Who Loves Me)
Firework
Encore:
California Gurls
Talkbacks
sandstorm | July 11, 2011 at 7:29 a.m. (report)
exactly what joke does this black-hole of talent think she wrote? there are tons of non-talented young pop hacks putting one over on the tweens and laughing all the way to the bank. this vapid loser certainly wasn't the first.
Facebook Comments
Disclaimer: Please note that Facebook comments are posted through Facebook and cannot be approved, edited or declined by OnMilwaukee.com. The opinions expressed in Facebook comments do not necessarily reflect those of OnMilwaukee.com or its staff.