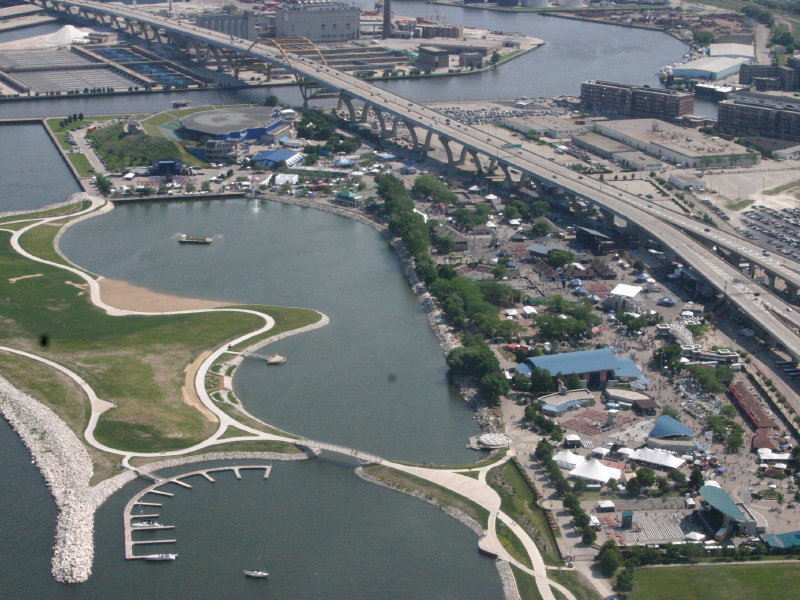 Summer festivals enhance Milwaukee's image, economy
Let's face it, here in Milwaukee, where the climate is often unpredictable, we don't get a lot of summer (for evidence, look at last week's forecasts). But when the snow finally melts and the mercury creeps to the top of the thermometer, we sure do know how to make the most of it.
From Memorial Day to Labor Day, the city's collective calendar is filled with festivals and celebrations of all kinds. Whether it's the Big Gig of Summerfest, or the neighborhood church festival, we in Milwaukee like to spend our summers outside.
It's been like that for years, even before Mayor Henry W. Maier got the inspiration for what would become Summerfest after a trip to Oktoberfest in Munich.
Milwaukee's ethnic heritage has a lot to do with it, as the Germans, Irish and Poles who built the city into a metropolis liked to wrap up a work week while enjoying a cold beer and live music with friends and family.
In the waning years of the Great Depression and leading up to World War II, Milwaukee held the Midsummer Festival on the Lakefront, not far from the current-day location of Summerfest.
Dubbed a "civic homecoming celebration" by then-Mayor Daniel Webster Hoan, the festival included all kinds of free entertainment, including accordion orchestras, high school bands, theater groups, opera companies and church choirs.
"It was the Depression, so there weren't a lot of big ticket acts," says historian John Gurda, author of "The Making of Milwaukee." "It was kind of a mix of stuff and, of course, there was beer."
That tradition lives on today as Milwaukee has truly become the "City of Festivals" and is considered a leader in festival production. What grew out of a scattered event in 1968 has grown into the world's largest music festival more than four decades later and has helped put Milwaukee on the map.
"We take an abundance of pride in producing Summerfest," says Don Smiley, CEO of Milwaukee World Festival, Inc., which produces Summerfest. "We lead in a lot of categories, be it sponsorships, bands, operating hours ... we take great pride in that."
Aside from giving Milwaukeeans an excuse to have a good time on the weekends, the city's festivals also provide a chance for the city to promote itself and a way to keep money flowing into the economy while also putting thousands to work each summer.
The city's penchant for public parties would probably not be possible were it not for the 80-acre gem nestled between Lake Michigan and Interstate 794 that is the Henry W. Maier Festival Park.
The permanence of the location and its built-in infrastructure has made it easy for other events to get established and grow into annual traditions in the city. Festa Italiana came along in 1978, German Fest and Irish Fest followed in 1981 and over the next 20 years, more fests came along.
"I think the grounds, lend a lot of attractiveness to festivals and fest fans and visitors because of the setting on the lakefront," says Smiley.
People come from far and wide to visit Milwaukee's summertime events. Summerfest alone, which drew over 850,000 visitors a year ago, attracts music lovers from across the country. This year, the addition of the Rock N' Sole Half-Marathon has registered over 4,700 runners from 42 states, Canada, Germany, the United Kingdom and Venezuela.
The ethnic festivals are big draws, too. Irish Fest says it has visitors from all 50 states as well as Ireland, Scotland, Canada and Australia. German Fest claims to attracts visitors from 12 states and three countries.
Those who come also bring their checkbooks. Summerfest estimates an economic impact of $180 million each year as fest-goers spend money on hotels, meals, transportation and entertainment.
"It's very significant," says Jeannine Sherman of VISIT Milwaukee, the city's Convention and Visitor's Bureau, which uses the festival season as a selling point when trying to attract conventions and other big business to the city.
"They're a great tourism draw," she says. "We use them as a gateway to introduce visitors to the city's other attractions."
Still, in the end, they're still just festivals, a way for the city to come together and have a good time. More than the economic impact, civic image or bragging rights, it's all about having fun.
"They inject energy and life into the community and I think we project that energy to our visitors," says Milwaukee Mayor Tom Barrett. "I think we get recognition and as people visit, they learn about Milwaukee and everything else we have to offer."
Facebook Comments
Disclaimer: Please note that Facebook comments are posted through Facebook and cannot be approved, edited or declined by OnMilwaukee.com. The opinions expressed in Facebook comments do not necessarily reflect those of OnMilwaukee.com or its staff.