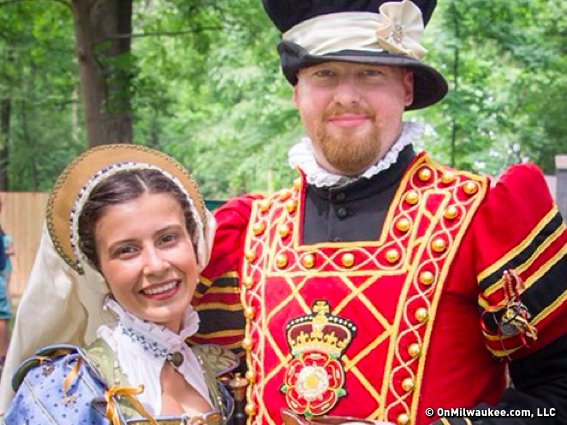 Ren Faire siblings talk the talk together
For Danielle and Kyle Sipos, working at the Bristol Renaissance Faire is a family affair. Kyle started working at the faire two years ago, and this year, Danielle joined him.
"It is my first year working at the faire, however I have been going as a patron since I was 5," says Danielle. "Kyle has been going since he has been able to drive."
Kyle's faire character is Yeoman Coleville, a Yeoman of the Body, so he dresses in a Yeoman uniform – a scarlet red uniform with the Tudor rose on the chest.
Many of the workers at the faire develop their characters very deeply. For example, Kyle's character ran away from home as a child and became a cabin boy around the age of 8 or 9.
"He got stuck in Havana for a few years, he then returned and was taken to the lowlands where his lord had fallen in battle," says Kyle. "After several days of fighting, Sir Humphrey Gilbert took him into his forces. Coleville had impressed Sir Humphrey Gilbert and he had then recommended him to be a yeoman. Coleville then fell under the tutelage of Yeoman Higgins."
Danielle portrays Lady Bridget Manners, a Maid of Honor and wears a light green courtly-fashioned dress with light blue, embellished sleeves.
"I also wear a gold sash to identify me as a Maid of Honor," says Danielle. "My character was added to the Queen's Maids of Honor because her grandmother, Lady Bedford, was charmed by her to the point that she sponsored Bridget's entry into the court. She had little education but was able to play the lute. She learned how to be a proper lady from her uncle Roger Manners. When she arrived to court Lady Mary Radcliffe took her under her wing and helped her grow accustomed to the new life."
Do they ever get hot wearing heavy costumes in summertime?
"It's not as comfortable as shorts and a T-shirt, however we have hand fans and take precautions on heat exposure," says Danielle. "We usually don't dwell on that aspect of the day and enjoy what we love to do."
Both Kyle and Danielle speak completely in 16th century dialect the entire time they are working. The Bristol Renaissance Faire provides syntax training to all employees.
On the grounds the siblings are located at the Nobles Glade, as a home base, where they spend most of their day.
"However we have functions and shows during the day throughout the faire grounds," says Danielle.
Kyle started working at the faire after a friend invited him to join the cast. Danielle saw how much fun he had last year and so she decided to work there, too.
The brother-and-sister team work nearly every weekend during the season.
"I absolutely enjoy patron interaction. Making someone's day a little bit brighter by making a joke or complimenting them, sometimes even just taking a picture with them, makes the experience completely worth it," says Danielle.
Kyle says he particularly enjoys the knighting ceremony because the children are ecstatic when they are elevated to the rank of knight or lady by the Queen.
"And I really like the camaraderie of everyone on the faire grounds," says Kyle.
Kyle and Danielle live in suburban Milwaukee. Danielle is a high school student and Kyle attends college during the year. They hope to someday explore other Renaissance Faires in the country.
"We wish to go someday, we just haven't been able to make that journey just yet," says Danielle.
The Bristol Renaissance Faire is open every weekend through (and including) Labor Day. Go here for more information.
Facebook Comments
Disclaimer: Please note that Facebook comments are posted through Facebook and cannot be approved, edited or declined by OnMilwaukee.com. The opinions expressed in Facebook comments do not necessarily reflect those of OnMilwaukee.com or its staff.