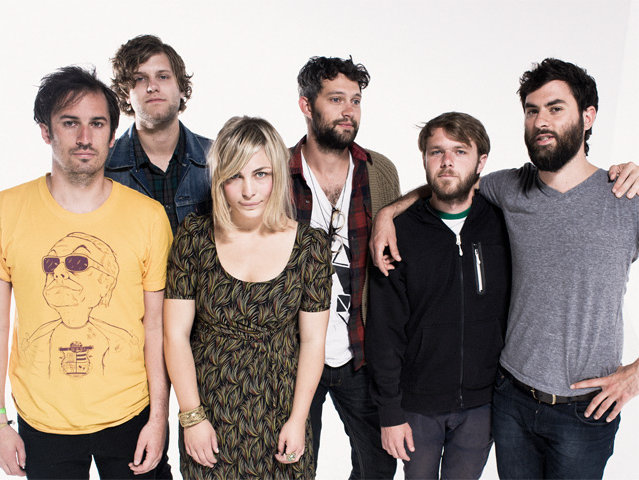 Summerfest picks: Bobby Tanzilo
I admit that sometimes these days, I'm a little disappointed by the Summerfest schedule. But I don't blame the Big Gig. Bob Babisch and his team have a lot of experience and they know what fest-goers in Milwaukee want. It's just that my tastes often diverge (pun intended) and it's seemed that the bands I want to see aren't "Summerfest bands."
But that's changed a bit over time and in the biggest way in recent memory this year.
Look at opening day, for a start.
Wednesday, June 27 – No less than Nathaniel Rateliff plays the U.S. Cellular Connection State at 3 p.m. If I owned Rateliff's 2010 "In Memory of Loss" on vinyl, the stylus would have worn clear through to the other side. As it is, the CD player laser has given my copy a serious sunburn. I'd see Rateliff anywhere, but, yes, he's coming to Summerfest.
And following him at 4:15 are Sub Pop stalwarts Fruit Bats, and at 5:30 p.m. Milwaukee's own great The Fatty Acids. My interview with Fruit Bats' Eric Johnson is here.
Thursday, June 28 & Friday, June 29 – If you think Wednesday's a fluke, note that The Promise Ring headlines the Harley Roadhouse at 10 p.m. on Thursday, and our own Jaill plays the U.S. Cell at 8 p.m. on Friday, opening for The Hives, who hit the Cell Stage at 10.
Saturday, June 30 – The Red Hot Chili Pipers, who have rocked numerous Irish Fests here with their high energy kilt-rock, headline the Rock Stage. Look like they're not at Irish Fest this year, so don't miss this opportunity to see them.
Sunday, July 1 – Another great day as retro soul rocker Mayer Hawthorne hits the Briggs and Stratton Big Backyard at 6 p.m., warming things up for the return of The Head and the Heart, who have played a couple gigs at Turner Hall, and who headline at 10 p.m. I caught up with the band's Josiah Johnson recently.
Tuesday, July 3 – Of course, there's Giggus Interruptus on Monday, but on Tuesday, former Husker Dude and Sugar frontman Bob Mould headlines the U.S. Cell at 10 p.m., playing Sugar's classic "Copper Blue" – NME's 1992 album of the year – in its entirety. Hopefully, he'll have some new stuff, too, to balance out the nostalgic trip down memory lane.
Wednesday, July 4 – I know, it's taken me a long time to get to the new BMO Harris Pavilion, but it'll be worth the wait to see British songsmith David Gray. I suspect his great voice and showmanship will be a perfect fit for this new music-focused venue. He plays at 9:45 p.m.
That allows me to check out Wisconsin's Locksley at the Rock Stage at 8. I saw them there during the day last year and they were great but severely under-appreciated, playing to a virtually empty area.
Alas, I'll miss Fountains of Wayne at 10 on the Rock Stage. It's been years since I've seen them, and though they're a pretty workaday rock and roll band, they're, well, a pretty workaday rock and roll band with good songs, tightly performed. That oughta be enough, right?
Thursday, July 5 – Today offers contemporary music fans another tough decision. Do you see the Avett Brothers at 9:45 in the Bee-Mo or try and slither through the crowd at the Harley Roadhouse to try and get an ace space for Death Cab For Cutie at 10? I'm not sure yet how I'll answer.
Friday, July 6 – Bring the kids and check out Mary Karlzen, Anjl Rodee and company – aka The Chickadees – at 3:15 p.m., at the Northwestern Mutual Children's Theater and Playzone. They'll be playing some fun songs from their second disc, "The Froggy Jump," aimed at early elementary aged kids.
Saturday, July 7 – I don't know about you, but I need a break and am spending Saturday away from the Big Gig, celebrating Ringo Starr's birthday. But don't worry, it'll be plenty crowded and you won't even notice I'm missing.
Sunday, July 8 – I'm back Sunday to close out Summerfest 2012 with my old friends the Mike Benign Compulson at 7:30 at the Briggs stage, followed by a band I've "known" even longer, Squeeze, at 9:30.
Talkbacks
devidia | June 22, 2012 at 8:40 a.m. (report)
I am TOTALLY with you on the Summerfest schedule thing, Bobby. My bands are not usually Summerfest material (I'm a huge contemporary jazz fan) but I think it wouldn't hurt Babisch and company to expand their horizons a bit and at least try to book the Rippingtons, Fourplay, etc. At least for the sake of diversity, anyway. Which seems to be taking a beating at Summerfest of late.
Facebook Comments
Disclaimer: Please note that Facebook comments are posted through Facebook and cannot be approved, edited or declined by OnMilwaukee.com. The opinions expressed in Facebook comments do not necessarily reflect those of OnMilwaukee.com or its staff.