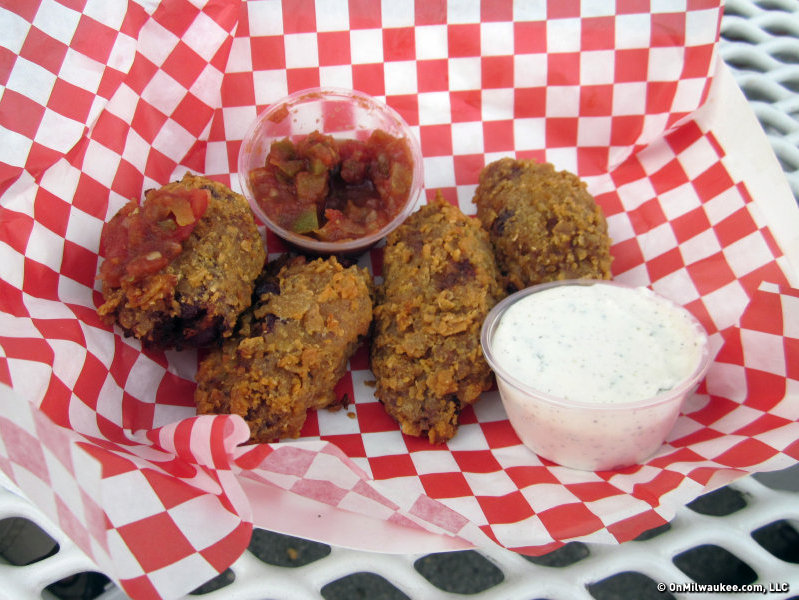 The Smileys: The best (and worst) of Summerfest 2011
Summerfest 2011 is officially in the books, and now that everything's said and done we can finally take a breather and let it all sink in. This year offered up a whole lot of cool (and a few not-so-cool) new things to do, see and taste, and we've taken it upon ourselves to recognize the Big Gig's most notable highlights in the first-ever Smiley Awards.
Best show: The Black Keys
Despite the three Grammys, the Black Keys still have underground cred and so a lot of folks were pleased, if not shocked, to see them added to the list of Marcus headliners. But the gig was a success. The venue was packed, all three bands (Black Keys, Florence and the Machine and Cage the Elephant) played their hearts out and the capacity crowd seemed delighted. Win, win, win.
Best Wisconsin band: Locksley
This high-octane Madison garage-rock, power-pop quartet wears its 'Sconnie roots on its sleeve – via its song "Oh Wisconsin" – and on the head of the drummer's bass drum. Locksley performed with fire, drive and wit on the second Thursday of the Big Gig at the Rock Stage and its show had to have been one of the top 10 most fun of the entire festival.
Best Seating Strategy: Aim for the sides
If getting to the stage three to four hours before the band played was not something you were willing to suffer through, your best bet was to centipede your way up the sides of the crowd and stake a claim near the corners of the stage. You still had a decent view and you didn't have to waste a whole day camped out on a bleacher.

Biggest Surprise: How unprepared Summerfest officials were for the Rock 'n Sole half marathon and 10k run
From running out of water and cups on the Hoan Bridge, to unequipped and far-too-spread out emergency volunteer staff, officials blew the goodwill of an excellent race with tons of potential. Though race director Tom Schuler of Team Sports Events issued an apology and took responsibility for the events that eventually forced him to "black flag" the race, this expensive event was one mistake after another. Too bad, too, because it was an amazing, unique and challenging course, and with a little common sense in its planning, it could've been perfect. For runners who brought their own water or were lucky enough to score some along the route, it was really fun – but no one is talking about that. Now, the dozens of runners who were treated for dehydration, and the thousands of others who suffered through an inexcusable lapse of judgment, are wondering if they'll give Rock 'n Sole a second chance next year. If Schuler and Team Sports Events have anything to do with it, don't bet on it.
Biggest Letdown: Rock 'n Sole
See above.
Best New Food: Pitch's/Miss Katie's Diner's Frito pie
The restaurant's deep fried chili, which Pitch's/Miss Katie's is calling a Frito pie, is delicious. The four large chili nuggets were more tangy than spicy and served with small sides of salsa and sour cream. They weren't much to look at, but the flavor wowed.
Best New Thing: The new South Gate
The renovations at the Big Backyard made this a difficult choice, but the stage's sight line issues knocked it out of the running. The South Gate is a perfect mix of retro and modern with a new box office, fast-moving entrance lines, and new restrooms (arguably the most important upgrade). Combine that with the huge three-piece band as you walk in and you know you're in for a fun day filled with great music.
Biggest Gamble: Closing on July 4

Did it work? It depends on who you ask. If going to the Summerfest was part of your Independence ritual for years, you heard grumbling. But if you wanted to barbecue or go to your local fireworks, or spend the holiday in a little more relaxed way, the holiday off provided a nice break. And there's still no word on whether it affected attendance overall.

Facebook Comments
Disclaimer: Please note that Facebook comments are posted through Facebook and cannot be approved, edited or declined by OnMilwaukee.com. The opinions expressed in Facebook comments do not necessarily reflect those of OnMilwaukee.com or its staff.