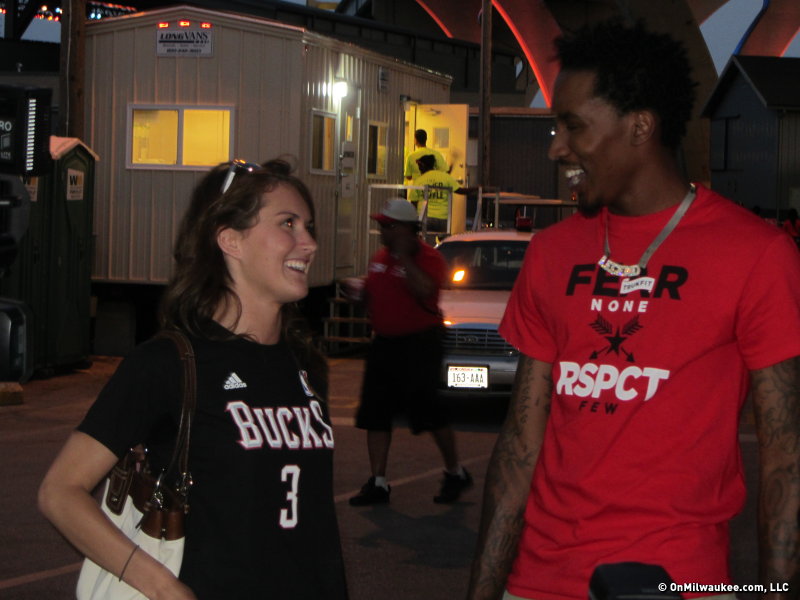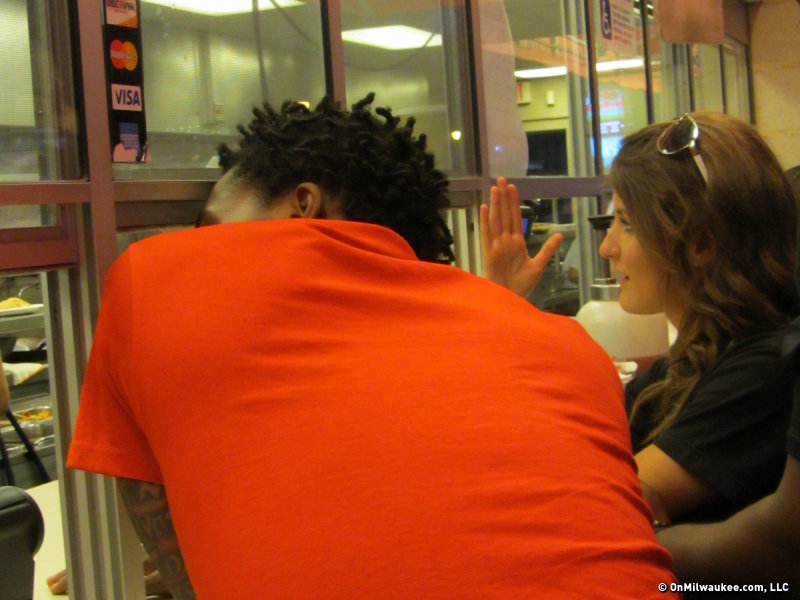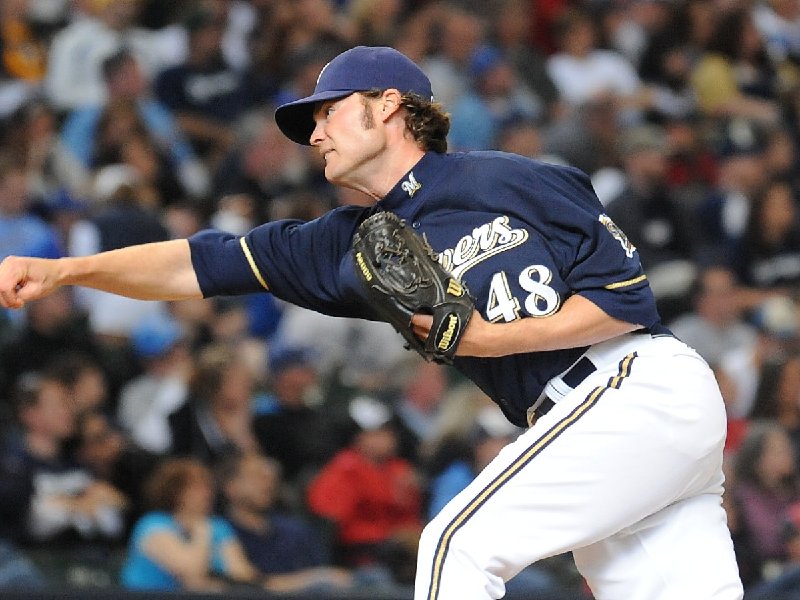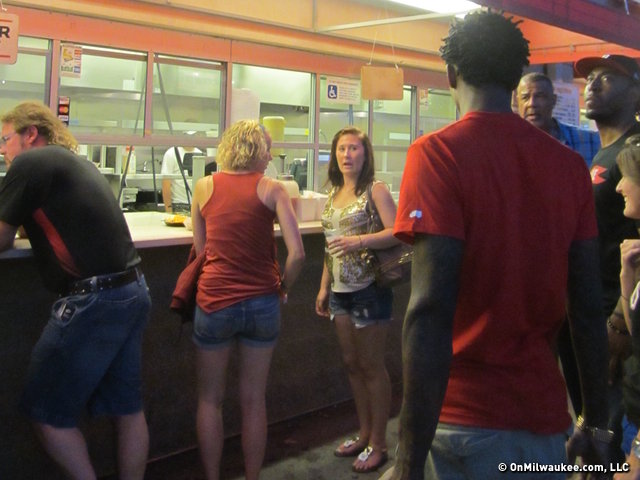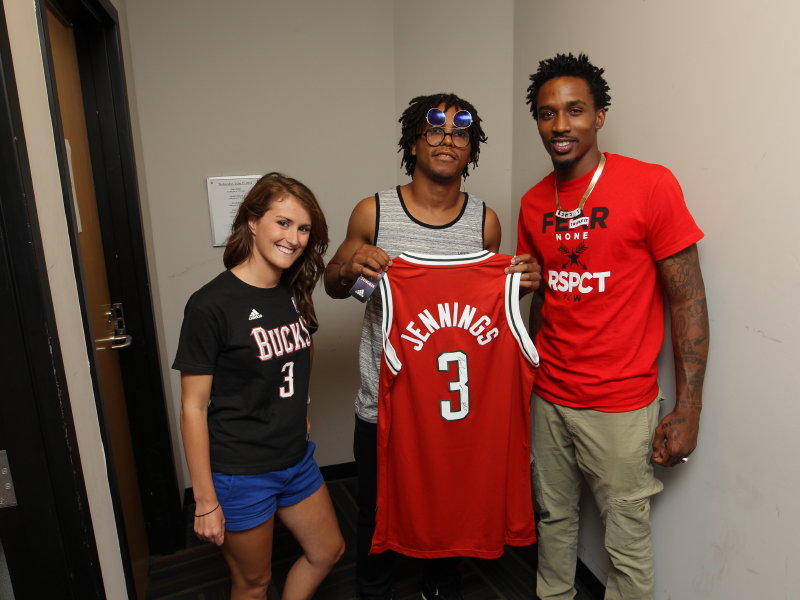 Summerfest brings athletes, fans together
Brandon Jennings leaned in to the window at Wong's Wok, trying to place an order for a group over the heavy bass of DJ Devast8 and Kenny Perez over his shoulder at the Harley Davidson stage.
Kayla Strandell rested on the counter next to him, and looked around. As she went to brush her hair back, her hand was visibly shaking.
The woman serving up their sweet and sour chicken over fried rice had no idea who Jennings was, but the crowd gathering around them certainly did – camera's and phones clicking away.
"I'm like, oh my gosh, I'm going to be all over people's Facebook's and stuff," Strandell said. "It was a little five minutes of fame thing. I still don't know how I feel about it, honestly. Kind of creepy, kind of cool."
Jennings hosted Strandell a week ago as part of a Milwaukee Bucks Summerfest Experience, which Jennings debuted last year prior to the Kanye West concert at the Marcus Amphitheater. That event featured a sit-down dinner and a lot of pre-planned hustling back and forth.
This year, the Bucks point guard wanted a truer Summerfest feel.
"I think this one was a little better and a little different," Jennings said. "The fact that I was able to walk around more, the last one was more staged. This year was so freestyle. I think that's what made it better. It seemed so real, like, this is what it is."
Strandell's and Jennings' realities are slightly different however.
Jennings was oblivious to the gawkers, whereas the University of Milwaukee junior-to-be felt a bit more out of place with the role reversal. She did multiple interviews and had to hold a pose for a photo under the fireworks until a photographer got the shot he wanted.
"I'm a pretty conservative person so it was just crazy all that attention being on me and him," she said. "It still was awesome – it was cool to have everyone be like 'Oh my gosh, Brandon Jennings!' and to be right there. I was obviously really, really nervous (but) everything about it was nothing short of spectacular."
After dinner the pair, along with several friends, went backstage at the Harley Davidson stage for a relatively impromptu meet-and-greet with that night's headliner – rapper Lupe Fiasco.
It wasn't originally part of the Bucks Summerfest Experience, but wound up bringing the fan out of Jennings. While waiting for Fiasco to appear, the group sat anxiously silent. Once Fiasco arrived, Jennings presented him a signed jersey, as well as some other Bucks swag.
"That's like my second or third concert ever," Jennings said. "It was dope. Lupe was here, we got to meet him in the back, he actually wore my jersey on stage. I think the whole night was just awesome."
Meeting Fiasco was icing on the cake for Strandell, who counts the Chicago MC as one of her favorites.
"When he came out it was really, really surreal," she said. "You don't think you're going to meet someone who is all over the radio and TV. It wasn't just like anyone - Lupe is one of my favorite artists, so that was awesome. That was really, really cool."
While Strandell's experience was helped along a bit by the Bucks, it captured the essence of what Summerfest is – bringing people together through music.
Thousands of people pour through the gates, many of whom are athletes who have thousands watching them at Miller Park, the BMO Harris Bradley Center or Lambeau Field. But at Henry Maier Festival Park, everyone is a fan.
On Thursday, Brewers first baseman Mat Gamel and reliever Tim Dillard joined their families and members of the Brewers staff at the Foo Fighters show at the Marcus Amphitheater.
It was Dillard's first time at Summerfest, and the Foo Fighters are one of his favorite bands. But even as a professional athlete and one who has played in front of tens of thousands of fans, Dillard was awestruck by the scene created by front man Dave Grohl and his band.
"It's pretty awesome how this guy writes this music, plays his songs, and people show up – I don't know how many people were at this thing, a ton of people, thousands – all those people show up just really to see him," Dillard said. "It was just amazing. They came to see this one guy. Baseball is a little different. You're a whole team, it's the whole atmosphere of the stadium and all that. It's never that focused. I just admire the guy. He goes out there and delivered."
Dillard said he and his wife arrived just in time for the show, so he didn't get a chance to walk the grounds – but it definitely made his list as a place to revisit if he has a chance.
Page 1 of 2 (view all on one page)
Next >>
Facebook Comments
Disclaimer: Please note that Facebook comments are posted through Facebook and cannot be approved, edited or declined by OnMilwaukee.com. The opinions expressed in Facebook comments do not necessarily reflect those of OnMilwaukee.com or its staff.