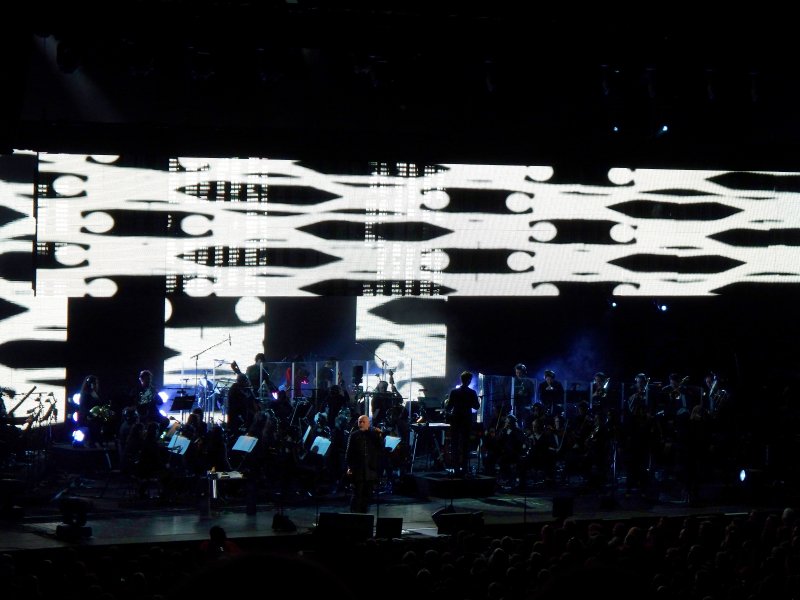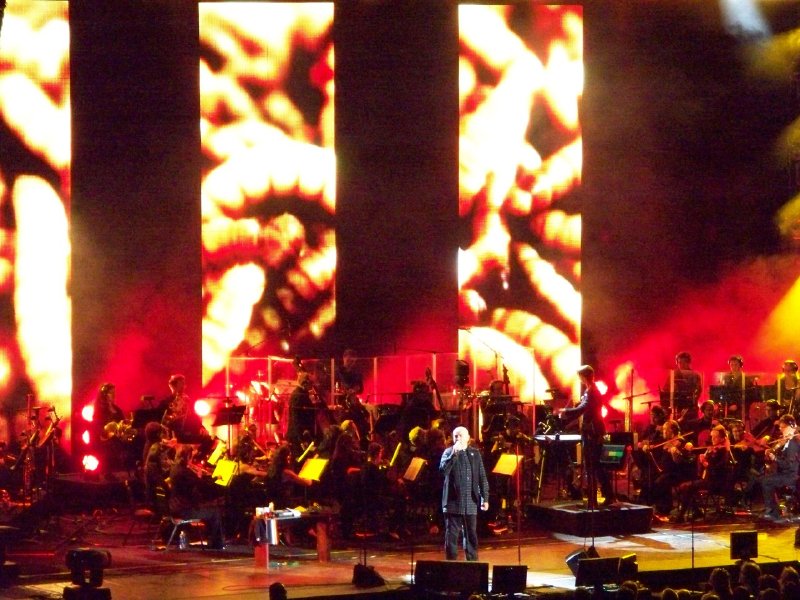 Gabriel artistically delivers three hours of emotion
The last time I saw Peter Gabriel was in July of 1987 while he was touring in support of his popular "So" album. During the show, Gabriel, who was 37-years-old, pounded out the sexually-themed "Sledgehammer," "Shock the Monkey" and actually had the audience body pass him during "Lay Your Hands On Me."
Wednesday night's concert at the Marcus Amphitheater was nothing like that.
Instead, the 61-year-old singer delivered a three-hour concert – with a 20-minute break for the spectacular fireworks show – that featured a 50-plus-piece orchestra headed by dramatic conductor Ben Foster and included a collection of international and Milwaukee musicians. Gabriel invited local musicians to join the orchestra for one night in all 12 of the cities he stopped in during his tour.
Two female back-up singers accompanied Gabriel as well, one of which is his daughter, Melanie Gabriel, along with Norwegian singer Ane Brune who also opened for Gabriel on this tour.
Gabriel is touring in support of his 2010 covers-only album, "Scratch My Back." He also played tracks from an album due out later this year called "New Blood," featuring orchestral arrangements of his songs.
The extremely punctual Gabriel started his show at exactly 8:30 p.m. with David Bowie's "Heroes," followed by "Wallflower" (his own tune) and then the Talking Heads' song, "Listening Wind." According to Gabriel, Heads' keyboardist and guitarist Jerry Harrison was at the show.
Gabriel also performed The Arcade Fire's "My Body Is A Cage," along with his own songs "Digging In the Dirt," "Secret World," "Biko" and "Mercy Street," which he dedicated to confessional poet Anne Sexton.
If anyone in the audience was already on the verge of a breakdown over the beauty and injustices of the world, tonight's show created the perfect setting. All of the songs were deeply emotional, dramatic and anthemic, particularly "Red Rain," "In Your Eyes," "Don't Give Up" and "Solsbury Hill."
Even though fan favorites / MTV hits like "Sledgehammer" were left out, it really didn't matter. This show felt more like an experience – dare I say "a journey" through Gabriel's life and career. All of the songs overlapped into one long, passionate piece of music.
It was particularly emotional experience, perhaps, because it was the last night of the tour. Gabriel whole heartedly thanked the orchestra and many of the behind-the-scenes people repeatedly during the performance.
Gabriel also included a touching circle-of-life element in the show, speaking of an experience he had recently with his 90-something-year-old father and a yogi during a week-long retreat. He says he didn't know his father very well prior to this experience, but after spending time with him, and through yoga, he got physically closer to his father than he had since he was a child. This experience was the impetus for the song, "Father and Son." When Gabriel performed this song on Wednesday night, he simultaneously showed grainy black-and-white footage from the retreat on large screens.
"Hug them while you can," said Gabriel.
Singing with his daughter was also clearly emotional for Gabriel and added another element of family to the show. "You're making a dad very proud," he told her after they sang a duet on "Downside Up." Later, he spoke about his two young sons who remind him of the importance of going to bed in a good mental place.
In 1967, Gabriel started progressive rock band Genesis and served as the group's lead singer and flautist. He was known for his flamboyant stage presence, which often involved multiple costume changes during a single performance. Genesis concerts were visual experiences and often included black light and fluorescent clothing.
Although on this tour, Gabriel has been dressing in simple black outfits, he continues the tradition of providing a visual experience for his audience with 10-foot-high LED screens.
At the end of the show, Gabriel accidentally skipped ahead on the set list to "Don't Give Up," an '80s favorite that was scheduled for the encore. Consequently, Gabriel admitted he had "f*cked up" and there was not another encore in its place.
However, when the lights came up without a proper encore, fans seemed satisfied after three hours witnessing a very artistic, moving and definitely memorable experience. The only downside was that the direction of the wind carried the music of Daryl Hall & John Oates from the next-door M&I Classic Rock stage to the Marcus Amphitheater, and although they are contemporaries of Gabriel's, the genres don't really mesh. Although a "Private Eyes" / "In Your Eyes" mash-up might have been interesting.
Talkbacks
BeSmart | June 30, 2011 at 2:45 p.m. (report)
I agree that the first act was a complete let down. I have seen four of his concerts and am blown away every time. The biggest thing is that the songs he chose didn't really translate to an orchestral arrangement well. If he had taken cues from the Moody Blues (a decade ago) and combine his regular band with the orchestra it may have had better results. I too almost didn't return to my seat after the fireworks. I was thrilled that the second set was a complete 180 from the first. The arrangements were incredible and the songs chosen were meant for true, long-time Gabriel fans. The biggest issue I had with the concert was that I paid $180 for two tickets and we ended up hearing Hall and Oates from the stage next door. Their music was bouncing around the interior of the theater and I felt like it was some sort psychological experiment. Summerfest needs to get this fixed ASAP. I will think twice before I buy another ticket.
milwaukeeviper | June 30, 2011 at 11:21 a.m. (report)
This was easily one of the worst concerts I've seen in recent history. I have seen Peter before, and I knew going into this show it would be different, however the show he delivered was sub par. The first 30-45 min of the show was dedicated to a handful of cover songs that much of the crowd could not identify with. Finally he threw in Digging in the Dirt, a personal favorite, but it lacked the energy it deserves. I wanted to leave when he took a break for fireworks, but convinced myself to stay, hoping to hear some actual Peter Gabriel music. The second set had a few hits, but they just don't seem to work with the orchestra. I can appreciate the music the orchestra provided, but it just did not create the aura I had once associated with Gabriel's tunes. Overall i thought the performance was a snoozer, and it certainly didn't help that I could hear some other concert during Gabriel's entire performance!!! Summerfest needs to seriously address this before people stop buying tickets to the Marcus.
sandstorm | June 30, 2011 at 10:34 a.m. (report)
hmmmm...KB sounded like he was bored silly at this show if his grumbling on the radio this morning was any indication. i guess he'd rather just sit at home and listen to the records rather than enjoy everything that makes a live experience a live experience. sounds like you saw a great show Molly!
Facebook Comments
Disclaimer: Please note that Facebook comments are posted through Facebook and cannot be approved, edited or declined by OnMilwaukee.com. The opinions expressed in Facebook comments do not necessarily reflect those of OnMilwaukee.com or its staff.