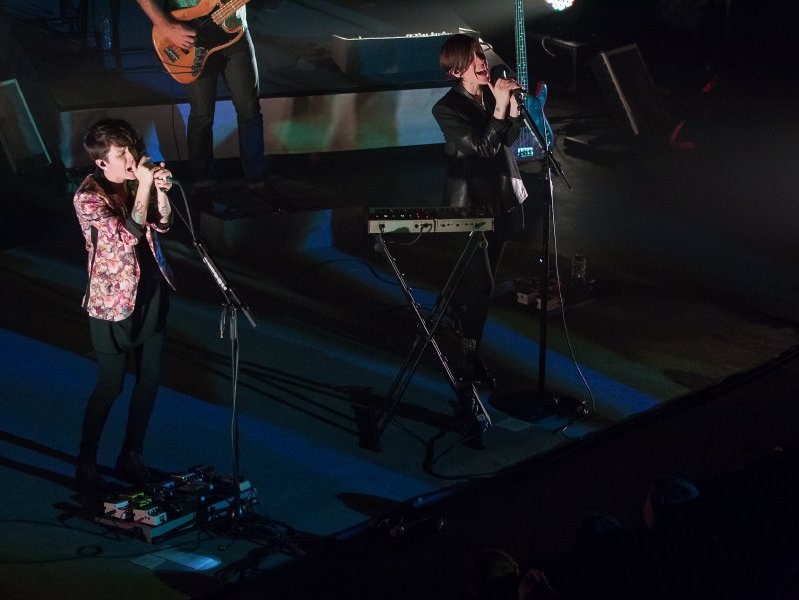 Summerfest picks: Molly Snyder
The line-up's looking pretty good for Summerfest 2014 – especially at the side stages. Here's what I plan to check out this year.
Wednesday, June 25 – The Arctic Monkeys will open the Big Gig with a 10 p.m. performance at the Miller Lite Oasis. This is going to be a huge show so play nice, people. I don't want any beer between the toes. I might sneak a peek at Rick Springfield, who plays at the Uline Warehouse at 10 p.m. but only because I'm curious how he looks these days – not because I need to ever hear the song "Jessie's Girl" again.
Thursday, June 26 – Lady Gaga's at the amphitheater and although I'm not a huge fan of her music, I do appreciate an outrageous stage spectacle which the Lady will most certainly provide. Otherwise, there's not much that grabs me on the second day of the Big Gig.
Friday, June 27 – Tegan and Sara will be at the Briggs & Stratton Big Backyard at 10 p.m. and so will I. I'll try not to get too "I remember when they were just a couple of low-fi Canadian punk poppers" but I'm also not going to sing along with that song from "The Lego Movie." If I weren't checking out my favorite lesbian twin sister / rockers I would be at Five Finger Death Punch at the Harley Davidson stage that's taking place at the same time.
Saturday, June 28 – I've never seen Girl Talk and always wanted to, so I'll be crossing it off my musical bucket list at 10 p.m. at the Miller Lite Oasis.
Sunday, June 29 – The Briggs & Stratton Big Backyard hosts The Head and the Heart at 10 p.m. I was concerned the Seattle-based folk-rock group wouldn't be able to maintain the raw beauty of its first album, but 2013's "Let's Be Still" is every bit as soulful. Hence, I'm really looking forward to seeing this band again.
Tuesday, July 1 – Taking the kids to see the family-friendly Milwaukee hip-hop group The Figureheads at the Kohl's Captivation Station at 1:45 p.m. We've been big fans of this band since the release of "The Movement" eight years ago and have seen it at Summerfest before. The Figureheads never disappoint and have served as a gateway for the kids to appreciate hip hop with positive lyrics.
Wednesday, July 2 – Joan Jett & The Blackhearts storm the Uline Warehouse stage at 9:30 p.m. and I will be there. Well, util 10 p.m. anyway when The Wailers play on the Johnson Controls World Sound Stage.
Thursday, July 3 – Two words: New Order. (BMO Harris Pavilion, 8 p.m.)
Friday, July 4 – I love a well-placed umlaut and I will be reviewing Motley Crüe at 7:30 p.m. at The Amp. Unlike the last time I saw the Crue, I will not arrive draped in stone-washed denim and doused in Aqua Net. I'm also looking forward to Alice Cooper opening the show.
Saturday, July 5 – I haven't kept up with indie-pop musician Ingrid Michaelson but I sure did like "Girls and Boys" when it came out in 2006 and I'd like to see how she's evolved. She'll be at the Briggs stage at 10 p.m.
Sunday, July 6 – The last night of the Big Gig and there's only one way to close it out: with a Cheap Trick sing-a-long at the BMO at 8 p.m.
Facebook Comments
Disclaimer: Please note that Facebook comments are posted through Facebook and cannot be approved, edited or declined by OnMilwaukee.com. The opinions expressed in Facebook comments do not necessarily reflect those of OnMilwaukee.com or its staff.