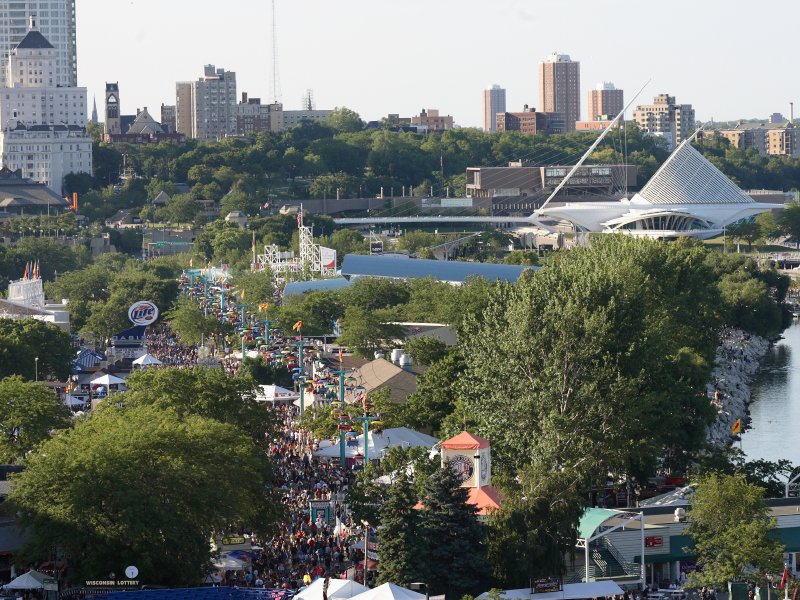 Summerfest preview: A quick guide to the 2011 Big Gig
After another cold and dreary winter, an unpleasant (and somewhat non-existent spring) ... it's finally here.
Summerfest.
The World's Largest Music Festival kicks off its 44th year Wednesday at the Henry W. Maier Festival Park.
Yes, the Big Gig is starting a day early this year (Wednesday) and will be closed Monday, July 4. Other than that, the drill is the same: the park is open from noon until midnight.
If this is your first trip to Summerfest, this guide should fill you in on all the basics. And even if you're a long-time table dancing veteran, it never hurts to get a refresher.
Getting there
Let's start with the good news: the Wisconsin Department of Transportation has completed Phase 1 of the I-94 resurfacing project in Milwaukee and Waukesha Counties, meaning all lanes and on/off ramps will be open and available for those traveling to and from the Lakefront.
Now, sure, you could drive – there are plenty of lots near the festival grounds and throughout Downtown – but why bother? You could easily make your way to one of the 11 area Park & Ride Lots and hop a Milwaukee County Transit System Summerfest Flyer or, if you're Downtown, take the MCTS Wisconsin Avenue Shuttle right to the gate.
Flyer service runs from 11:30 a.m. until 12:30 a.m. and costs $6.50 (cash only) for adults, $3 for children under 12, senior citizens and people with disabilities (with proper ID). Downtown shuttle service is available from 11:30 a.m. Until 12:30 a.m. With buses running approximately every 10 minutes. Round-trip fare is $3 for adults, $1.50 for children under 12, seniors and people with disabilities (with proper ID).
For more information, visit ridemcts.com.
Other mass transit options include:
Racine/Kenosha Counties –Wisconsin Coach Lines offers eight round trips weekdays and four on weekends. Call (262) 542-8861 for route and schedule information.
Ozaukee County Express – Buses run every half-hour between 11:30 a.m. And 12:30 a.m. (every 15 minutes weekdays between 5:15 and 7 p.m.). Buses depart from the Target/Home Depot parking lot in Grafton and make several pick ups and drop offs in the area. Call (414) 344-6711 for more information.
Washington County – Buses depart hourly beginning at 11 a.m. With return service beginning at 4 p.m. Round-trip fare is $11 for adults and $3 for children under 12. Service provided by Riteway Bus Lines. Schedule and pickup locations are available at ritewaybus.com.
Waukesha County – Wisconsin Coach Lines / Coach USA buses pick up and drop off at the Nagawaukee, Meadowbrook and Goerke's Corners Park & Ride Lots daily between 11 a.m. and 12:15 a.m. Round trip fare is $10. Schedule information is available at wisconsincoach.com.
In addition to public transit, many area bars offer shuttle service to and from the grounds.
On the East Side and Brady Street, shuttles stop at Hooligan's, BBC, Replay, Hotel Foster, Judges Irish Pub, Nomad, Hi-Hat, Club Brady, Vitucci's, Cans and The Eastsider. For more details, call Hooligan's at (414) 273-5230.
Other bars offering shuttle service include:
Dino'z, 5018 W. State St., (414) 777-5060
Highbury, 2322 S. Kinnickinnic Ave., (414) 294-4400
Karma, 600 E. Ogden Ave., (414) 220-4118
Milwaukee Brat House, (414) 273-8709
Mo's Irish Pub, 142 W. Wisconsin Ave., (414) 272-0721
O'Lydias, 338 S. 1st St., (414) 271-7546
Stubby's, 2060 N. Humboldt Ave., (414) 763-6324
The Bottle, 1753 S. Kinnickinnic Ave., (414) 389-5337
Contact those bars directly for schedule information and be sure to ask the bartender at your favorite watering hole to find out if they offer rides to and from the fest.
Getting in
A general admission ticket will run you $15 and just $8 if you're coming in before 4 p.m. on a weekday. Seniors (60 and over) and children (3-10) get in for just $3 and infants, 2 and under get in free.
But let's be honest ... if you're paying full price for a ticket to Summerfest, you haven't been paying attention. There is a discount or free admission deal every day of the fest.
Here's the breakdown:
Wednesday, June 29 – Thousands of free tickets have been handed out all over town for Opening Day but if you didn't get your hands on one, just bring three non-perishable food items to the Mid or North Gate between noon and 3:30 p.m. and receive one free general admission ticket.
Thursday, June 30 – The first 4,400 people presenting a coupon from the local paper between noon and 3 p.m. receive free admission.
Friday, July 1 – The first 2,000 patrons 21 and older get free admission when they present six Miller High Life or High Life Light bottle caps as part of the "Give a Veteran a Piece of the High Life" promotion. The first 5,000 people through the gates will also receive a free bandana compliments of U.S. Cellular.
Saturday, July 2 – The first 1,500 patrons with a Goodwill Store donation receipt dated July 1 or 2 receive free admission between noon and 3 p.m.
Sunday, July 3 – The first 1,500 patrons who donate three non-perishable food items for kids receive free admission between noon and 3 p.m.
Tuesday, July 5 – Anyone arriving between noon and 3 p.m. gets in free. No ticket. No gimmick. No nothing. Just free admission as part of Family Day.
Wednesday, July 6 – The first 1,500 people presenting a label from any Klement's product, along with a non-perishable food item, receive free admission between noon and 3 p.m. Also, the first 5,000 people receive a free cup Koozy beginning at 5 p.m.
Thursday, July 7 – Between noon and 3 p.m., the first 1,500 people who donate any new, indoor children's toy, art supply of children's movie (rated G or PG) receive a free admission ticket. Harley Owners Group members will also receive a free general admission ticket when showing their H.O.G. ID card between noon and 3 p.m.
Friday, July 8 – The first 1,500 people with a receipt showing the purchase of any two Malt-O-Meal bag cereals (dated June 29 and July 8) receive one free admission ticket between noon and 3 p.m.
Saturday, July 9 – The first 1,500 people making a $10 or greater donation to the Muscular Dystrophy Association receive one free ticket between noon and 3 p.m. All Boy and Girl Scouts, in uniform, receive free admission at the South Gate between noon and 3 p.m.
Sunday, July 10 – Everybody gets in free between noon and 3 p.m., compliments of NYCE and Summerfest.
For all the details and specific guidelines on the various admission programs, check the Summerfest website.
What's New
The biggest changes will be obvious on the south end where phase one of a two-year renovation project is complete. A brand-new Briggs & Stratton Big Backyard highlights the upgrades, along with a completely-renovated South Gate and Marcus Amphitheater forecourt.
The project also included construction of new food and beverage facilities and new restrooms.
Visitors to Jo-Jo's Martini Lounge will be able to take advantage of an expanded outdoor seating area, complete with more bars.
A few of the new food and beverage offerings include:
Trinity (Briggs & Stratton Big Backyard) – Featuring traditional Irish fare including Reuben Rolls, Irish Nachos, Shepherd's Pie and Corned Beef Sandwiches.
Zaffiro's Pizza Company (Ethnic Village) – Thin crust pizzas and salads.
Flannery's (North End) – Taking over for McGillycuddy's, Flannery's will continue to offer Buffalo wings, chicken tenders burgers and fries.
MGD 64 Lemonade – The new low-calorie beer with a taste of lemonade will be available throughout the grounds.
Prairie Fume from Wollersheim Winery of Prairie du Sac will be available inside the Marcus Amphitheater while Yellow Tail Wines and Domaine Ste. Michelle Champagne will be available at select sites on the grounds.
Special events
The annual Big Bang fireworks show returns Wednesday at 9:30 p.m. ... Get away from the crowd a the air-conditioned Cool Down Lounge, located on the south end, where you can also take in the Les Paul House of Sound exhibit ... Take part in the World's Largest Happy Hour Wednesday, July 6 from 5-7 p.m. All alcoholic beverages and 20-ounce soda products will be $1 off ... Summerfest honors military members and their families on Sunday, July 10. All military members and their families receive free admission between noon and 3:30 p.m.
Online
As always, you can visit summerfest.com. Summerfest also has an App available for both iPhone and Android users. And you can also check OnMilwaukee.com for daily schedules, headliner previews, ground stage reviews and other features all during Summerfest. There's an App for that, too.
Facebook Comments
Disclaimer: Please note that Facebook comments are posted through Facebook and cannot be approved, edited or declined by OnMilwaukee.com. The opinions expressed in Facebook comments do not necessarily reflect those of OnMilwaukee.com or its staff.