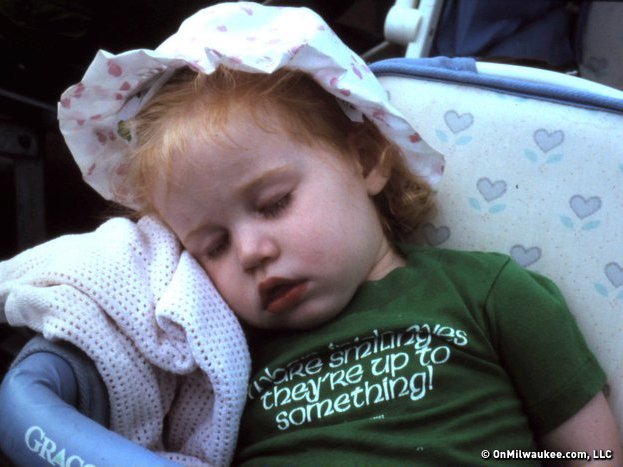 What's your fest?
There are quite literally dozens of festivals during the great Milwaukee summer. No one can really get to them all. So, it's natural that everyone has favorites and a few blind spots, too.
Here are the ones at which you're likely to find us every summer and some that we need to make a better effort to check out.
Jim Owczarski
Sports editor
Picks: Summerfest, Polish Fest and Irish Fest
Well, I've only ever been to three, so ...
Summerfest: best 'fest...no doubt.
Polish Fest: great largely due to presence of the Tatra dogs.
Irish Fest: love it because people begin trying to speak with a brogue.
Molly Snyder
Associate editor
Pick: Pride Fest Parade, Locust Street Festival
I usually attend Pride Fest, but I actually love the parade even more than the festival itself. Even before I lived just a few blocks from the parade route, I loved taking my kids to the colorful, high energy street affair. It's fun to grab a beer at The Pint, stand along 2nd Street and watch my kids joyfully collect rainbow-colored beads and the candy being tossed (yeah, I said "tossed") from the floats. One year, a group was throwing bags of "balloons and hand sanitizer," according to my kids. Needless to say I had a good laugh but immediately confiscated those. There's usually a lot of effort put into the floats and the overall vibe of the parade is slightly naughty meets family friendly.
I also really love the Locust Street Festival. I've attended, I believe, every year of my life and always look forward to the people watching and the music the most. I participated in the beer run six or seven times – a less-than-two-mile run with four beer stops along the route – and it's always a fun but potentially dangerous way to start off the day. Woodland Pattern usually has a unique involvement in the event and I really enjoy the roving street performance groups, specifically the capoeira group who demonstrates the stunning Brazilian martial art. Sampling Ma Baensch's herring and finding the "snake lady" who walks around with a live snake draped around her neck are also high points of the day for me and my kids.
Colleen Jurkiewicz
Staff writer
Pick: Irish Fest
This will come as no surprise to anyone who has ever met me. For my family, Irish Fest is like Christmas but with better music . My mom and grandmother went to the very first one in 1981, before she had even met my father, and we've only missed one since.
We have very strict Irish Fest traditions. Friday afternoon we're at the gate when it opens so we can get in free. Before Chuck Ward's passing a few years ago, when Blarney would open up the Miller Lite Oasis right after the gates opened, we would catch their first show there. Now we're always sure to see them at the Village Pub. Our favorite songs are "A Drink for My Father" and "The Irish Rover" which they always play – sometimes they'll play "Star of the County Down," which is my favorite because it has my name in it. We stay on Friday until the Gaelic Storm show in the evening.
Sunday, we're back bright and early for Mass. The music is always the same at Mass, which is fine, because the Irish Fest Choir does an amazing job, even after choir leader Bob Harrold's passing in 2011. Then after Mass we book it to the Tipperary Tea Room and grab a table before the crowds come, because mid-morning on Sunday that place is a freakin' zoo.
We stay all day Sunday (we used to see Tommy Makem, but he's dead now – I'm noticing a pattern) until The Scattering at night, where they sing "Wild Mountain Thyme," which I had at my wedding for this very reason. We always cry, because we're dumb like that (and usually, by this point, a little bit drunk).
We're only allowed to bring guests to my family's Irish Fest tradition if they're related by blood or marriage. I couldn't bring my boyfriend until he asked me to marry him. Sounds weird, but everyone's got to be passionate about something, I guess, and in my family, the rules of Irish Fest are only slightly less sacred than canon law.
Bobby Tanzilo
Managing editor
Pick: Sts. Constantine and Helen Green Festival, Armenian Fest
I've been a West Sider now for nearly a decade and I bet I've gone to the Greek festival at Sts. Constantine and Helen Greek Orthodox Church, 2160 N. Wauwatosa Ave., almost every year. I love the food and I love that the event is packed into a tight little space, making it feel almost like a street festival, and the vibe is always great. This year's fest is this week, June 10-12, and it's free.
On the other end of the spectrum, I'm hard-pressed to explain why I've only once been to Armenian Fest on the southwest side. It's packed full of culture and good food, and I've got to make more of an effort to get back. This year the festival is July 31 at St. John the Baptist Armenian Church, 7825 W. Layton Ave.
Facebook Comments
Disclaimer: Please note that Facebook comments are posted through Facebook and cannot be approved, edited or declined by OnMilwaukee.com. The opinions expressed in Facebook comments do not necessarily reflect those of OnMilwaukee.com or its staff.